Are you looking for a unique and personalized gift to give your loved one? Well, you should consider checking out
LoveBook
. The LoveBook Book Building System lets you tell that story by listing all those special reasons why you love them.
CHOOSE A COVER & EDIT THE TITLE
MAKE YOUR CHARACTERS LOOK LIKE YOU
CHOOSE PAGES AND PERSONALIZE THEM
Who is LoveBook?
LoveBook began as a simple idea—a handmade notebook listing all the reasons why one guy loved his wife. The gift was a hit, giving birth to the first "LoveBook". Rob Patterson knew that his wife adored the book, but would anyone else? That`s where John Baranowski, Kevin Zalewski, and Chris Sonjeow came in. They all saw the potential of the present to help people connect with their loved ones in a meaningful way. Working 9-5 at a manufacturing company, the guys met after work each night to refine the platform meant for the masses. It wasn`t until May 2010, when they were contacted by The Today Show to be on a gift segment with Kathy Lee and Hoda, that the guys knew this was something special. After that, the idea blew up. They were able to quit their day jobs and hire two graphic designers. Fast-forward to 2016, and the company has had major growth, and has hired 9 employees (and growing each year). ?What started as a little side gig, LoveBook is now a major contender in the gift category, going up against flowers and chocolates (to name a few). John, Chris, Rob and Kevin are not quite the Beatles, but this fab four still believed that all you need is LOVE…and a little determination.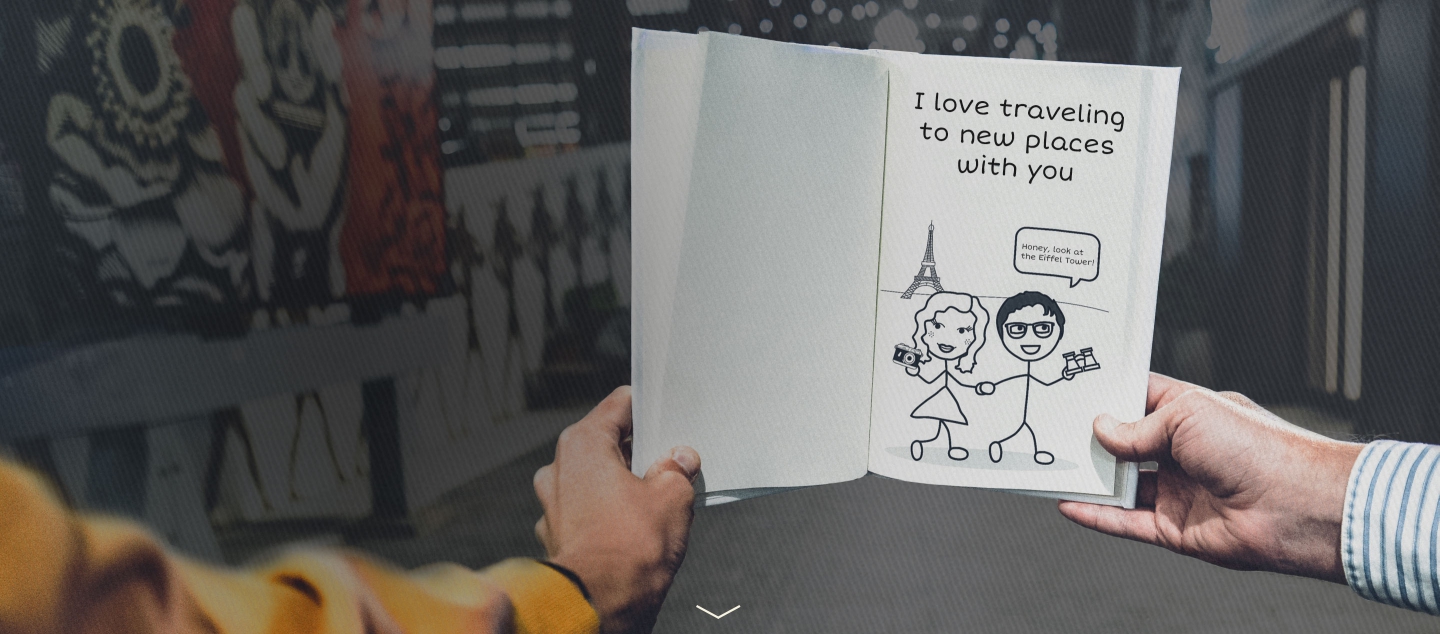 I decided to my a book for my husband. We have an odd relationship with each other. Always arguing and fussing about something then one of us will bust out into laughter. So rather than making a book about "why I love you," I went with something a bit on the comical side of things to reflect that relationship. Making the book was super easy! All you need to go is go to the LoveBook website and click the
get started button
. Once you do that, you can create characters. The twist is, your characters are stick figures - which adds a bit more character to the book in my opinion. So I made a man stick figure to resemble my husband and a female stick figure to resemble me. You can select the eyes, mouth, nose and hair for each character. This is the part you also give each character a name. Once you are done, you just hit the 
save & continue 
button and begin making your story. There`s 
tons
of pages to choose from, but they`re all customizable. You put in your own text or you can keep all or some of what was already written. You can even move, add, or delete images! Like I said, the whole thing is for you to make how you want. Personalize it. Make it special. Show a reflection of your personality and feelings. Once you have gone through and completed your book, save it and head to the check out and proceed with paying for it. Then patiently wait. Like I said, making the book was a breeze. It only takes a while because you are customizing it to your own thing and putting work into it. I have to admit, I was pleasantly surprised with how quickly the book was printed and shipped out. Normally customized items take a while from what I`ve experienced. I literally made my book 5 days ago and received it in the mail today! How crazy is that?! I was even more surprised at the quality. From the paperback cover to the text and images - it was all very well done. Not flimsy or cheap at all. When I gave it to my husband all he could do was laugh as he read it. It reflected us. While it was a silly gift, he absolutely loved it. It`s something sentimental and meaningful. At the end of the day, LoveBook is an amazing option to make a gift for someone you love and care about. Want to make one for someone special in your life? You can select unlimited pages of all your favorite reasons. LoveBook prints, binds and ships these unique, one-of-a-kind gifts direct to you!
Unlimited pages for one flat price ($39.95 Soft Cover, $44.95 Hard Cover)
Use our character editor to build your characters to populate the pages
Over 200 covers to choose from for any occasion
Search thousands of pre-made "love reasons" to help get you started
Thousands of illustrations to customize your pages
Edit text and illustrations using our LoveBook Creator
Do we recommend them? Absolutely! By the way, get 10% off your order when you use 
this link
for a limited time!