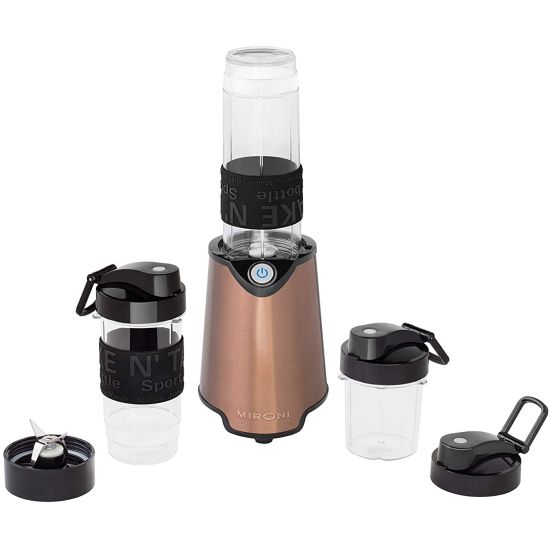 Awesome and convenient find!
More than a smoothie blender
For people living a fast-paced lifestyle, the Mironi Mini Blender is the best way to manage time and maintain healthy living with a shortcut to tasty health shakes, smoothies and more. Why own multiple kitchen accessories when this 1 small blender will chop vegetables, extract fruit juices and whip up nutrient-rich protein drinks? This deluxe 6-piece set includes everything you need to refine your eating habits and usher in a brand-new you.
We're on this journey with you
Our compact blender is perfect for home, office and travel. It takes up minimal counter space, even in hotel rooms or RVs, and the travel bottles with their spill-resistant lids fit in all standard automotive cup holders. The blender body wipes clean with a damp cloth, while the heavy-duty bottles and lids can be added to your dishwasher or washed by hand. The grinder cup is ideal for making fresh salsa, sauces and condiments. Once you fall in love with our Mini Blender, you will be eager to give them as housewarming or Christmas gifts.
Designed for durability and easy use
Mironi uses the highest quality 18/10 steel and non-toxic ABS plastic to bring you an impact resistant personal blender that you can rely on day after day. This set includes the blender body, blade attachment, grinder cup with lid, 13.5 oz and 20 oz bottles with lids, and our exclusive collection of delicious recipes to get you started.