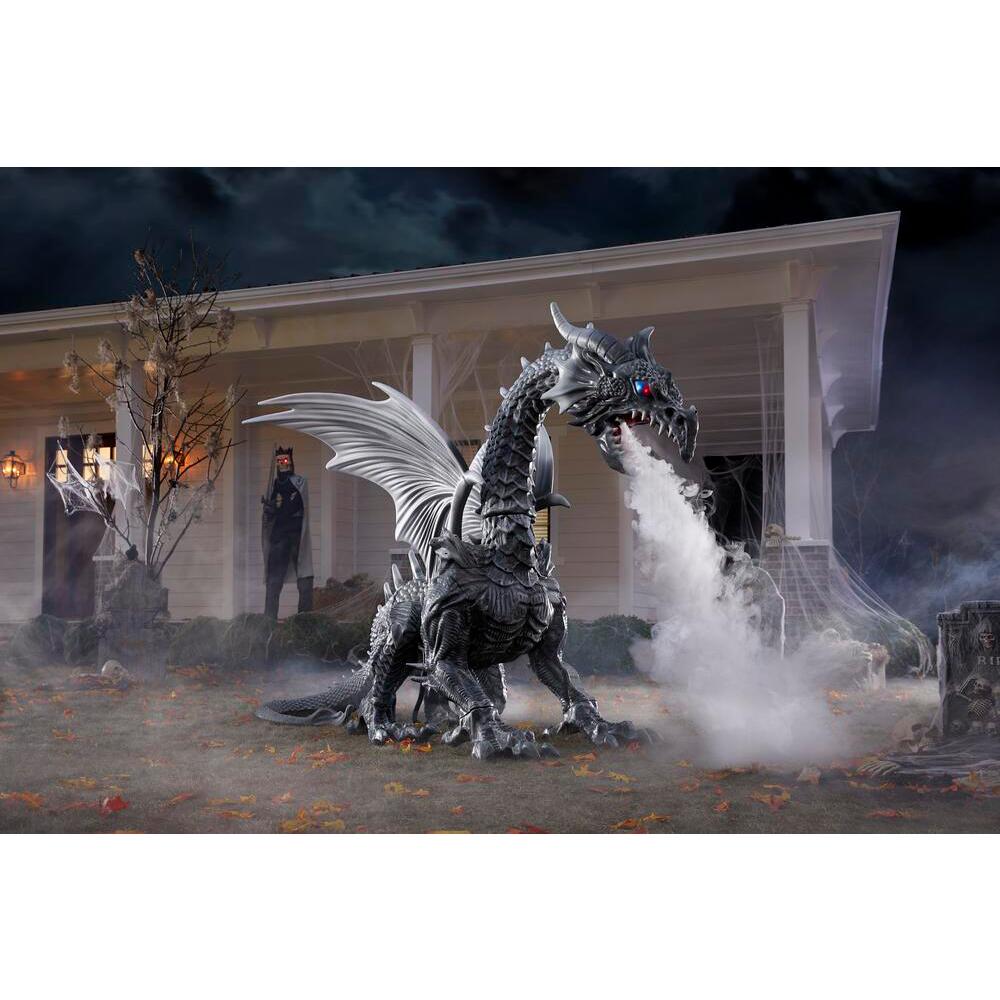 Okay, this is super cool!
The
animated dragon
stands 69 inches tall from head to toe. It emits a roaring sound and its eyes light up! Talk about magical!
The eyes have red LED lights for a creepy and eerie glow! The mouth will move and release the fog when you attach it to a fogging machine that you can purchase separately.
Imagine the oohs and awwws that you'll hear when trick-or-treaters of all ages come upon your house and see this 69 inch tall dragon with loud roars! It's quite a sight! This animated giant dragon was very easy to put together and disassemble because the flanges on the legs and arms were clearly marked and attached easily; just align the pieces together and twist. Great for the family to help create a unique Halloween experience. We chose the model without the fog machine but it comes with attachment hoses if you already have one. Frankly, I don't think it needs a fog machine because this beast stands on its own and attracts the kiddies and parents alone. The painted brush strokes of white along the sides, legs and tail seem to add dimension to the scales but I might add a touch of color to my dragon by adding more paint here and there. One daunting feat might be how to put all of the pieces back inside the large box! Just remember to put the biggest pieces in first and you'll do alright! The instructions are laid out on a diagram pasted to the inside of the lid of the box as well as in a booklet inside the box but we didn't need them at all.There's a button inside the mouth to make the mouth move and turn on the loud roars. Batteries are included. I'm including the dimensions of the box in case you need to bring it home in your car- The box is 33.5″H X 29.5″W x 57″L and two people are needed to lift it. - Stephen – Home Depot Reviewer
The details are stunning! It is molded and has been painted with shades in a smokey gray color. So realistic! There is assembly required for this big guy! You can purchase your own
Giant Dragon from Home Depot
for $399! It will be worth every penny! This is the absolute best!