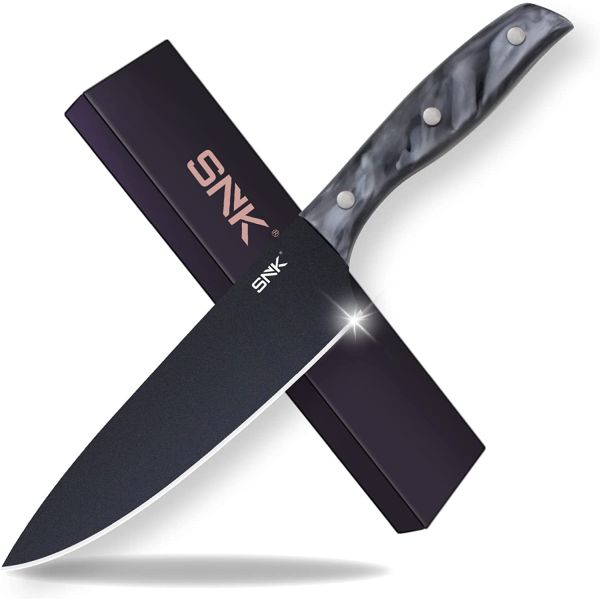 Upgrade your kitchen knife!
8" Professional Chef Knife
SNK sharp kitchen knife is made of high-quality 420 stainless steel that resists rust, corrosion, and discoloration. It can be used for home and professional use during your daily kitchen tasks of chopping, slicing, dicing and mincing of all kinds of meat, vegetables, fruits and bread.
Ultra Japanese Knife
This sharp knife comes with 52+ Rockwell Hardness and the thickness of this cooking knife is 2mm. Its hand-polished edge is 13-15 degrees per side, which is sturdy and sharp to get the job done perfectly.
Non-Stick Blade
SNK cutting knife blade contains a quicksand blue metallic paint which presents a frosted texture and hand-polished mirror effect. This is not only beautiful but striking and helps to reduce drag and stops the knife becoming stuck on or in food, therefore ensuring the flavour of your food.
Premium Acrylic Handle
This dark gray resin handle comes with a stunning triple rivet and full tang design that attaches the handle firmly onto the blade. This offers better durability and reliability for your knife .The thickness of the handle is 6MM which makes it comfortable to hold. It is artificially finely polished to resemble an elegant cloud handle pattern which enhances the beauty of this meat knife.
BONUS:
Check out these other
knives on sale
while you are here and save some money!
Did you find this post helpful? If so, it would be great if you could show some support by following

Closet of Free Samples on TikTok

(as well as my other social media accounts @closetsamples) and by checking out

my Etsy shop

! As a small creator, all your support makes a difference! Even a simple share of this post to your friends helps! Thanks so much!