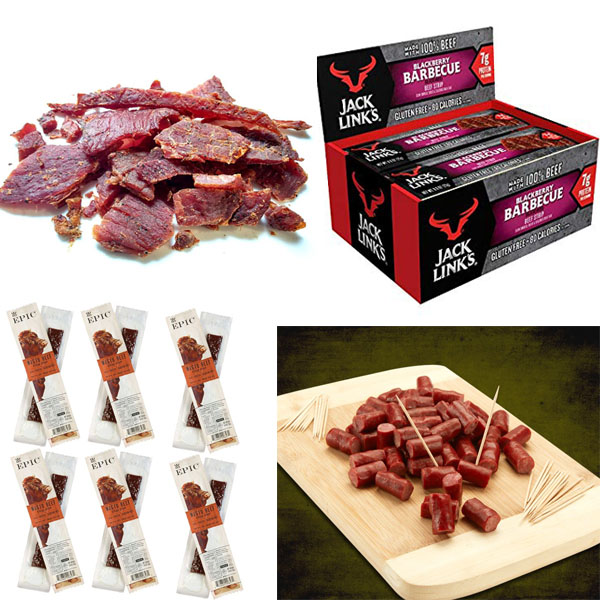 SECRET MEAT DEAL - (This always goes fast when we have jerky / meat deals, so don't delay) - Choose from THREE Bags of Korean BBQ Pork Jerky, BIG 28 Ounce Bag of Wisconsin Maid Beef Snack Bites, 12 PACK of Epic Wagyu Steak Strips or 12 PACK of Epic Wagyu Beef Steak Strips - $3.99 flat rate shipping, BUT...order 6 or more, and yes you can mix styles, and SHIPPING IS FREE!
THREE Bags of BBQ Pork Jerky
- Each bag is 3 ounces and retails for $5.99 each in stores.
Made with 100% beef, the Jack Link's Blackberry Barbecue Bar delivers a delicious smoked and sweet flavor that's 7 grams of protein per bar. Step aside chalky, chocolate-y protein. Meat, your new favorite bar.
Made with 100% Beef 70 Calories, 7g Protein Gluten Free
12 Pack
Wisconsin Maid Beef Snack Bites
Product Features
An upgraded version of the snack stick, our premium meat strips are created using high quality animal protein, clean seasonings, and simple dehydration. The end product is a tender and flavorful snack guaranteed to satisfy your inner carnivore. Loaded with nourishing protein, EPIC Snack Strips are inspired by the wild and free spirit of the majestic animals they are sourced from.
Epic Snack Strips, Wagyu Beef Steak, 0.8 oz
SNACK STRIPS: Our meat strips are created using high quality animal protein, clean seasonings, and simple dehydration. The end product is a tender and flavorful snack guaranteed to satisfy your inner carnivore
DELICIOUS SNACK: A great source of protein, EPIC Snack Strips are inspired by the wild and free spirit of the majestic animals they are sourced from
MADE WITH GOODNESS: An great source of protein(6 grams per serving), made from 100% pasture raised and grass fed beef
CONVENIENT SIZE: The Snack Strips are the perfect conveniently packaged animal protein for when you're on the go and for filling a life with epic adventure and epic health without compromising on amazing taste
12 0.8 oz. sticks