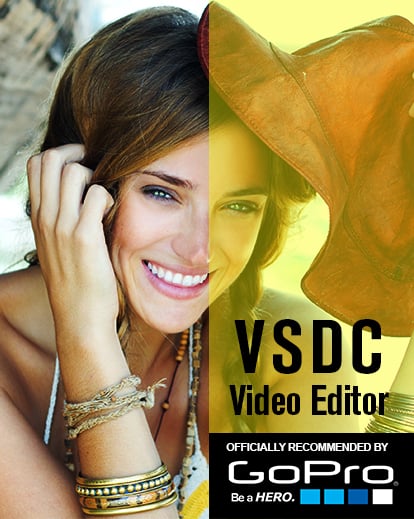 Are you a professional
vlogger
on a tight budget? If so, you're probably frustrated with the
video editing software
out there. Often, tools are advertised as professional-grade, but in fact, they offer you very little. Sometimes they're difficult to use. They may be incompatible with your preferred video format. Worst of all, the variety of effects they offer can be confining. They can even be boring. And as a creative spirit communicating your vision to the world, the last thing you need is boring.
You long for effects that will make your videos not just good, but spectacular. Eye-catching. Inspirational. Edgy. Or hilariously funny. But you simply can't achieve any of that with the same old effects that everyone else is using. You probably think you can't afford the kind of software that can provide the effects you need. Well, think again. The
VSDC Video Editor
gives you all the tools you need for high-quality video!
Go ahead and picture the most amazing video you've ever wanted to create. Now take that vision one step further, to something truly over-the-top. That's exactly what you get with this easy-to-use, affordable software. You can layer multiple videos, add voiceover or music, or include some trendy Instagram-style filters. The possibilities are endless. Simply select "Video Effects" from the Main Menu and choose from options such as "Quick Styles," "Adjustments" and "Filters" to watch the magic happen.
Best of all, the effects are compatible with a wide variety of formats. So no need to adapt to unfamiliar formats in order to use it.
It's tough to find video editing software that will always meet your needs at any given moment. The world of videography is constantly changing. A video that is cutting-edge right now may be dull and unoriginal in a year or two. But the vast selection of effects available to you with
VSDC Video Editor
allows you to mix and match, so you can follow your creative muse in spite of current trends. Not only that, but the price is well within the reach of anyone, whether amateur hobbyist or a seasoned professional.
Do you think that such a
professional editing tool
is beyond your budget? Well, it isn't. We're now offering the Pro version of VSDC Video Editor at a cost of just $20. Not only does this give you access to every effect you've ever wanted, but it also gives you lifetime access to technical support and updates, so that you can create a spectacular video for years to come.
Here are all the things VSDC Video Editor can do for you…
Lifetime license
Import from any devices and cams, including GoPro and drones
All formats supported
Hassle-free basic editing (cut, crop, add titles and music, etc.)
Advanced color correction
Instagram-like filters
All multimedia processing is done from one app
Non-linear editing: edit several files with simultaneously
Easy, high-quality export to social networks: special profiles for YouTube, Facebook, Vimeo, Twitter and Instagram
Stabilization tool
Voice over
Blending Modes
Mask tool
Advanced multiple-color Chroma Key
Free transform tool
Works on Windows (XP, Vista, 7, 8.1 and 10) operating system