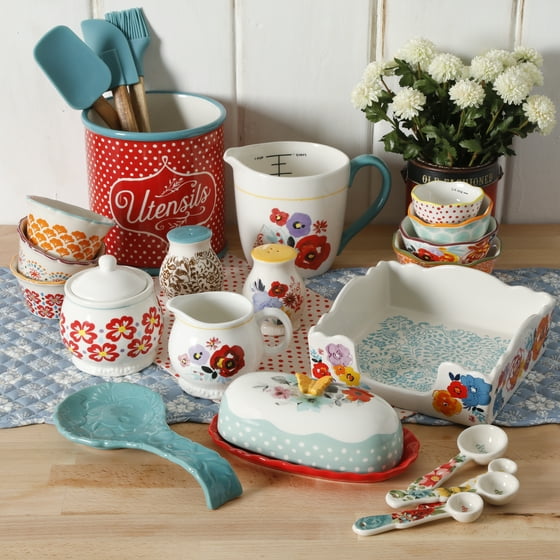 Adds elegant style to your kitchenware with the Pioneer Woman Flea Market 25-Piece Pantry Essential Set. Walmart has this incredible set marked down to only $69.00 (was $89). It adds beauty and functionality to the kitchen. It is ideal for making a variety of breads and desserts. Each piece features a different signature Pioneer Woman design, including bold and dainty florals, geo prints, and fun dots. This 25-piece ceramic set is safe for cooking in your microwave and is dishwasher safe for easy cleaning. It makes an excellent gift for anyone that has an interest in cooking.
This versatile set includes:
a 3pc silicone tool set
a 7in utensil crock
a 7.4in napkin box
a 6.4in covered butter dish
a 4-cup liquid measuring cup
a 4pc measuring bowl set
a salt and pepper shaker set
a sugar bowl, a creamer
a 8.5in spoon rest
a 4pc measuring spoon set
a 3pc 7oz ramekin set.