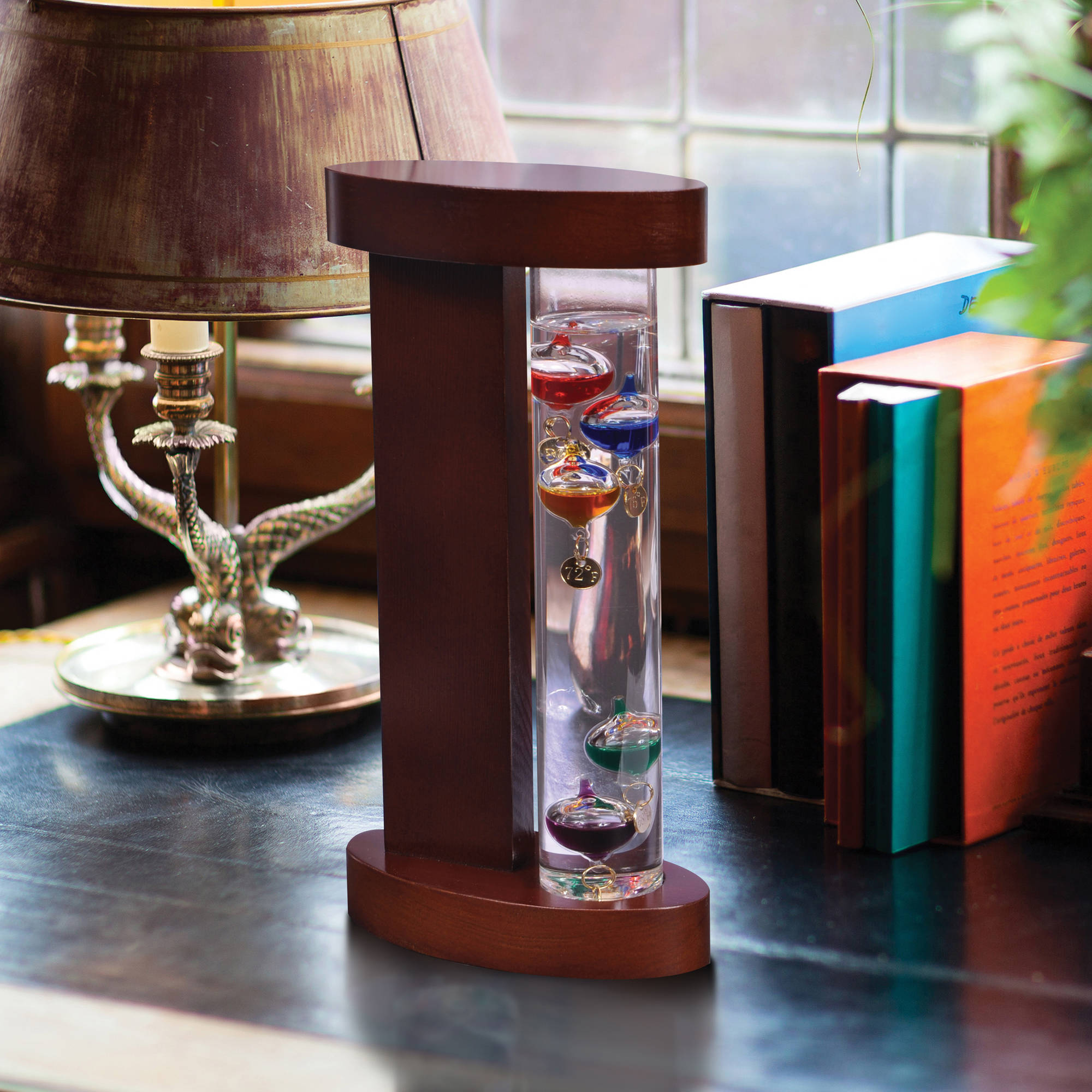 Check out this great deal! Right now you can pick up this
Galileo Thermometer with Wood Stand
for only $4.88 at Walmart! The glass Galileo thermometer combines style and functionality as a beautiful accent piece for any home or office. Features a 7.5-inch Galileo thermometer and wooden base. Makes a great gift item and lasting conversation piece! Galileo Galilei, the pioneer of modern astronomy and physics, (1564-1642), discovered that liquids change density as the temperature increases or decreases. Based on this principle, the colored glass spheres inside the glass Galileo thermometer have been precisely weighted so that they respond to temperature changes. When the temperature rises, the liquid inside the Galileo thermometer becomes less dense and the colored spheres floating inside will sink towards the bottom. When the temperature of the room cools, the process is reversed and the spheres will rise from the bottom.
Galileo Thermometer with Wood Stand:
Thick, sturdy mouth-blown glass construction with solid pine wood base
7.5" glass Galileo thermometer
Colorful, liquid filled bulbs descend and ascend with temperature changes
Lowest floating bulb indicates temperature
Measures temperatures from 64 to 80 degrees Fahrenheit
Get Cash back on this purchase by using TopCashBack! Sign up here for FREE!
Tip: Open the TopCashBack link a new window, search for the store, select it and it will open in a new window. Once this happens, you can close that window and continue shopping from where you were. Doing this will log that you are shopping through TopCashBack without losing your place!
Want to Save EVEN More Money? Try these out:
Honey, 
DealSpotr
, 
Coupon Surfer, Checkout 51, SaveAround Coupon Books, 100BigCoupons.com, Mr. Rebates, and eBates
Looking for Homeschool curriculum & Resources? Try these:
McGraw-Hill Education
 | 
college curriculum
 | 
Lesson Planet
 | 
BESTtrafficschool.com
 | 
ABC Home Preschool
 | 
Knowledge Box Central
 | 
Educational Insights
 | 
RedShelf
 | 
Curriculum on Amazon
 | 
Dover Publications
 | 
National Autism Resources Corp
 | 
Steve Spangler Science
 | 
Legacy Learning Systems
 | 
Nest Entertainment
 | 
Spaces2Grow
 | 
Essential Skills Advantage
 | 
Wyzant
 | 
Green Kid Crafts
 | 
Space Scouts LLC and Animal Trackers LLC
 | 
Educents
 | 
Magoosh
 | 
Zebra Education Inc.
 | 
Mindprint Learning
 | 
Aprende hablando
Places to buy School Supplies: