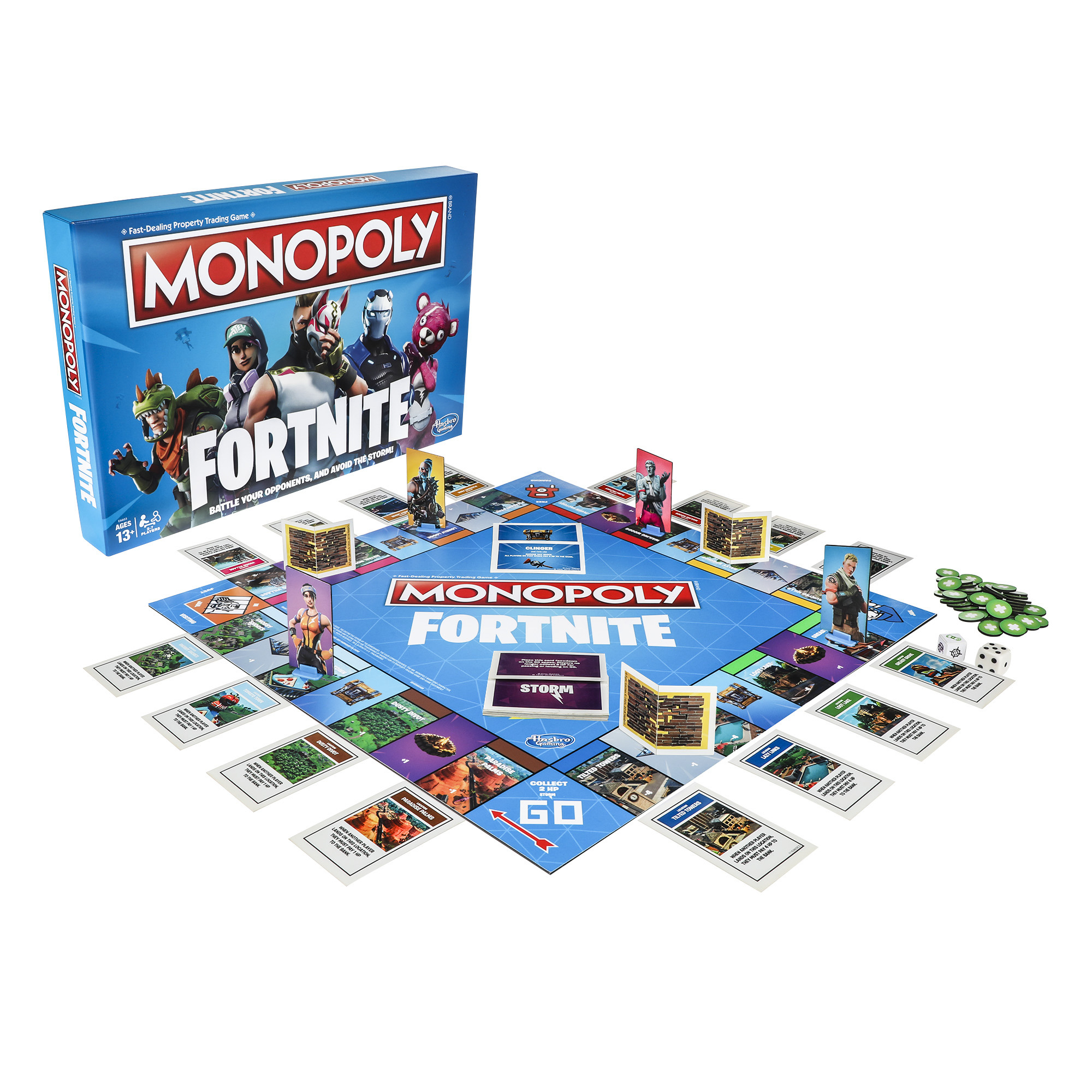 In this thrilling Fortnite edition of the Monopoly game, players claim locations, battle opponents, and avoid the Storm to survive. The gameplay, design, and components of the board game include elements inspired by the video game including Fortnite locations and loot chest cards. Instead of Monopoly money, players earn Health Points (HP).
First, choose a character: pick from 27 awesome outfits. Then, it's time to battle. The action die lets players pick up health packs, build walls, and damage their opponents. Every time a player passes go they unleash the Storm; avoid it or lose HP. Like in the Fortnite video game, the last player standing wins!
FORTNITE and FORTNITE (stylized) are trademarks of Epic Games, Inc. The Fortnite images, story elements, characters, distinctive costumes or "outfits," and related designs © 2013-2018 Epic Games, Inc. All Rights Reserved. The Hasbro Gaming, Parker Brothers, and Monopoly names and logos, the distinctive design of the gameboard, the four corner squares, the Mr. Monopoly name, and character, as well as each of the distinctive elements of the board and playing pieces, are trademarks of Hasbro for its property trading game and game equipment. Monopoly: fortnite edition board game inspired by fortnite video game ages 13 and up
Shipping is FREE on orders over $35.
Monopoly: Fortnite Edition Board Game
– this edition of the Monopoly game is inspired by the popular Fortnite video game! It's not about what players own – it's about how long they can survive!
SHOP THE LATEST DEALS FOR THESE STORES: