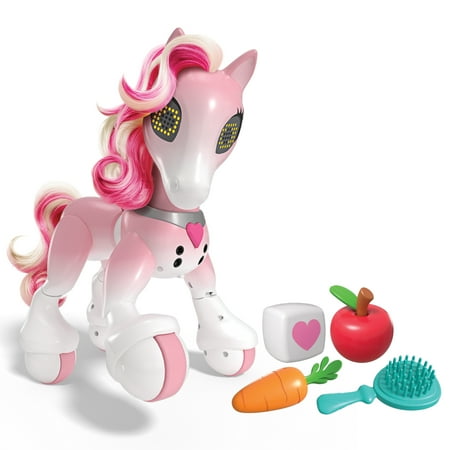 Now every child can have their very own pony, and get her ready for the big show! The new
Zoomer Show Pony
is a fashionable, interactive pony you can feed, groom, and train to perform different tricks. She moves on her own and has expressive light-up eyes that show you exactly how she feels. Zoomer Show Pony knows when youre petting her cheeks and nose, and responds with loving pony sounds. Shell nuzzle into your hand, shake and move her head, and even neigh I love you. When you press the heart badge on her chest, shell perform tricks, including dancing, singing or doing a figure eight. Zoomer Show Pony comes with four interactive accessories, including an apple, carrot and a sugar cube. Try feeding your pony an interactive apple and shell crunch, chomp and munch happily! Use the hairbrush accessory to brush and style her, so shes ready for the big show! For unbridled friendship, bring home your own Zoomer Show Pony!
Trot home a new best friend! Zoomer Show Pony is a sweet interactive toy who sings, dances and moves just like a real pony!
When she performs well, treat her with a yummy sugar cube! She loves to snack on sugar, and may even get hyper and perform her special sugar dance!
This little ponys hair is streaked a stunning hot pink and white. Use the brush accessory to style her for the big show!
Zoomer Show Pony is for children aged 5+. This toy comes with small parts. Requires 4 x AA Alkaline batteries (not included).