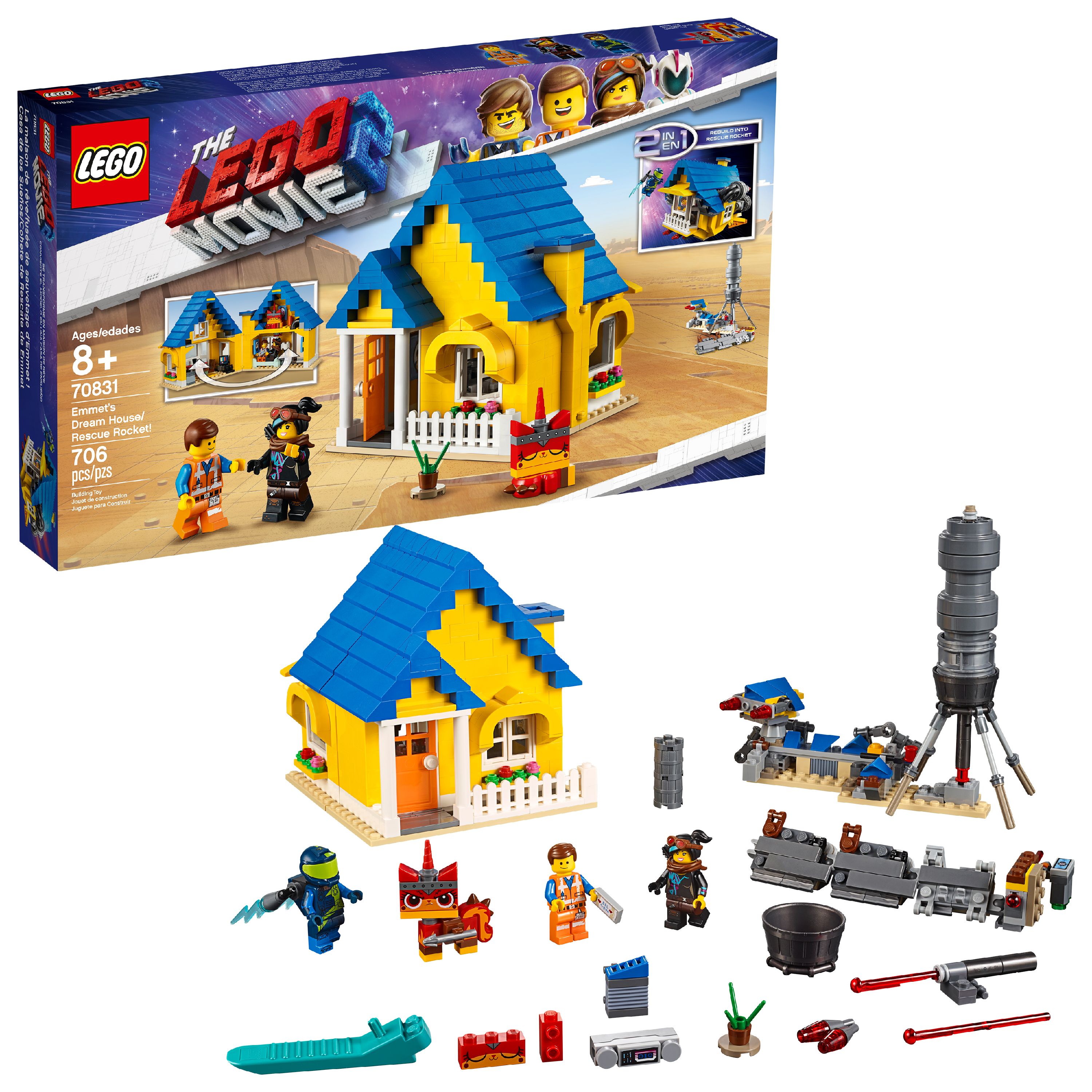 This is a nice price drop!
Show you are a master rebuilder with THE LEGO MOVIE 2 70831
Emmet's Dream House/Rescue Rocket
! This 2-in-1 rocket house features Emmet's home which can be rebuilt into a rocket. The house toy opens out for easy interior play and has a detailed living room/kitchen and attic. Remove the roof and use parts from the water tower and barricade to create a rocket with spring-loaded shooters and adjustable engines. This fun building toy includes 3 minifigures, plus buildable Planty and Unikitty as Warrior Kitty figures with weapons and accessories to role-play action from THE LEGO MOVIE 2.
Includes 5 THE LEGO® MOVIE 2™ characters: a LEGO Emmet minifigure, Lucy minifigure and Rex Dangervest minifigure, plus Emmet's friend Planty (brick-built) and a buildable Unikitty as Warrior Kitty figure with 2 different facial expressions
This 2-in-1 set features Emmet's Dream House which can be rebuilt into a Rescue Rocket using parts from the included buildable barricade and water tower with work station
Emmet's Dream House opens out for easy interior play and features: an opening front door; living room/kitchen with a buildable kitchen unit, sofa, dining table, heater and scratching post for Warrior Kitty, plus assorted elements including a plate, coffee cup and frying pan, radio, binoculars, accordion and air traffic control lights; attic; removable roof to transform into rocket mode; and a buildable garden fence, barrel and flower elements
Rescue Rocket features 2 spring-loaded shooters and adjustable engines
Weapons include Lucy's crossbow and Warrior Kitty's harpoon
Accessory elements include Lucy's quiver and Rex Dangervest's helmet
Emmet, Lucy and Rex Dangervest minifigures are new for January 2019
Recreate fun-packed scenes from THE LEGO® MOVIE 2™ with this cool creative toy
Dream House measures over 5" (14cm) high, 5" (13cm) wide and 5" (13cm) deep
Toy rocket measures over 5" (15cm) high, 7" (20cm) long and 7" (18cm) wide
Water tower measures over 5" (15cm) high, 6" (17cm) wide and 2" (7cm) deep
Barricade measures over 1" (3cm) high, 6" (16cm) wide and 2" (6cm) deep