EveryPlate
is one of the most affordable meal kit services. Right now, it's all but begging you to try its easy recipes risk-free for just
$1.49 per serving
. EveryPlate meals kits are already roughly the same price as if you bought all the ingredients at a grocery store. With this deal, it's way, way cheaper than if you bought the groceries, even at a discount market like Trader Joe's or Costco.
I've looked and this is the best meal kit sign-up deal I've seen to date. There really isn't much of a catch as long as you remember to cancel after the promo ends. (Unless you love it and want to keep it rolling for the still-cheap price of about $5 per serving.) The tasty deal makes a great gift for a budding chef, a busy home cook, or enlist a little convenience during these busy summer days.
EveryPlate manages to keep prices low by filtering out some fluffy accommodations you get with other companies, like catering to special diets or using trendy ingredients, but every meal I made tasted great. With EveryPlate, expect lots of hearty comfort foods like meatloaf with hoisin glaze and wasabi mashed potatoes or southwest pork rice bowls with kiwi salsa and lime crema. Many of the meal kits make for excellent grilling and warm-weather eats, I might add, and most are kid- and family-friendly.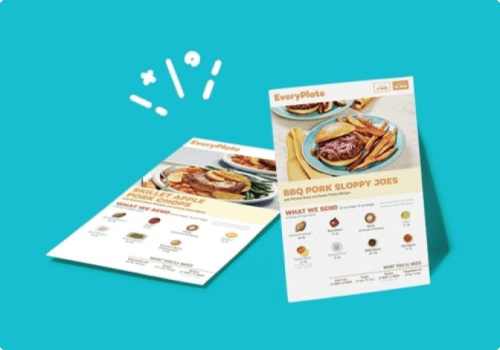 What is EveryPlate?
The
meal kit company
is really simple — just the way they like it. EveryPlate is an easy-to-use meal kit service that allows you to choose up to five meals per week from their weekly menu, for either two or four people. You can browse them all, or filter by type, with options for veggie-lovers, family-friendly selections and easy meals that take 30 minutes or less. Since meals rotate each week, no one will ever leave the table bored.
How much does EveryPlate cost?
This meal kit
is one of the most affordable kits we've found, starting at $4.99 per serving and only $1.49 per serving + 20% off the next 2 boxes for Closet of Free Samples readers. You do have to order at least five meal kits and for four people each to get this per-serving price. There is also a $9.99 shipping fee, but this only applies once per week, regardless of how many meals you order. Choose fewer servings in your first bio and the cost is still under $2 but slightly more than $1.49.
Don't worry, you can pause or cancel anytime. If you've been curious about giving meal kits a try, I'd suggest taking advantage of this low-risk offer from EveryPlate while it's around.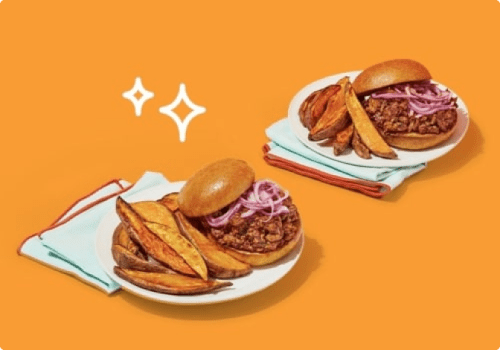 What makes EveryPlate different?
EveryPlate
is for the everyday person who wants an easy, home-cooked meal without having to break the bank or spend too long in the kitchen. The company sets itself apart by using less packaging and more streamlined menu offerings to keep prices down, while also placing value on your time with easy-to-prepare recipes.
"Our goal with EveryPlate is to help consumers put simple, filling, and delicious dinners on the table at a comfortable price point for everyone to enjoy," reads the FAQ page. "We continuously strive to apply small adjustments to packaging and menu options that help us pass the savings onto the customer. These minor changes and tighter scoped menus give more households a way to enjoy great dinners at a price everyone can get behind."
► Looking for more Subscription boxes and monthly clubs? Look HERE!
Did you find this post helpful? If so, it would be great if you could show some support by following

Closet of Free Samples on TikTok

(as well as my other social media accounts @closetsamples) and by checking out

my Etsy shop

! As a small creator, all your support makes a difference! Even a simple share of this post to your friends helps! Thanks so much!