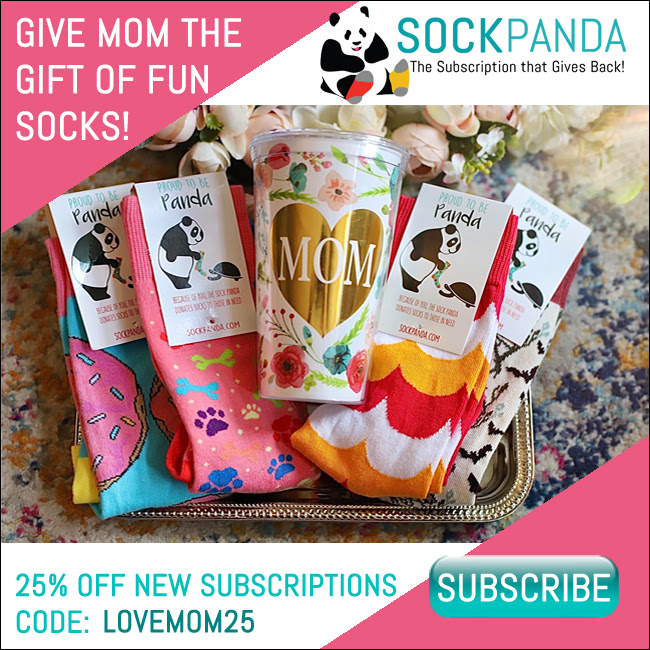 Celebrate Mothers with Amazing Socks - Better than just Flowers!
Especially this year – more than others – Mothers are under tremendous pressure as their daily obligations increase. Whether it's your mom, your grandma, an aunt or someone else, honoring that person might look a bit different in 2020 in the wake of the coronavirus pandemic. Luckily, there are ways to be creative and have a good Mother's Day.
Flowers may work, but a fun gift of
amazing socks
may be better. A surprise package with fantastic (conversation starting) designs is sure to bring a smile.
Starting today, May 1st, get 25% off new subscriptions with promo code LoveMom25 at checkout for a limited time! Even better – the Sock Panda is the gift that keeps on giving – with every purchase, the Sock Panda Donates Socks to those in need. As of May 1st, 2020 we donated 135,000 pairs of socks! Check out their Adult, Tween, and Kids lines. With Sock Panda you will get new awesome styles of socks delivered to your door every month. See breakdown of products below.
ADULT WOMEN'S & MEN'S SUBSCRIPTION w/ FREE DOMESTIC SHIPPING!
$20 month for 2 pairs per month
$13 month for 1 pair per month
Choose from bold, cool, or both. Fun & unique design every month
Pick from month to month, 3, 6 month or 1 year subscription
For the coolest teens around! Socks made of Peruvian cotton and designs really impress!
$16 month for 2 pairs per month.
Age 9-11 years old, choose for boy or girl
Different designs every month
Pick from month to month, 6 month or 1 year subscription
Amazingly cute kids socks of Peruvian cotton. Themed package consists of 2 pairs of socks plus mystery prizes and engaging activities made for kids who learn something new every month.
$15 per month
Age 3-8 years old
Choose for boy or girl
Pick from month to month, 6 month or 1 year subscription
New theme and unique sock designs every month.
► Looking for more Subscription boxes and monthly clubs? Look HERE!