I use a heating pad on a regular basis. Some of you may or may not know, I have a shoulder that was injured several years back in a car accident when a car slammed into the back of us at a red light. So heat feels really good on my shoulder. When
Eden Fantasy
contacted me about trying their
Heart Warmer Massager
I thought this product would be great for me!
As many of you know
Eden Fantasy
is popular for their adult toys, but because this is a family friendly site, we will focus on the other items they have and keep things safe. So no need to run off! Now the
Heart Warmer Massager
is pretty neat! All you do is snap the button that`s inside the heart and it heats up instantly! I`m still using it as I write up my review, massaging my neck and shoulders with it and it feels great. It has a smooth soft surface so it doesn`t irritate my skin.
It`s perfect for relieving muscle tension, reducing stress, and soothing your aches. Best of all, boil it for 10 minutes and it`s reusable over and over again! I must say, this honestly does work too! Plus, the adorable heart shape is perfect timing for Valentines Day! What a perfect way to surprise your significant other with real warm massage from the heart!
Heart warmer massager. The combination of sensual massage and warm feeling can encourage worries and stresses to fade away into the distance so that an aura of relaxation, peace, and well-being pervades the whole body. Add aromatherapy massage oil and you will receive not only sensual, but medical effect.

Product code: PD302311

The heart warmer massager is available in 3 different colors: Pink, Purple and Red. Plus, they`re only $8! So
buy one now
while they`re still available! Plus use referral code
CEF
to receive 15% off! PLUS, FREE SHIPPING on orders over $59! You can also find things in these categories on Edens Fantasy:
Shop adult toys
EdenFantasys Mission Statement

EdenFantasys.com invites you to learn from others, share your experiences and re-discover sex. We offer online shopping you can trust, a welcoming community and a wealth of inspiring resources.

At EdenFantasys.com you`ll find:

A wide selection of products

Our toys, books and other products have been chosen to appeal to people of all genders, ages and orientations. You`ll find useful products and services at EdenFantasys.com if you`re gay, straight or bi; male, female or trans; twenty, forty or ninety; and anywhere in between.

We acknowledge the widely divergent needs of the people we serve. Whether you`re looking for your first toy or your twentieth, something vanilla or kinky, a product large or small, we`ve got choices for you.

It`s easy for you to find what you need. Our advanced search functions (some of the best in the business, we`re proud to say) let you sort products by function, size, price, texture, material, color and even power source. When you find a product you`re interested in, look at it from several different views, including as a 1:1 actual size image. Find several products and use our unique "compare" function to see how they stack up against each other. We`ll even tell you if there are similar products made from better materials. Add or remove choices easily to your shopping cart with one click or put them on your wish list for later purchase.

A welcoming, sex-positive community

We celebrate the fact that sexuality can be expressed in many ways. Our community

members and contributors live all over the world. We`re bi, straight and gay. We`re happily monogamous and joyfully polyamorous. We`re plump, thin, college students, parents, retirees, couples, singles, physically challenged, non-disabled, easy orgasmers and the pre-orgasmic. We welcome everyone, with the goal of helping each person find a unique path toward sexual fulfillment. No matter who you are, you`ll fit right in with our community. Read our blog. Post on the forums. Submit reviews. The community wants to hear what you think.

We provide education about the topics of healthy sexual activity, safety regarding sexually-oriented products and much more. We want you to have the information to make informed choices about the products you choose and what you do with those products. Have you got a question about a product or some aspect of sexuality? Chances are, you can find answers on our site. If not, talk to us. Send a message to a community member. Our experts are just like you, but with hands-on experience with our products. We`ll get you the information you need.

Customers and other volunteer reviewers to write about our products. We publish these reviews so that everyone can make educated choices about what will best meet their needs. Have a toy you adore? Pen a review and spread the word! Found something that didn`t do what it was supposed to do? Let everyone know. We want to hear what works well and what doesn`t. This is how we improve selection and offer the best products on the market.

Our forums allow customers to ask questions, talk about products, and find a sense of community with others who share their interests. Respect and honesty are key at EdenFantasys.com. You`ll see these things in abundance throughout our forums.

Most of all, EdenFantasys.com encourages our community members to grow and discover themselves as sexual beings. We refer to our company and community as "sex-positive." We believe that the safe, consensual expression of sexuality is a wonderful and and crucial part of human life. Unfortunately, it`s a part of life that`s too often been shrouded in unnecessary secrecy and shame. We strive to provide products, services and information that help you celebrate the powerfully positive affects of sexuality in your life -- with no judgment or embarrassment.

The highest standards for online transactions

Your personal information is never shared with anyone. Ever. End of story.

Packages are shipped discreetly. We promise that the package will look completely innocuous, because no matter how cool we might think your brand new realistic dildo is, your neighbors do not need to know about it. You can read more about our privacy policy here , but rest assured that we use only plain boxes and a nondescript return address.

No unsolicited email or postal mail will ever be sent to you. Catalogs with half-nekkid folks? No way. Spammy emails that clog up your inbox? Nope. We just don`t do it. We`re confident that your experience with EdenFantasys.com will be so positive that you`ll find your way back to us when you`re ready to order again.

Complete and accurate information is provided throughout your EdenFantasys.com experience. From product descriptions, to order tracking numbers, to post-order customer support, you can be assured that you are getting correct advice.

We hope that this gives you an idea of the kind of principles EdenFantasys.com upholds. Please contact us if you have questions, comments or suggestions.
Gift Card by EdenFantasys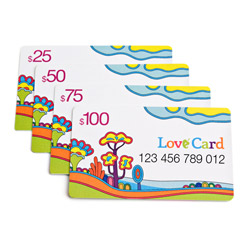 Eden Fantasy is intended for those 18 years of age and older. If you are under 18, please do not enter the site.