With all this cold weather we could all use something warming! Well you may not get much heat, but you can get some warm scents with the
Earth Scents Incense Set
from
Eden Fantasy
! You may also want to check my previous review of a
Heart Warmer Massager
also from Eden Fantasy if you`re looking to stay warm for this Valentine`s Day!
I love incense and candles and just all around things that smell good. I was offered the opportunity to try out the
Earth Scents Incense set
and it is amazing! For only $9.99 you get 20 incense cones, 40 incense sticks as well as the base to burn your incense on. The four scents are a mix of woodsy, floral, musk, and green tones and will add a sensual element to your intimate time together. To use, simply place a stick or cone on the holder, light the tip, and blow out the flame after a few seconds; fragrant smoke will gently waft through the room. Please remember though, for your safety, you never want to leave your incense unattended as accidents do happen and we don`t want to start a fire! I love that this set is small so it`s easy to pick up and put away as well as set up. Nothing complicated at all. Each scent smells great and fills the room and stays lingering for a while! The ceramic base that is included is simple & easy to clean, which of course is a plus!
Now you all probably read that this is from
Eden Fantasy
and probably wondering if I have the right site because
Eden Fantasy
is an adult store! Well yes, they are an adult store, but they have other items if you just want to set a romantic mood or even buy adult themed gag gifts! Don`t worry, I won`t get into that though as this is a family friendly site.
Shop adult toys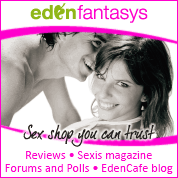 GET 15% OFF YOUR PURCHASE!
Want to make a purchase from them? Use the code
CEF
and you`ll get 15% off your purchase!