I`ve been on this missing to find healthier snacks that I actually enjoy. Since giving birth to my 2nd child and inching closer to the age of 30, my body just isn`t what it used to be. I can no longer sit around and eat bags upon bags of junk food and stay in shape like I once could. In fact, I have to work twice as hard and that`s just to keep from gaining extra weight. I mean, I`ve drastically cut back on junk food and don`t eat even a quarter of what I used to. I guess this is what getting older feels like?
*sighs*
Well, when I learned about
Fit Snack
, I wanted to learn what they were about. Besides offering healthy (and delicious might I add) snacks, it's also a subscription box. I LOVE subscription boxes because they offer new products I would have never touched on my own. Of course, finding new things to fall in love with could be bad too if you're on a budget, especially since I tend to find way too many most of the time! Enough about how awesome subscription boxes are, let's get on with this Fit Snack box. So what exactly is in the Fit Snack Box? Each Fit Snack box is packed with the most delicious and healthiest products on the market.  They strive to include a diverse experience of full and sample size items that are as good as they are good for you. Every box is different – half the fun is getting the mystery box of goodies delivered to your door each month! Each product always containing two or more of the following: GMO Free, High in protein, low in sugar, gluten free, organic, raw, vegan and all natural. Plus, they add in bonus items such as energy boosters, nutritional supplements, or refreshing beverages. Also,  they include a note card that includes information about the items in your box as well as exclusive workouts, workout gear or other active lifestyle inspiration. Each monthly Fit Snack box contains 7 – 10 carefully curated items, generally valued at over $30.
There are additional benefits to being a Fit Snack member!
Fit Quarterly – our workout, recipe and inspirational publication.
Fit Music – complimentary workout music mix from one of Hollywood's hottest DJs, Jonny Fontana.
Fit Community – a supportive and active community of members that share tips, ideas, and motivation.
Fit Philanthropy  – for each box we ship, we donate one meal through Feeding America.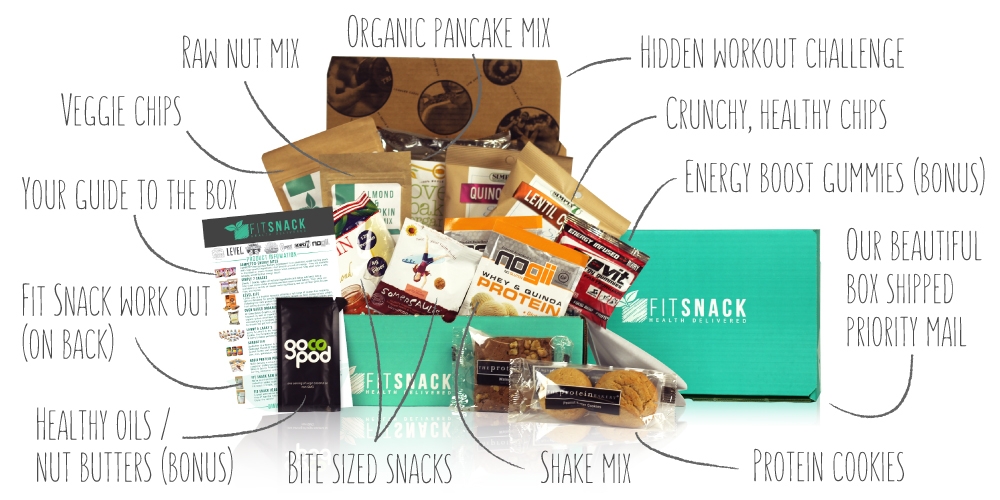 So let's get down to the specifics of what I got in my particular box. I received 8 full sized products and I must admit, thus far, this is my favorite box I`ve received. Here's the breakdown of everything that was included:
HEALTH WARRIOR CHIA BAR
Health Warriors Superfood protein bar delivers 10g of clean, plant protein from a superfood blend of chia, quinoa, and oats.
WILDE CHICKEN BAR
Wilde is the first over-baked meat bar made with premium lean meats delivering 10-11g of protein in a gluten free, 100 calorie serving.
BETTY LOU`S SMACKERS
Betty Lou`s is certified DELICIOUS and absolutely NUTS about Energy Balls. Up to 13g Protein in mouth-watering chocolate, caramel and nougat flavors. GMO`s never, Gluten-free always! Better than Snickers!
BETTY LOU`S NUT BUTTER BALLS
Betty Lou`s is certified DELICIOUS and absolutely NUTS about Energy Balls. Up to 13g Protein in mouth-watering chocolate, caramel and nougat flavors. GMO`s never, Gluten-free always! Better than Snickers!
VINTAGE ITALIA`S PASTA CHIPS
Pasta Chips marries Tuscan-inspired chips with different seasonings based on regional Italian favorites, steeped in hundreds of years of Italian culture and living.
PURELY ELIZABETH GRANOLA
At purely Elizabeth we use the highest quality natural + organic ingredients to create delicious products made with love. We take the guesswork out of healthy eating.
LIFE AID RECOVERY DRINK
FitAID - The premium post-workout recovery drink with 3 grams of supplements and no artificial colors, flavors, or sweeteners.
CHINOOK SEEDERY
Chinook Seedery handcrafts the best tasting sunflower seeds on the planet. Non-GMO verified + unique gourmet flavors + larger seeds = #BestSeedsEver.
Exercise Challenge: Body Sprint Workout (On the insert card as my suggested workout)
Warm Up: 
Exercise: 3x
20 Push up to side plank
20 Lunge w/ twist
Plank - 35 seconds
20 Squat Jumps
*Repeat all stair exercises 3 x and do a light jog home to cool off. More details of each work out is written on the card so you know how to do them.
Let me say, this box was A-M-A-Z-I-N-G!! I mean EVERYTHING in this box was a hit! Most of the time, at least the stuff I have tried, I found the "health" products taste horrible. Since health products are generally pretty expensive, I don't try them often or a lot. This box introduced me to a lot of new items I would not have even considered before. For me, the Wilde Chicken Bar and the ChinookSeedery Sunflower Seeds were my favorites of this box, but I also found the Purely Elizabeth Granola to be delicious as well.  My least favorite of this box has to be the Betty Lou`s Nut Butter Balls. It wasn`t horrible, but just wasn`t a favorite. Each item had it`s own unqiue flavor and was different from other snacks and foods I have tried in the past. Best of all, I enjoyed them, even knowing their health benefits! Obviously, I am absolutely in LOVE with my box. It's fun and healthy. I love getting something different for a suggested exercise than sit-ups and jumping jacks. If I could make a suggestion to improve the program, it would be to provide maybe some more information about the products on the information card. For example, maybe recommended uses and pairings for them. If it's a product that can be mixed into other food, put that suggestion on the card. Also, as a subscription box fan, I love seeing how much each item is valued at. Why? Because I like seeing I'm getting my money's worth out of the box. Yes, you get at least $30 worth of products, but it's just that gratification of "wow, this is worth X amount of dollars and I only paid X price for the box!" – It just gives you that good feeling of value for the box. Of course, these are just little minor things that I think would make a difference to the subscriber and make it that much nicer. Nonetheless, I think FitSnack is an amazing subscription box company and one I would definitely recommend to the "health guru" or someone who simply wants to try new products.  Now what are you waiting for?! Go enter the giveaway for your chance to win a box of your own!