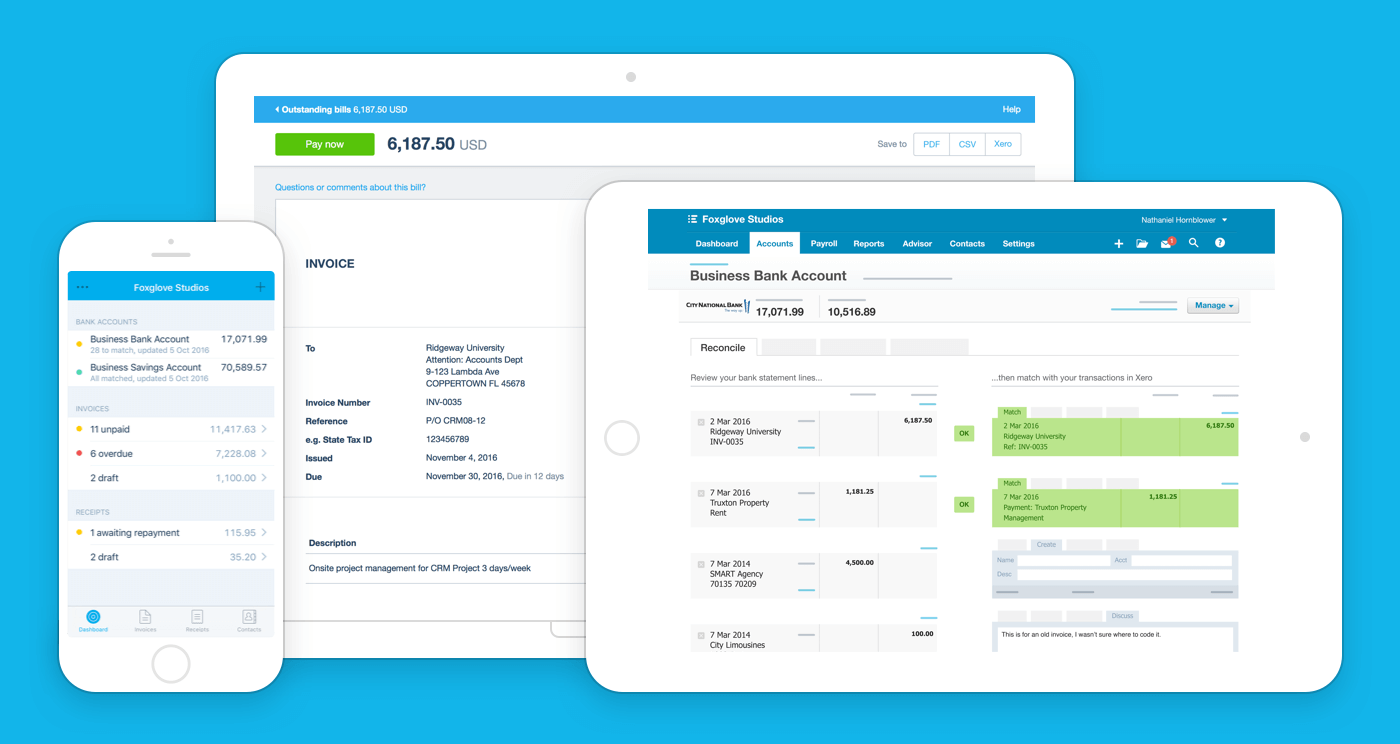 When it comes to
accounting software
, ease of use is one of the most important factors to consider, especially when you are using this kind of software for the first time. Xero's online accounting software offers one of the easiest dashboards to use, even in spite of it occasionally awkward navigation when completing a task. Getting started with the software is as simple as adding your business name and contact information. After that, you can get started with creating clients and sending them invoices.
PROS:

 Xero supports multiple tax rates and currency setups, so you can serve clients from anywhere around the world.

CONS:

 Navigation within Xero's dashboard can get complicated at times, especially when the interface opens new windows for tasks. VERDICT: Xero handles the majority of basic accounting tasks with ease, even when navigation gets tricky. With multiple currency and tax rate support, it gives you flexibility when working with different kinds of clients.
The Breakdown: 
Beautiful design
The Xero dashboard presents users with a clear and concise overview of their financial situation. It provides small business owners with a greater understanding of their cashflow by highlighting bank balances, outstanding invoices, upcoming bills and expense claims in a visually appealing way.
Connects with 500+ business apps
Xero integrates with a variety of third-party apps commonly used by small businesses. Data flows directly into the Xero ledger, removing the time and effort required for manual data entry.
Simple bank reconciliation
Daily bank and credit card transactions are automatically imported into Xero and matched to their corresponding accounting transaction. Doing bank reconciliation is as easy as confirming the match is corrected and clicking "OK."
Free unlimited users
Every Xero plan comes with unlimited users. No need to pay for extra licenses. Collaborate with your colleagues or invite your financial advisor to view data remotely and get valuable real-time advice!
Seamless, automatic updates
New features are added frequently based on feedback from our customers. Automatic updates occur every 3–6 weeks in the cloud, not on your desktop.
Unlimited email support
Xero provides unlimited, around-the-clock email support from an experienced and knowledgeable staff.
Convert from QuickBooks and Sage
Do you feel handcuffed to the accounting software you were told was the only option? Xero will convert your QuickBooks and Sage data for free when you sign up for a new account. Xero easily creates invoices that you can customize how you want, including making changes to fonts, titles, margins and logo placement. As you create these new templates, you can save them for future use and switch between templates as you please. Creating quotes or estimates for your contacts follows a similar process, and you can customize the templates your contacts see for the quotes you send out. However, creating a new invoice or quote sometimes opens a brand new tab or window in your browser, which can cause issues when trying to navigate. With support for over 160 currency options and for a variety of tax rates, creating international contact files with unique currencies in Xero is convenient. You can specify currency and tax rate when you create a contact. Once you choose a currency and tax rate, the interface automatically displays it with anything you do for that contact. Most bookkeeping software offers some sort of inventory management tools, which is helpful if you have physical products you are selling, and Xero handles inventory management well. We immediately could tell where to go to track items and services because the dashboard includes an inventory button under the Accounts section, as compared to some other services that bury the inventory features in an obscure location in the settings. As your company grows, your accounting responsibilities will often grow, too. Xero offers three different pricing tiers for its cloud accounting software. You can grant access to unlimited users on any pricing tier, but specialized features, like payroll, customizable purchase orders and filing taxes, are only available on the higher-priced tiers. Support with
Xero
was standard. Support representatives are all helpful, and response times are low with phone, email and live chat. Xero boasts a large and active user community, where you can go to ask other users about problems you have. This is especially helpful if you run into a problem that may not be covered under the company's help guide, which is comprehensive. Xero is a solid choice when it comes to small business accounting software, and it works well for small companies that are just starting to grow. With one of the easiest interfaces to use in the industry, you can look forward to a quick and painless implementation as well as a worry-free, day-to-day accounting process.