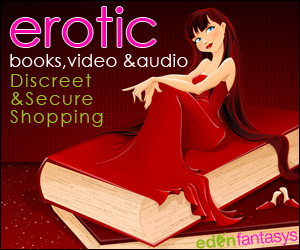 **Although this is a family friendly blog and I will do my best to keep this post family friendly, this post will contain adult material. There will not be an pornographic photos, but because of it's content I ask that you read this in the privacy of your own home when no one under the age of 18 is around. Also, photos used during this review may belong to EdenFantasys as sometimes using my own photos are not suitable for these posts.
HEY! 
Does anyone else suffer from back pains or muscle aches? Well the reason I ask is because I found something recently at EdenFantasys, an
adult shop
, that may be rather useful. No, I`m not talking about
sexy lingerie
or
adult toys
either! It`s actually called Fetish Fantasy Series shock therapy. Ok, so maybe it`s considered a fetish toy, but hear me out! I was having such HORRIBLE pains and I was desperate. As you all know I`m affiliated with EdenFantasys and since I didn`t need/want anything in the bedroom department this time I ended up going to try the shock therapy. Why? Well I have no idea where my $100+ therapy from my chiropractor (from years ago) is so I figured for $35 I`d give it a try. I`ll be honest, I prefer the one from my chiropractor better, but this works to help relieve some of that muscle pain. The difference? My expensive one allows me to run 4 pads at a time, 2 on separate settings or I can choose to only use 2 of the pads at a time and not all 4. This version you do need to use all 4 and they`re all on the same setting. My expensive one doesn`t auto shut off after so long where as this one shuts off after 15 minutes. Now I do have to say that IS a safety feature which is recommended to go by because it`s not good to keep it on longer than 15 minute periods. So bare that in mind. My expensive shock therapy has a more relaxing feeling than this one. This one I can`t take the setting any higher than a 2 without it seriously hurting me. My other one goes up to a 7 and generally I need a 6 or 7 on my bad shoulder. Now y`all have to keep in mind that this one is intended for those with a sexual desire for such activities and not necessarily made to be used as an actual therapy kit. As I said, it does help, but keep it on the LOW setting. It does work easily and is a cheaper alternative if you don`t have access to or the funds for an expensive one from a chiropractor. I personally LOVE the products at EdenFantasys. Every time I make an order with them my items come in with discreet packaging as well as shipped out super quick and arrive at my door step in just a few days. They have nice quality items with super friendly staff. I definitely can't say enough positive things about them! Usually, this top of the line adult shop has a few little promotions going on that always changes from free shipping to a free toy with any purchase and sometimes you get both! Most of the time I notice it's a free toy! So you can make a purchase at a discount plus get a little something extra! Currently they have a variety of items on sale at 30% off + AND a free vibrating ring with ANY order! How awesome is that? I'm always up for something free. Want to make the deal even sweater? Then
USE THE CODE

CEF

TO RECEIVE

15% OFF
! Make things a bit better? 15% off PLUS a freebie? Can't go wrong with that one! But you better hurry, this offer is good while supplies last and I'm sure that means it won't last long! Be sure to let me know what you found to order!