This post first appeared on Piping Rock. All content is theirs.
You're probably thinking: "A healthy dessert...that probably tastes disgusting." Erase that thought now. We don't promise things only to let you down. That's not how this works. When we promise for a dessert that is easy, and better for you...we deliver it.
So, today we bring you a twist on fried bananas. In our humble opinion, this bananas recipe is even better than the traditional, grease-ridden, fair-favorite version since there's no sense of guilt after. Arguably fried anything is good, but when you ditch the breading for some sweet cinnamon and MCT oil instead, "fried" takes on a whole new appearance. One that is not only better smelling, but better tasting.
Are your mouths drooling yet? Or should we mention that they smell like a cup of chai from the coffee shop, and taste like Cinnamon Toast Crunch? Whoops.
Okay, let's make this healthy, delicious, potassium-filled dessert.
To start, you'll simply need to peel two perfectly ripe bananas, and then cut into 1 inch slices.
Then, in a dish, place about 1/4 cup of MCT Oil (Medium Chain Triglycerides). You'll be using this as a dipping dish to coat the bananas.
In another small dish, mix together 2 tbsp. of Cinnamon Powder Organic, 2 tbsp. Cocoa Powder, and 1 tsp. Sugar
Finally, heat a skillet over med-high heat on your stove.
Prep done. Cooking time now.
First take a few slices of banana, dip in the avocado oil, and then in the cinnamon mix. Place on the skillet.
Cook until slightly golden, flip.
Remove from heat, and place on parchment paper to cool.
Repeat until all the slices are steaming hot with cinnamon goodness.
Cool them off.
Eat!
Want to take this recipe one step further?! We're betting on a yes.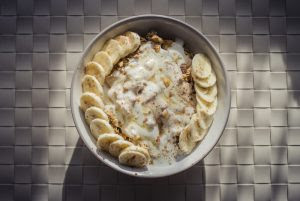 These bananas can be eaten on their own, which is yummy, but you can up their deliciousness by topping on your favorite low sugar yogurt (like Siggi's) or on a bowl of traditional oatmeal.