The 2021 school year has just begun for many in my local area. Some people are going back in person while others have decided to continue homeschooling. Whichever decision you decided to make, you will still need some school supplies.
Check out my list of some fun and handy school supplies for this year! These are listed in no particular order other than when they were found. I hope you enjoy!
Please note, pricing is subject to change and was accurate at the time of posting.
This is a unique take on a tabletop desk. Plenty of room to organize, which is handy in a small space!
If you work with devices at all, then this is a must-have item you probably haven't thought of! These cute little clips help keep those wires organized and clutter-free!
The 1Tac Tactical Pen is the World's Finest Multi-Function Weatherproof Tactical Pen made from Lightweight, Durable Aircraft-Grade Aluminum. The instrument Includes a Tungsten Steel Glass Break Tip, Removable Steel Blade, Easy-Writing, All-Weather Medium Point Ball Point Pen, Integrated 80 Lumen Bright LED Flashlight. Featuring Diamond-Cut Non-Slip Grip. As elegant in the boardroom as it is effective in the field.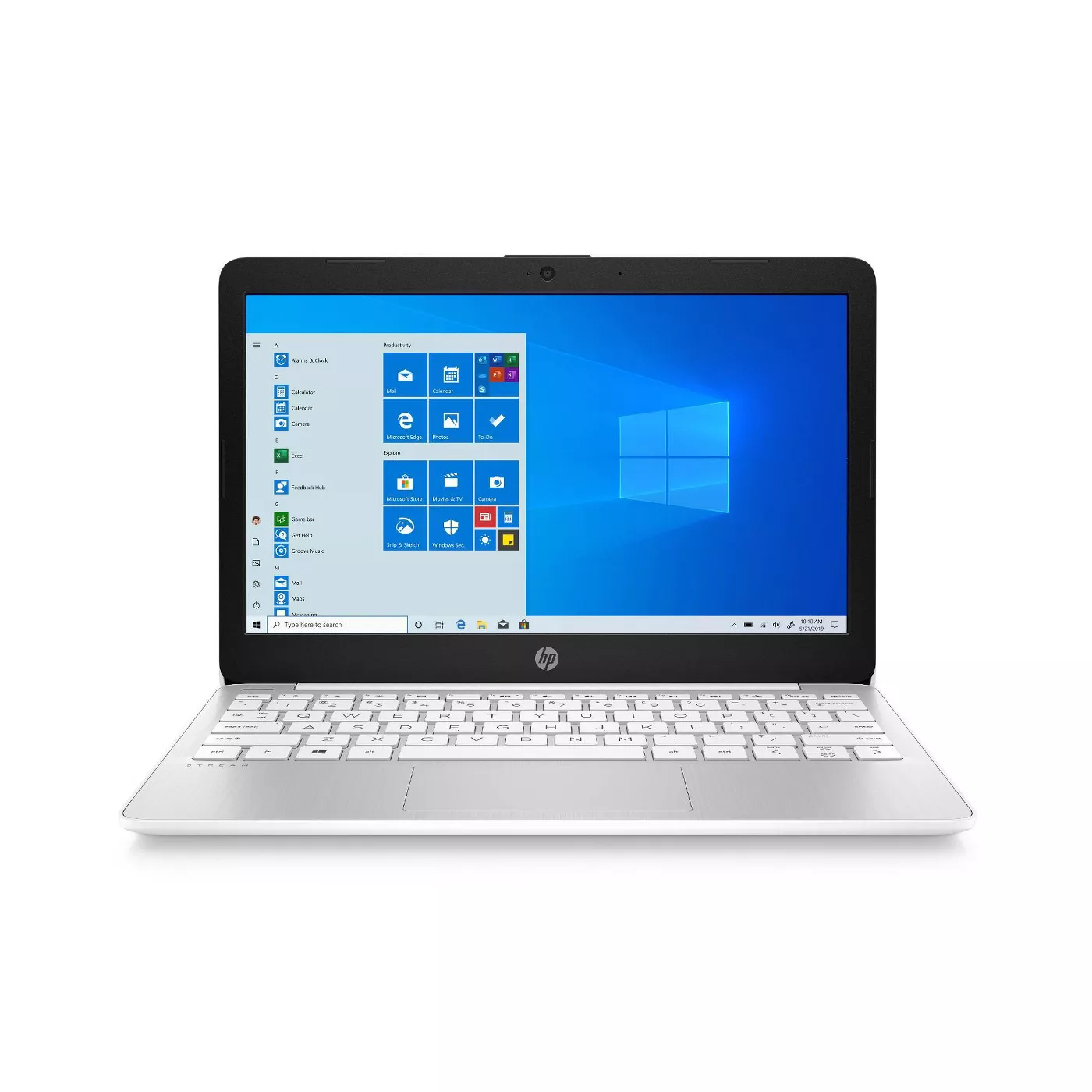 Post, play, and stay productive for up to 13 hours and 15 minutes with the power of a Windows PC. HP Stream lets you do it all in a design that's affordable, portable, and incredibly stylish.
EXTREMELY PORTABLE. EXPRESSIVE DESIGN: Live your best life on-the-go and in style with a slim, expressive design. With the smooth finish of this white laptop, vertical brushed pattern, and pop of color, the HP Stream 11 Laptop perfectly fits your personality.
MORE FEATURES. MORE VALUE: With an Intel® processor and long battery life of up to 13 hours and 15 minutes of video playback, work all day or binge-watch your favorite shows – all while staying under budget. Plus, stay connected with fast Wi-Fi and all the ports you need, including a micro SD card reader.
MAKE THE MOST OUT OF YOUR 365: Bring your ideas to life. Your creativity now gets a boost with Microsoft 365. Office - Word, Excel, and Power Point - now includes smart assistance features that help make your writing more readable, your data clearer and your presentations more visually powerful. One year subscription included so you can use this as an office laptop right away.
WINDOWS 10 HOME IN S MODE: Experience the most secure Windows ever built with fast boot times, increased responsiveness, and added protection against phishing and malware.
DUAL-CORE INTEL® CELERON® PROCESSOR: This Intel® Celeron® N4000 dual-core computer has the perfect combination of performance, power consumption, and value to make a full day of work or school run smoothly.
HIGH-DEFINITION DISPLAY WITH INTEL® UHD GRAPHICS: Enjoy your entertainment with the great quality and high-definition detail of 1 million pixels. Smoothly stream content and play your favorite games.
32 GB EMMC STORAGE: An embedded Multimedia Card provides reliable flash-based storage at a great value. And without the moving parts of a traditional hard drive, there's a lower chance of failure and damage.
WI-FI 5 AND BLUETOOTH® 5.0: With the latest Realtek Wi-Fi 5 (2x2) WLAN adapter and Bluetooth® 5.0, all your connections are rock solid.
SLEEK DESIGN: Easily take this thin and lightweight laptop from room to room or on the road. Thin laptops like this HP Stream Laptop 11 are a great choice for a business laptop for work, or for tackling homework.
CAMERA WITH MICROPHONE: With a great camera it's never been easier to stay in touch and get your work done. Video chat with the family while experiencing clear, smooth quality.
Additional features: Full-size, island-style, snow white keyboard; HD Audio with stereo speakers; 1 TB of OneDrive cloud storage for one year with subscription of Microsoft 365; 60 Skype minutes per month for one year; 1-year limited hardware warranty.
Whether you believe in essential oils or not, this stuff smells good! This blend is green and bright. Diffuse it to encourage your little genius to focus and concentrate.
Blend of: cedarwood, chamomile, lavender, marjoram, orange, vetiver, ylang ylang
Again, regardless if you believe essential oils do anything or not, this smell amazing! Enjoy this bright and sweet blend. Diffuse it to brighten the mood or to help create a balanced environment for your little joeys.
Blend of: fir needle, geranium, grapefruit, lemon, orange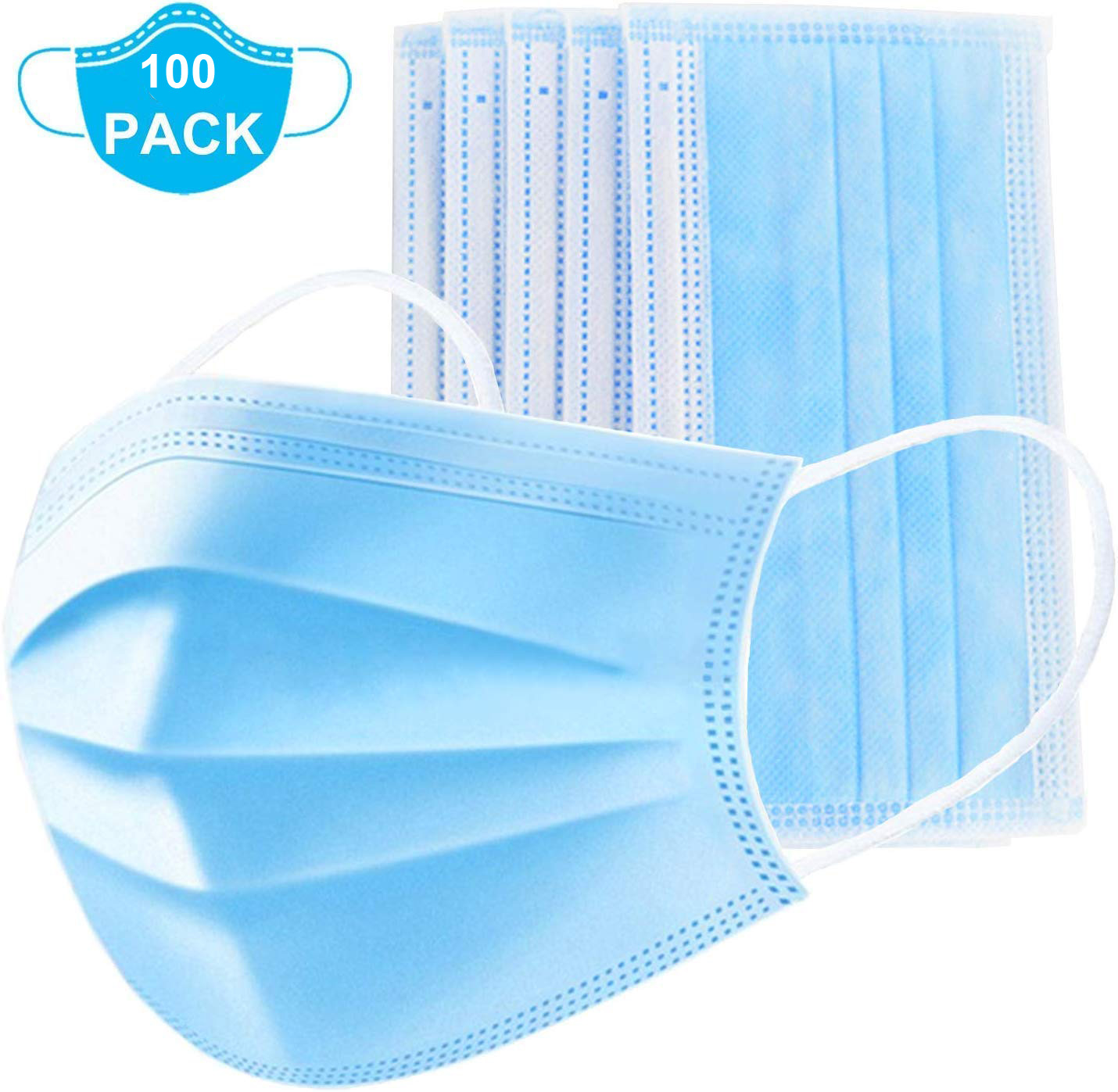 With COVID spreading and mask mandates going back in place, these are a must have!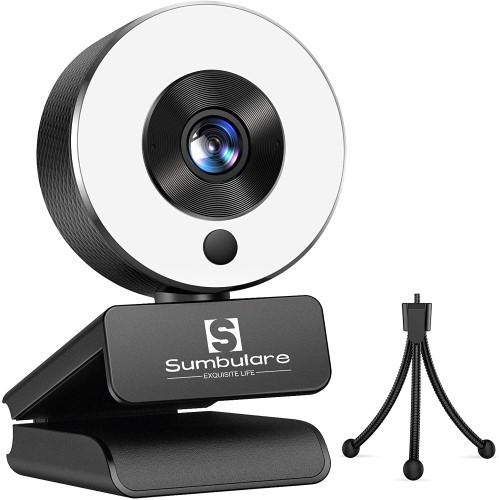 A must for virtual learning!
2K Ultra-High Definition Webcam
120 degree wide-angle with 5 layers glass lens capture true-to-life videos and images at 2K at 30FPS. Panoramic high definition 2952*1944P resolution allows you to experience crystal videos in every environment. Perfect for online conferences, video calls, live streaming, etc.
3-Level Adjustable Ring Fill Light
The built-in ring light offers lighting compensation at 3 different levels with touch control. You can achieve ideal brightness by adjusting the ring light even in dim light environments. There are 16 white LEDs that are brighter than other webcams with lights. The light is milky white and it is so soft that it doesn't create a glare. Facial enhancement technology makes you look more confident and professional in live streaming.
AutoFocus & Built-in Dual Noise Canceling Microphone
Auto Focus always offers the best focus position for you so you don't have to bother manually adjusting the focal length every time. The built-in dual noise-canceling microphones with amplifier chips help to improve speech quality for crystal and clear audio. Even in noisy surroundings, you can capture the sounds you want.
Plug and Play & Multi-Application
Easy to be set up and use. No need to install any drivers, simply plug this webcam with light into your computer's USB 2.0/3.0 interface and it will be instantly installed. The mounting clip can be flexibly placed on any desktop/PC/laptop and monitor. Face cam fits for multi-operation: Windows, Mac OS, Chrome OS, Smart TV, Android, iPhone, and more.
Include Adjustable Clip Tripod & Metal Body
USB webcam also comes with an adjustable clip tripod, which can conveniently place your computer, laptop, desktop, computer, Mac, PC, LCD monitor to meet your multi-angle needs. It stays strong and does not move easily. This streaming webcam with an aviation aluminum alloy shell body that looks more upscale and refined than other plastic body webcams. It is a perfect gift for your family, and friends.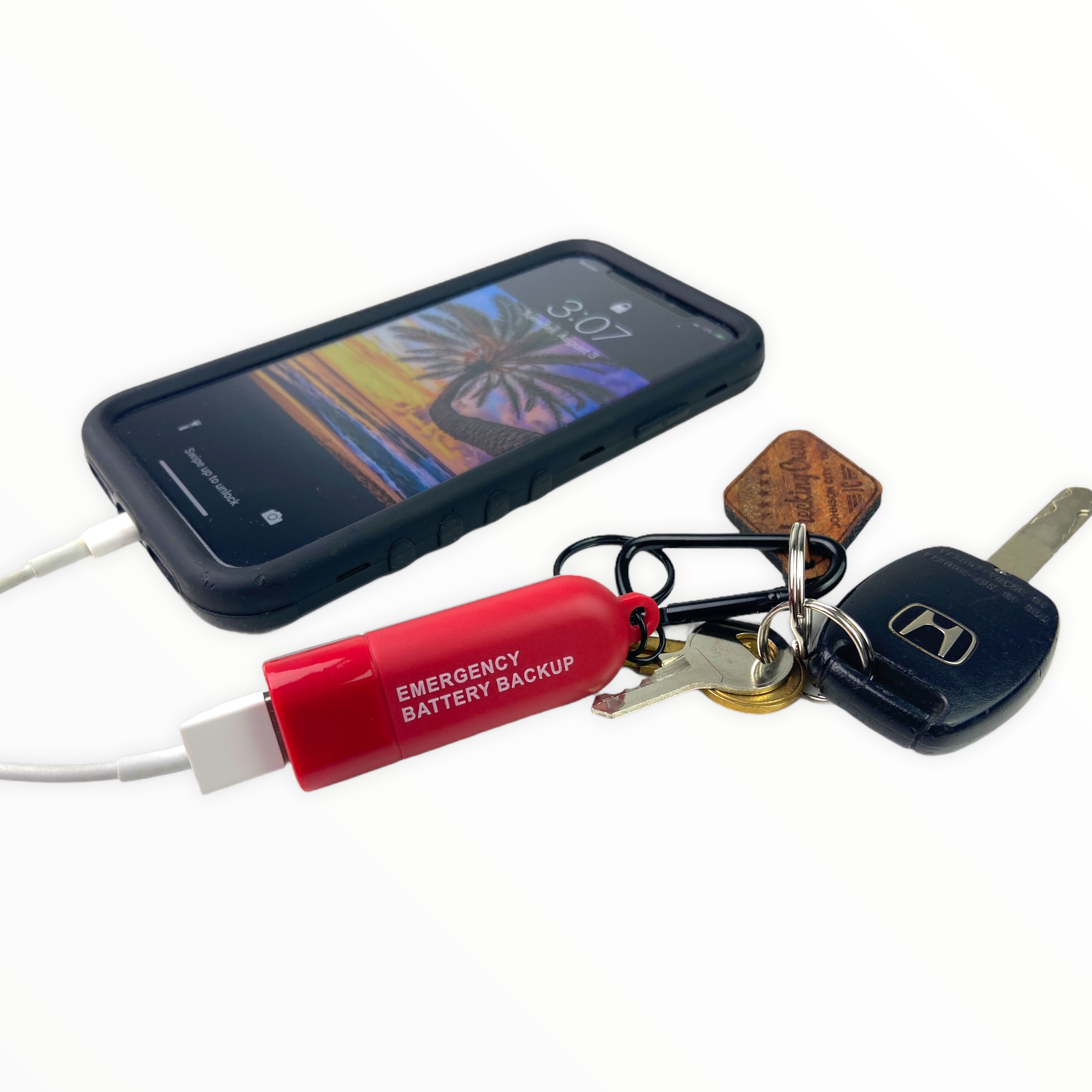 This one is more for the older students who have a cell phone or laptop that they carry. Low price and super useful!
This emergencycharger powers your smartphone on-the-go without using a bulky power-bank. Fast & Easy Connectivity. Provides up to 2 hours of extra time both indoors and on the road.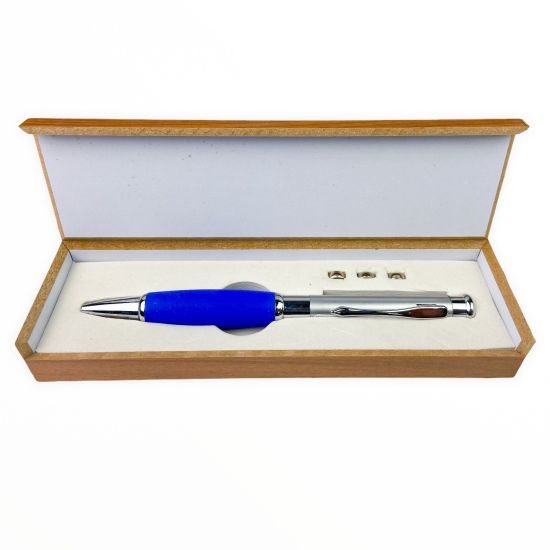 Okay, this one may get your kid in trouble, but tell me this wouldn't be the coolest pen in the classroom?!
You will receive TEN PENS per order! You're getting a very, VERY good deal because batteries may or may not work. They use simple button cell batteries that you can replace if needed for pennies.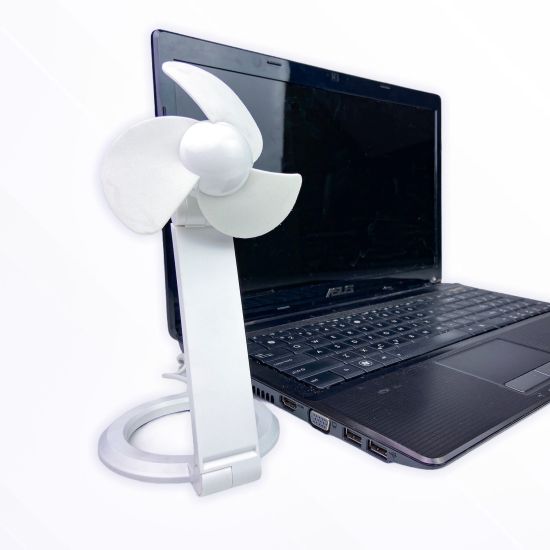 Perfect for the kids using laptops! GREAT deal simply because you will receive a fan with red, white, or blue fan blades at random.
View online recipes clearly while cooking–just fit any tablet in this stand. It's sturdy on a kitchen counter, or elsewhere in the home or office for shows and more.
Judge this journal by its cover–it has a built-on zippered case to hold writing supplies and more. Essentials stay close at hand on the go, in a classroom or office.
Good writing comes from good ideas, and this dot grid is where they can be sketched out. Custom ruled, perforated pages organize thoughts at school, work, or home.
Pages lay flat in this wire bound hardcover. Index corners fold or tear to mark and find pages quickly. This premium notebook brings neatness to work or studies.
24 colors, some metallic and glitter, add artistic flair to light and dark surfaces. These gel pens are premium quality for drawing and writing, for kids and adults.
Post-it Notes are essentials, and this color variety gets ideas organized and reminders standing out. With new plant-based adhesive, these stick better than ever.
Listen and look–this sketchbook lays open flat for easier drawing, sketching, and journaling. Students and artists can expand artistic freedom on archival quality.
Paper clips are essentials but they're not all alike–these are serrated for more holding strength. They're the best quality American made steel, useful everywhere.
These bitty Beanie Boos are perfect pen pals! Attached to the pen tops, these plush favorites with Ty tags really draw out cuteness, and make writing more fun.
This robot is a writer–just remove the legs for a handy pen. It has come from a classic sci-fi world to stand shiny and proud on a desktop, or venture off to school.
Adjust for 2 or 3 hole punches in up to 30 sheets of paper at once. This sturdy hole punch has a paper guide for smooth and accurate operation in the home or office.
This office essenial is slip-resistant and weighted so it stays put on a desktop or table. Its stylish design holds standard tape, plus pens, pencils, or scissors.
The double hinged cover keeps papers private, and folds to the back. This aluminum clipboard is lightweight and sturdy on the job, in the medical field or at school.
Carry a tablet, notebooks and accessories in padded protection with easy Velcro flap. Big pockets and zippers keep things organized, for school, office, and more.
Staple more sheets of paper with less effort, using different size staples. This office essential is helpful on a desktop at work, home, school, and beyond.
It's the digital age but there are still a lot of papers to organize. These metal mesh trays help sort In and Out, and the standing holders store notebooks and more.
These 3.3mm tip colors are best felt in their smooth drawing and blending. From art to adult coloring books, these pencils also inspire neatness in the reusable box.
The fun, bright colors of classic Crayola crayons are even neater when they're washable! If kids mark up the house or clothes, it's easy to clean off with water.
These are classic Sharpies in colors that really pop! Water-resistant, fast-drying ink makes writing stand out, and art look brilliant, even glowing in black light.
Thoughts flow smoother with smooth flowing ink. Paper Mate's revolutionary ink system brings effortless glide, with no spotting or smearing, and it's never a drag.
Stock up your home, office supply cabinet, or classroom with plenty of notepads. These have slight cosmetic irregularities, but they're still great for notetaking.
This acrylic storage set includes some desktop essentials, and has room for more. Easy-view compartments bring instant organization to home, school, and office.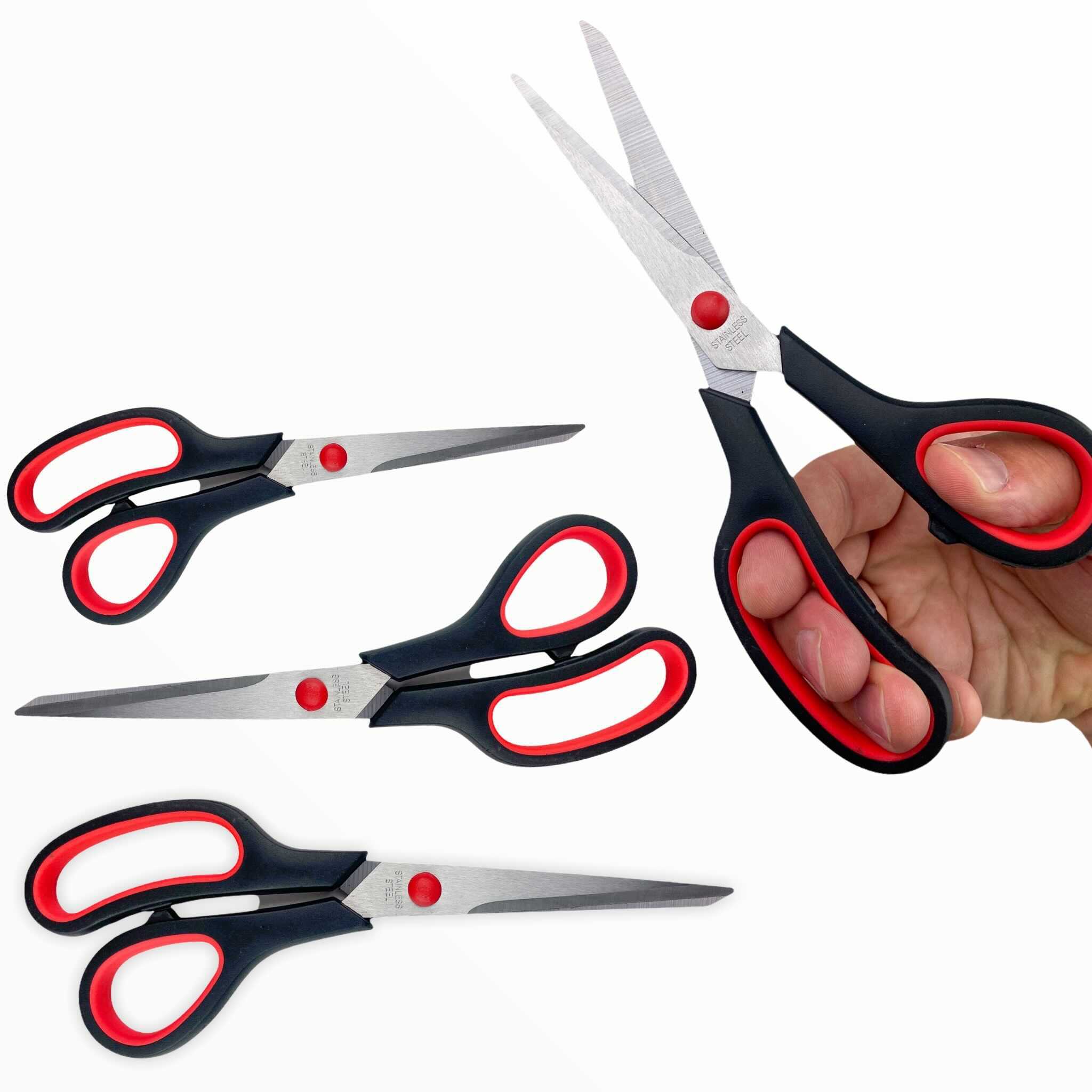 Definitely Household Scissors -- Great for cutting burlap, paper, card stock, cardboard, wrapping paper, light line, fabric, tape, photos, coupons, and opening boxes & packaging. Surprised for sewing, tailoring, quilting, dressmaking, cutting patterns, cutting quilting, Vinyl, Leather, and making face masks. Exceptional scissors for multiple uses in various rooms, in the Handcraft Workshop, bathroom, sewing room, laundry room, craft room, at the office, great for most regular household tasks.
3 Pairs of Quality Straight Handled Scissors -- They strongly allow you to make precise cuts with great control as the blade has the perfect amount of friction, which is very comfortable to use.
Sharp and Durable -- Durable stainless steel blades enable high-density steel that makes it 3 times harder than normal stainless steel and is smoother cutting. 6 X longer lasting than the previous formula and remain sharp for 100,000 + cuts. Blades stay sharper longer; We chose bright colors, green/red/blue. Different color rubber handles are used in different places
Soft-grip holes let you maintain a comfortable, can be used left- or right-handed.
8-Inch Soft-Grip Scissors -- 3 special scissors are suitable for most items that need to be cut. It can also be used as a household scissors for cutting open frozen food bags ready for cooking. Convenient, sturdy, especially sharp scissors, very durable.
With high quality at a low price, these cards are stacked in everyone's favor. For notes and more, they're essential office supplies for work, school, and home.
Jot it down or pin it in place. This erasable, postable message center keeps notes neat, schedules visible, while home, school, and office tasks stay more organized.
A binder is an easy way to get life organized at home, school, or office. This ring-binder fits 8.5 x 11 papers and has customizable covers for easy identification.
Write regularly occurring events on the clear plastic overlay. That schedule will appear over each week, as sheets are torn off, for short and long term planning.
These 1.0mm medium point pens are compact size for writing on the go. Colorful ink dries quickly before it can smudge, so drawing is precise and effortlessly smooth.
You'll be able to keep your week straight with these sticky note calendars. Hilarious vintage art with sarcastic captions bring a little humor Monday through Sunday.
Undated means planning can begin anytime. Fill in dates, write reminders, and use the stickers to make schedules stand out. It's going to be full, well-planned year!
Made of sturdy biodegradable cardboard, recycled ABS plastic and wheat stalk, these pens write smoothly and comfortably but in a smarter, eco-friendly design.
Make writing fun with Geddes® Kushy Pencil Grips! These 5-ct. packs include five soft and "kushy" grips in red, pink, lime green, green, and orange. Each squishy pencil grip features a unique texture for optimal comfort and extra gratification while writing. Perfect for school prize boxes!
Stay sharp with Jot® tools today! Teachers, students, entrepreneurs, and many hardworking professionals will find these electric pencil sharpeners very useful for all their writing endeavors. They are small enough to easily fit in a pocket or pencil pouch and come in 4 assorted colors.
Calling all mermaid lovers! These Jot™ Sequined Mermaid Tail-Shaped Pencil Bags are the perfect back to school accessory! Assorted between rose gold and teal sequin embellishments, these mermaid tail-shaped pouches measure 9x4.25-in. and have holographic fins. With zippers at the top to secure all of your daily necessities, these pencil bags are ideal for school, for keeping in your purse, and for traveling!
These Jot™ Rainbow Plastic Rectangle Pencil Pouches are easy to clean and very spacious! Made with durable plastic, these pouches are 2.5-in. tall, 7.875-in. long, and expand to 1.875-in. wide. Assorted among the four rainbow designs shown, each pouch has a white zipper at the top. Great for storing markers, paint supplies, or cosmetics without worrying about tough stains!
Brightly colored erasers are an ample size for all your little mistakes, plus they release a fruity scent whenever they are used! They add a bit of fragrant fun to your school supply stash. Perfect for school, home offices, and resale in office supply stores. Each pack of Inc.® scented erasers contains one each of strawberry, orange, grape, green apple, and blueberry scents.
Add a little fun to your desk accessories. Adorable pen and pencil holders are shaped like trash bins and recycling bins complete with wheels and hinged lids, and assorted among red, blue, and green. Perfect for teachers, office professionals, students, and home owners.
When kids are learning to write, they use their erasers... a lot! These pencil-top erasers will make sure they run out of lead before they run out of eraser. Each 40-ct. pack includes purple, blue, green, yellow, pink, and orange colors. Great for prize boxes, stocking stuffers, care packages, kids going back to school, and teachers.
People of all ages can really enjoy using these great #2 pencils from Teaching Tree® that have fun Dr. Seuss prints. They come in 6-ct. packs and each pack is assorted among 5 unique designs. Great for classrooms, offices, homes, giveaways, and more.
These dry erase chisel markers create consistent, skip free marking in brilliant colors. The low odor ink formula erases cleanly and is ideal for home, classrooms, offices, and more. The versatile chisel tip allows for broad and fine writing. Ideal marker for writing on nonporous surfaces such as porcelain and melamine whiteboards and glass. These markers are assorted among orange, plum, turquoise, Red, lt. green, and blue.
Take down phone messages, leave test reminders, and write grocery lists again and again on these reusable Jot™ Dry Erase Boards with Colorful Borders! These dry erase boards come assorted among orange, green, blue, and pink frame colors and include a black dry erase marker with an eraser cap. Designed for hanging vertically or horizontally, each 8x10-in. white board includes magnets that attach to most metal lockers and refrigerators. Perfect for schools, homes, offices, and dorm rooms!
Paper craft labels are great for adding a unique touch to all your labeling needs. Beige labels come assorted among various frame shapes and are wonderful for labeling shelves and products at farmers markets, country stores, and art and craft shows. Also great for leaving messages on the fridge or adding to scrapbooks.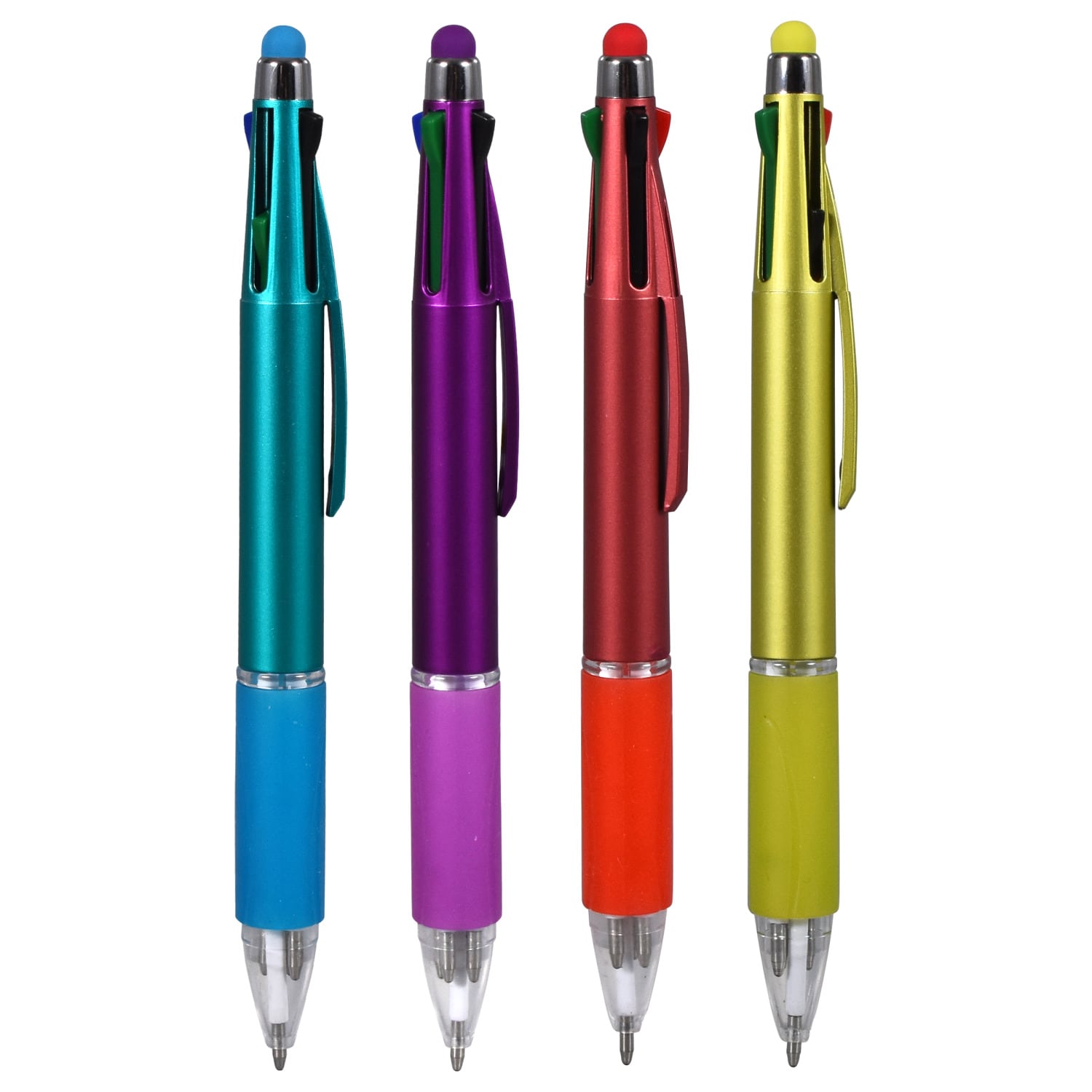 Sophisticated pens double as a stylus! Make a statement and pen a note on paper, or type out a memo on your mobile device with these chic, sleek, boardroom worthy pens. They come assorted among yellow, purple, red, and teal. Each pen also features a colorful comfort grip, and 4 ink colors. Perfect for the office, classroom, or for resale.
These Jot™ 2021-2022 Fashion Binder Calendars are as practical as they are convenient! Each 10.75x8.125-in. 12-page calendar comes in an 11.5x9.25-in. plastic pocket with holes to fit inside a three-ring binder. After each month ends, simply remove the calendar from the pocket and tear away that month's sheet, exposing a new month. Assorted among the four styles shown, these fashionable calendars are great for students, teachers, office employees, and more!
Use these weekly planner pads to keep everyone on track and knowing the schedule for meetings at work, and the schedule for games at home. If you are recording your daily food intake, these pads hold great pages to keep track of everything you're eating throughout the day. You can save the pages to review what you were eating the weeks you did your best. These pads are assorted among four different styles as shown.
Use these dry erase planners to plan out your week and feel energized about your week's beginning. Colorful weekly planners are dry erase and magnetic so you can stick them to places like your fridge and always be reminded of your weekly commitments. These planners come in 4 assorted designs and they all include a dry erase marker. Great for people of all ages.
Jot™ Expandable 6-Pocket Check Organizers are a convenient way to store and organize checks, receipts, coupons, and more! Each accordion-style folder measures 10.2x5.1-in., includes an elastic loop for secure closure, and has six tabbed pockets for easy reference. Assorted among orange, green, pink, and blue, these pocket organizers are perfect for your home and office or for resale in office supply stores.
Stylish fashion folders are perfect for protecting documents as they come letter size. Every 3-ct. pack comes in a variety of trendy styles and each one has a white tab for easy labeling. Great for organizing schoolwork, home information, and office projects.
Keep those files organized! Each sturdy cardboard file holder measures approximately 10.5x15x3.5-in. They make hauling files from one place to another a breeze, and come assorted among the 4 lovely designs shown. Perfect for students, receptionists, attorneys, accountants, and resale in office supply stores. Assortment may vary.
You can draw! Learn how with these drawing books that give excellent step-by-step instructions on how to draw fox, koalas, unicorns, and prehistoric sea creatures Perfect for private lessons and art classes.
Fisher-Price® flash cards make learning fun! Each pack includes 36 sturdy, laminated flash cards designed to help introduce and reinforce early learning skills. They come assorted among 4 titles: Counting 1-20, Colors and Shapes, Alphabet, and Compare and Contrast.
A great game for intellectuals and trivia enthusiasts. Each deck of Brain Busters™ contains over 150 trivia questions to challenge your brain. Packs come assorted among space, ocean life, entertainment, dinosaurs, sports, and pets. Ages 6+.
Participate in the World of Wonder that all four of these workbooks brings. They are assorted among math, science, art, and nature. They are wonderful for homeschooling, tutoring at home, challenging your students, and more.
Colorful workbooks have full-color pages and are filled with activities and lessons! They're designed to help kids build skills for success to perform at a higher level of learning. Each 32-page workbook is ideal for introducing new topics and reinforcing learned skills. The book title are assorted among first words, letters and writing, colors and shapes, and numbers and counting, addition, Subtraction, spelling, and phonics. Assortment may vary.
These Elementary Education Test Prep Workbooks are great for assisting kids in their preparation for standardized testing. Each of the four workbooks for early elementary education provides comprehensive study and review questions and activities that meet the Common Core Standards for grades K-3 in mathematics and language arts. These workbooks are perfect for use in tutoring centers, classrooms, daycare centers, and at home.
Children will love exploring and learning about the world around them while reading these questions & answers books. Each 32-page book is filled with stunning pictures and facts that keeps kids engaged and having fun. Ideal for school libraries, classrooms, daycare centers, and for quiz nights at home. Assortment may vary.
Teaching kids basic math and language is easy with these Children's Learning Activity Workbooks! Assorted among Grades K-1 Math, Grades K-1 Language Arts, Grades 1-2 Math, and Grades 1-2 Language Arts, these 32-page teacher-tested and approved workbooks are ideal for school, at home, and libraries.
You and your kids will love having these educational workbooks! They're fun, interactive, and takes the responsibility off of you to teach your children the skills they'll need not just for school, but also life. They come assorted among 6 subjects: addition and subtraction, numbers, alphabet, letters and sounds, sight words, and basic concepts like colors and shapes. Perfect for resale in toy, department, grocery, home goods, and school supply stores. Ages 3+.
Add up the savings! These Jot™ 10-digit scientific calculators easily solve advanced engineering, physics, trigonometry, and statistics problems with these scientific calculators. Each has a cover to place over the screen and keys when in a backpack or briefcase. They come assorted among 4 colors, with each assortment containing 1 blue, 1 orange, and 2 gray calculators. Perfect for students as well as professionals.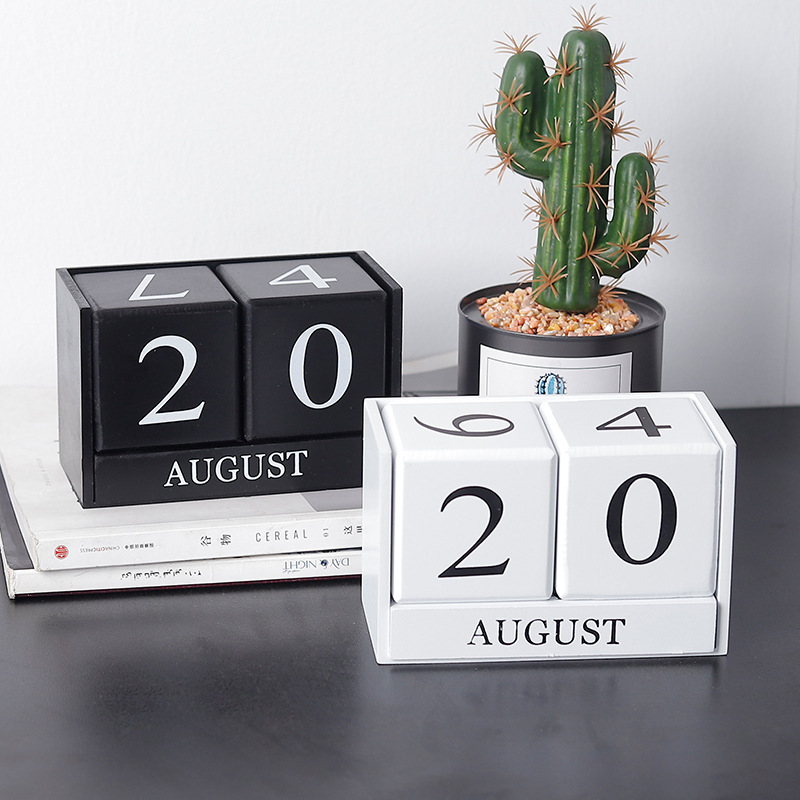 If you want a cute way to keep track of the date on your desk - this is it. Great for teachers!
Add your product to this list!
Are you interested in having your brand or business included in this post? Please contact me at
This email address is being protected from spambots. You need JavaScript enabled to view it.
to discuss being added to this school supply must-have list!
Liked this post? Pin it!