Valentine's Day is quickly approaching, do you know what you are getting for your someone special? If not, I have you covered with some awesome gift ideas for this year! I have a variety of price point gifts to help you find something nice within your allotted budget!
I have put together the ultimate gift guide filled with unique Valentine's Day ideas to show your partner you love them. Whether your partner loves sweet treats or something sexier, our gift suggestions will put a smile on their face. Plus, share the love with your extended family.
Jump ahead to the category you are shopping for:
Keep your eye out as we will update our guide until Valentine's Day!

Gifts for her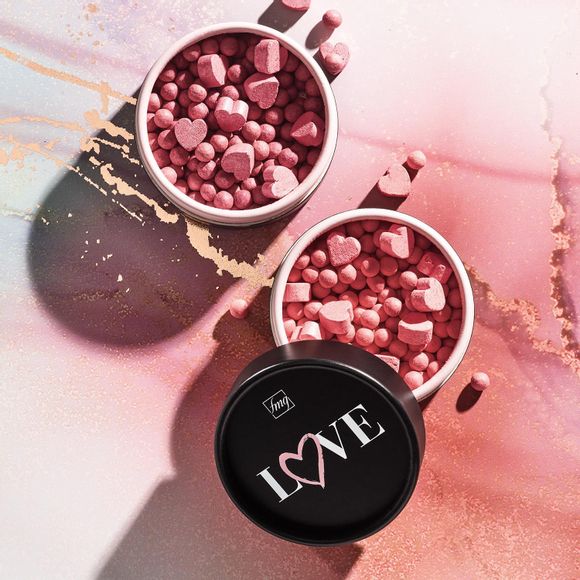 Get a rosy glow you'll love! Colorful heart-shaped and round blush beads blend beautifully, creating a balanced flush of color. Lightweight powder formula provides a delicate pearlescent finish that is perfect for all skin tones. .71 oz. net wt.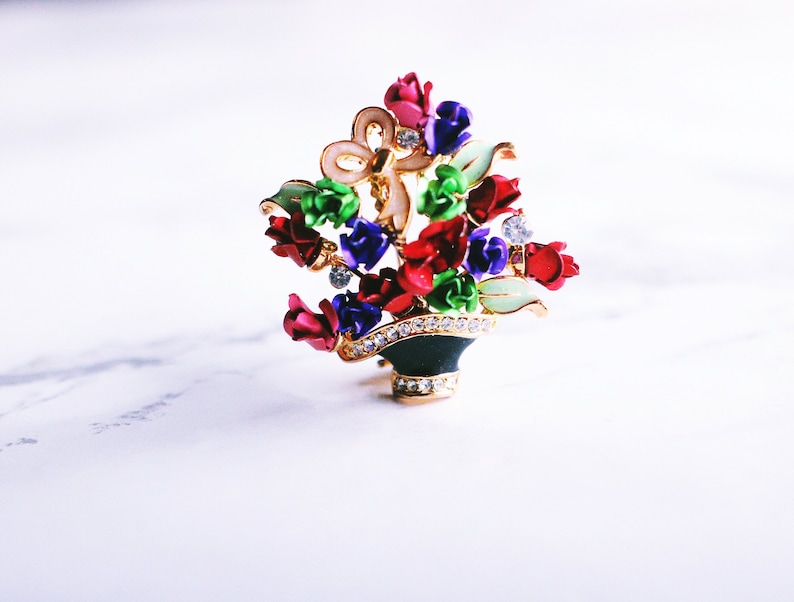 This is a gorgeous vintage brooch featuring purple, red, pink, and green roses/flower with some light green leaves and some clear rhinestones throughout and a small light pink ribbon design. The flowers sit in what appears to be black lined with clear rhinestones. All outlined in a gold colored trim. Gorgeous and great for anyone who loves brooches!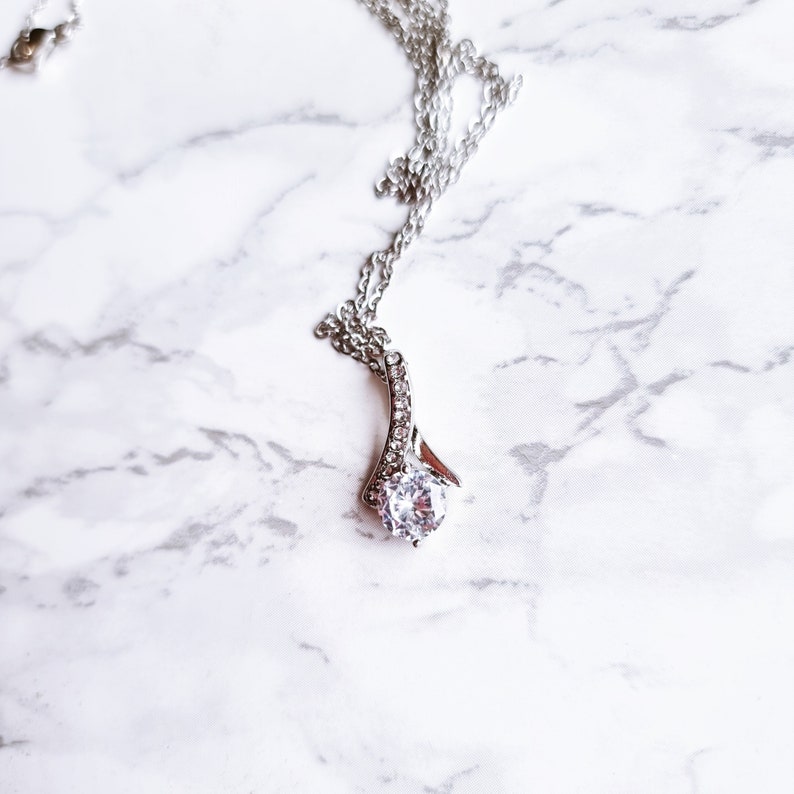 The petite ribbon-shaped pendant is finished with 14K white gold over stainless steel and is embellished with dainty clear crystals surrounded by a sparkling 7mm round-cut Cubic Zirconia.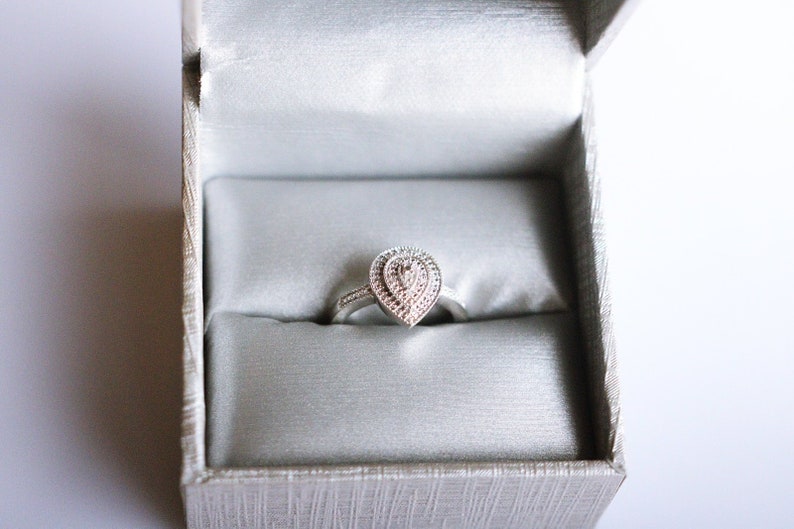 Bring out the bling with this stylish fashion ring. Created in sleek sterling silver, this ring features a teardrop-shaped frame centered with a shimmering diamond accented and bordered with rows of intricate beaded detailing. Smaller diamond accents and additional beading line the ring's shank, while milgrain detailing completes the design. A fabulous everyday look, this ring is finished with a bright polished shine.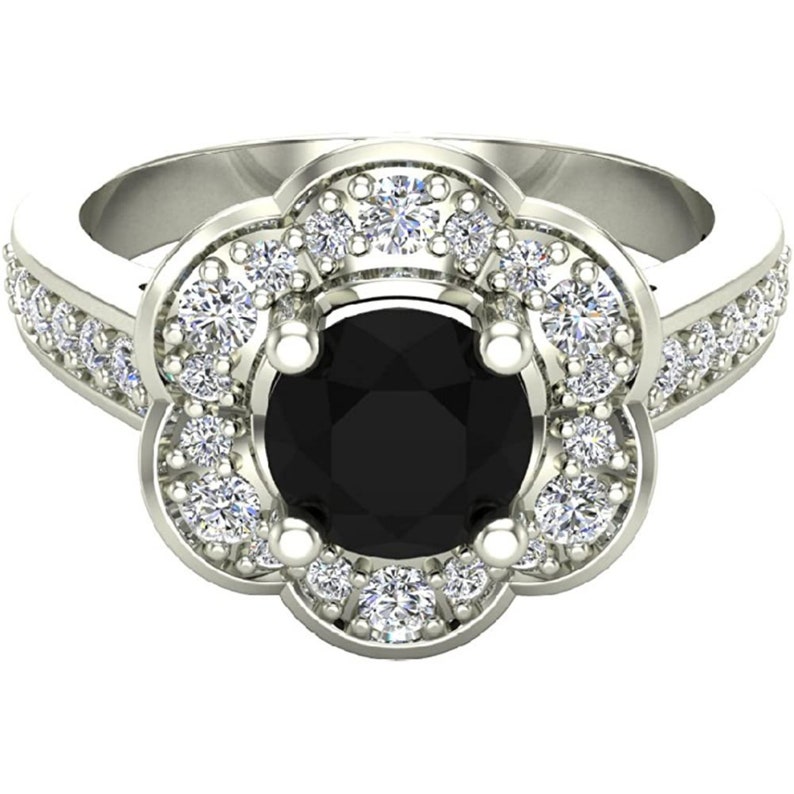 Your bride deserves a unique treatment, and if you're waiting to hear that "I do" which is going to make your life marvelous, then you cannot find a better gift than this stunning ring. It will just make her so happy that she will also feel a sense of admiration for having such a beautiful ring on her hand.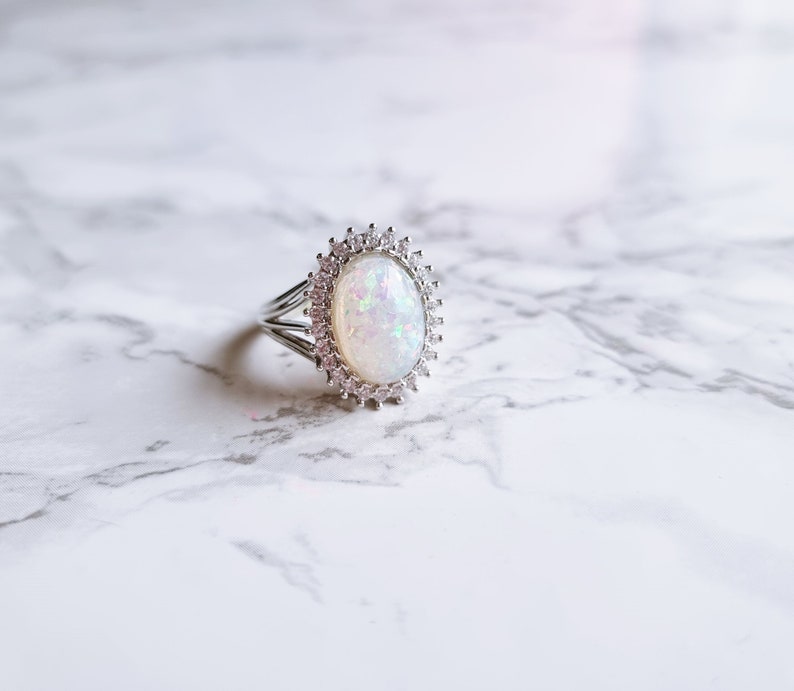 This is a gorgeous fashion ring! The ring is silver colored and is stamped on the inside with 925. (see photos & video) The ring features a large faux opal zircon stone as the center with a bunch of tiny clear zircon stones around it.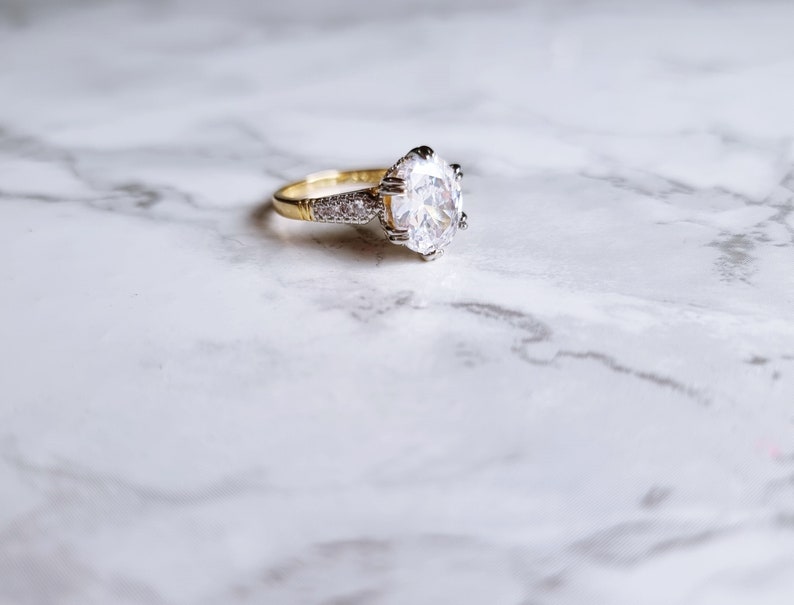 This ring is a size 6. It features 1 main clear cubic zirconia stone and 8 (4 on each side) small clear cubic zirconia stones on the silver and gold colored band. Looking on the side by the main stone, it almost LOOKS like a vintage/antique design in my opinion (it's not actually vintage or antique just to clarify!), but check the photos and judge for yourself! Very simple, yet unique in style!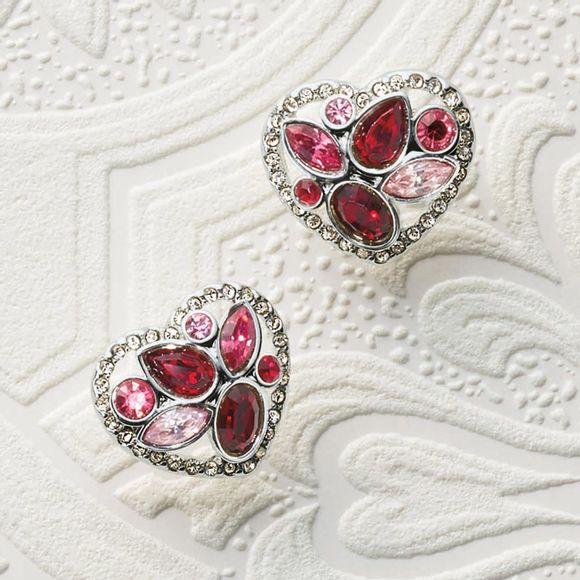 Looking for the bright love? A pair of heart-shaped earrings will bring the shine with its beautiful array of stones set against timeless silvertone. Bright rose- and siam-colored glass stones adorn the center of the heart while petite clear stone accents define the timeless shape. Matching necklace, ring and bracelet available.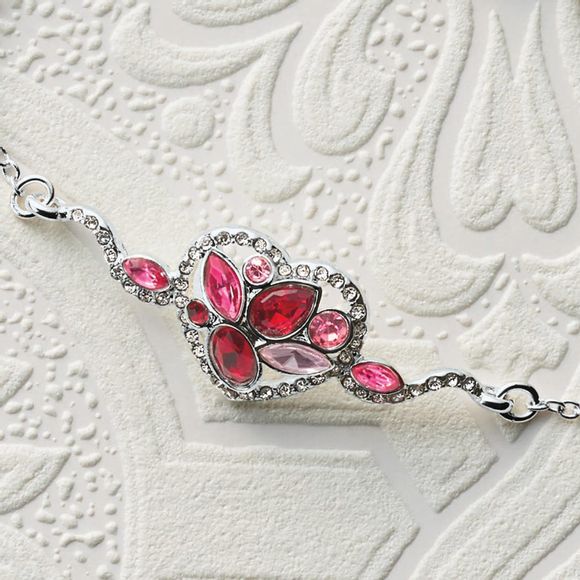 Put a new meaning to wearing your heart on your sleeve: A bedazzled heart-shaped charm bracelet set in silvertone will inject instant charm to your daily wardrobe. Shimmering rose- and siam-colored glass stones adorn the center of the heart while petite clear stone accents frame the sweet shape. Matching necklace, ring and earrings available.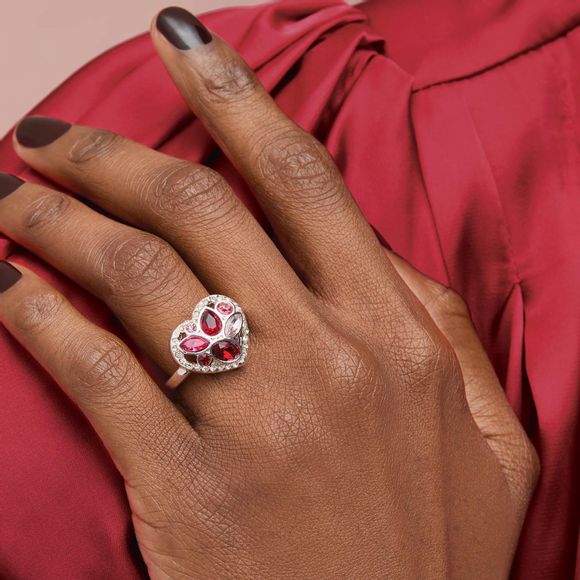 Set off sparks with this intricately designed heart-shaped ring. Bright rose- and siam-colored glass stones adorn the center of the heart, finished with petite clear stone accents to add an opulent touch to its sweet silhouette. Matching necklace, earrings and bracelet available. Available in sizes: 6, 8, 10.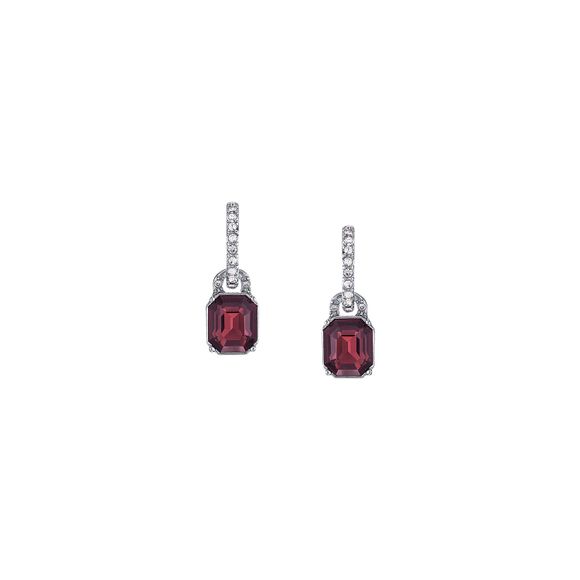 Equal parts glamour and drama, these pierced earrings are sure to become your next night out's talking points. Two crystal-colored pavé stone hoops and mauve-colored, emerald-cut stones create the luxurious look of vintage bejeweled earrings. Matching bracelet and necklace and ring set available.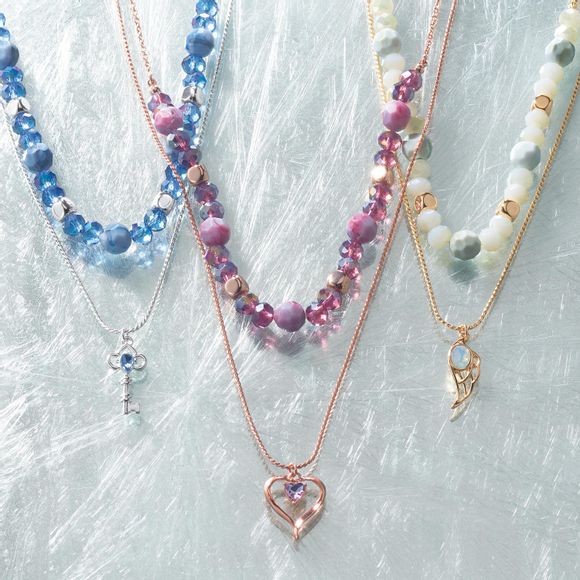 Go for maximum impact: Get the bold, layered look with our all-in-one necklace. A double necklace set combines a color-packed beaded necklace with a delicate longer chain, accented by your choice of three meaningful charms. What suits your personality best: key, heart, or wings?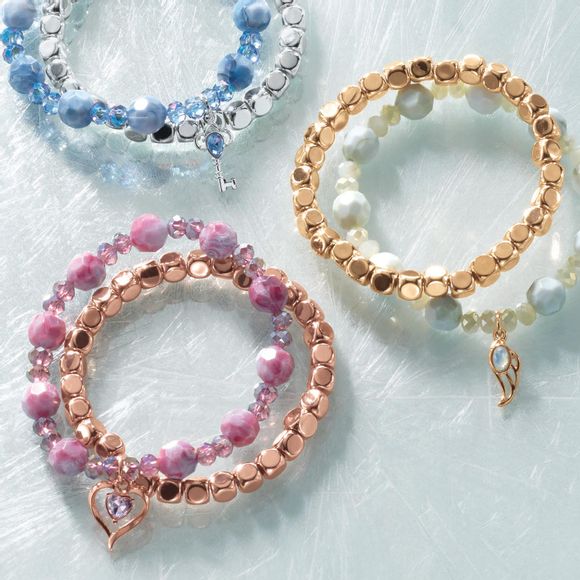 Show off your personality. Slip on this double bracelet combining a color-packed beaded strand with a metal beaded strand for some chic boho vibes. Choose one of three meaningful charms—key, heart, and wings—to match your mood or your style.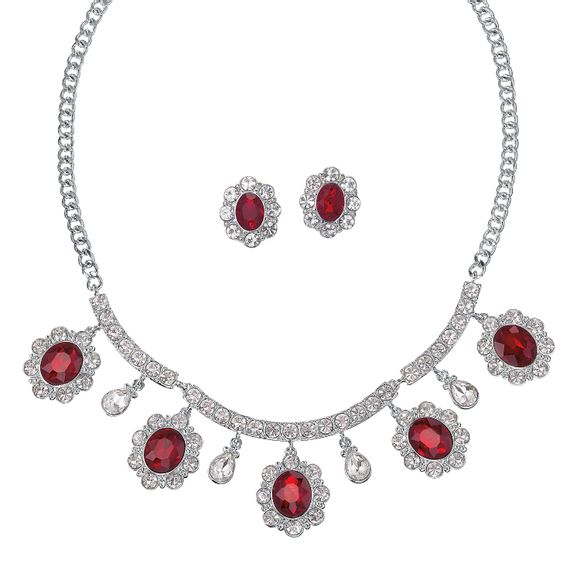 Set off a sparkle any day or night with a royal touch of red. Siam-colored glass stones with clear stone accents are set in silvertone for a look that's regally yours! Matching ring and bracelet also available.
You don't need to spend thousands or even hundreds of dollars to obtain the ritziest look in the room, the way so many jewelers deceive buyers nowadays. Now, you can wear these stunning, synthetic diamonds that are just as beautiful, cost you significantly less, and are much more ethically acquired than regular diamonds.
Sophisticated and Classic, The Fiona Earring is ideal for that special night out for Free!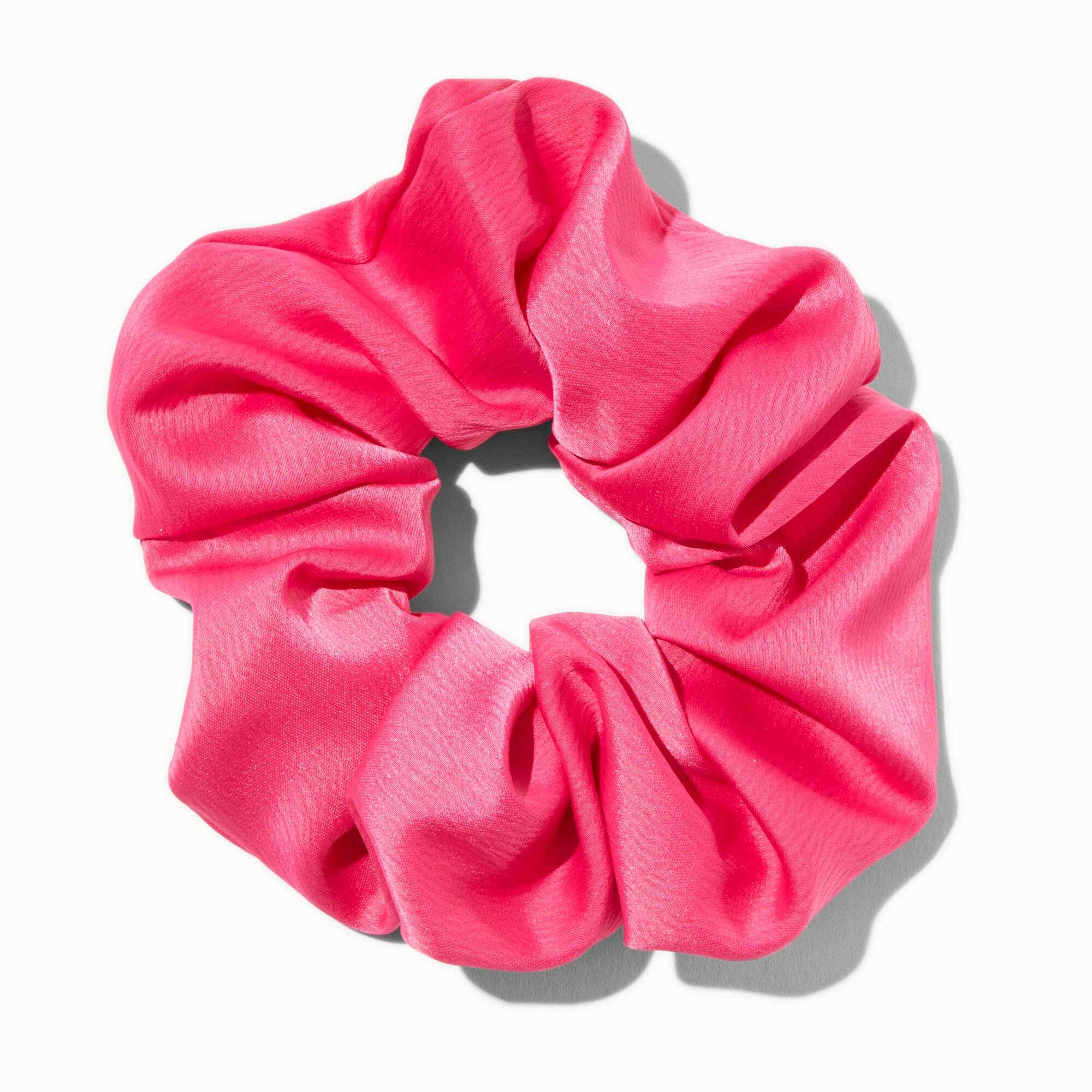 You're a "cutie" every day, so these plush slippers are perfect for you... and perfect for wearing around Valentine's Day! These fluffy slippers wrap your feet in comfort and warmth.
Sweet with a subtle touch of tartness, this watering aroma of ripened raspberries and white citrus fuse smoothly for a scent so delectable, you'll find yourself crushing hard for it! Notes of creamy vanilla and berry sorbet finish off this delightful fragrance.
A delicate and lavishing scent, this bouquet melds notes of lilac, rose buds and lily of the valley with accents of bergamot and anise seeds. Clove and white musk add warmth to create a scent as classy as France itself.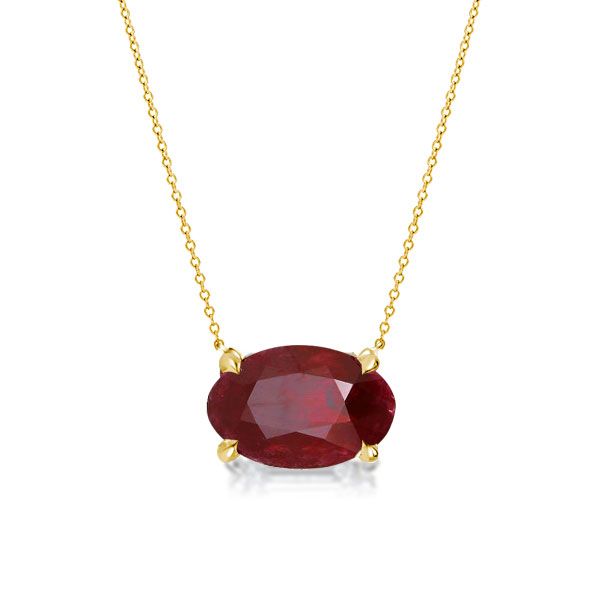 A classy Golden Necklace with Garnet Red Sapphire pendant in an Oval cut and prong setting will surely make any style more elegant and outstanding. This Golden Oval Cut Created Garnet Pendant Necklace is made of 925 sterling silver, and weighs a total of 4.89 g. The length of the chain extends to 17'',18'',20'', and 22''.The center stone is a Oval cut created Garnet Red Sapphire, Center Stone Weight 4.89 g.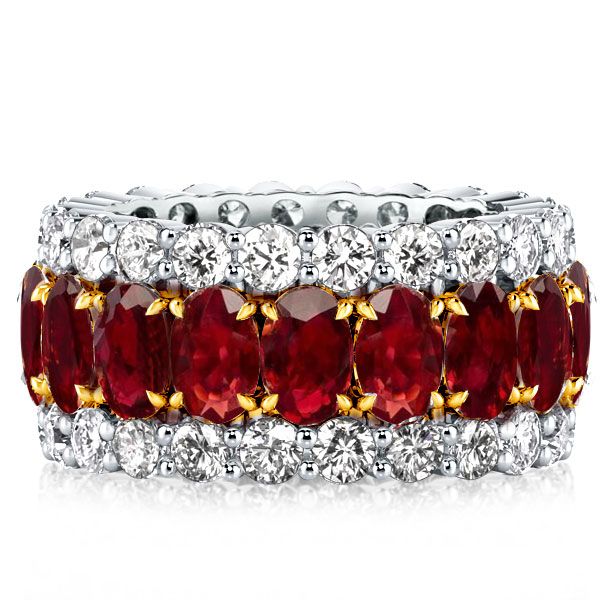 Ladies two tone wedding bands made from 925 sterling silver and sapphire. Handmade. A full circle of shining red sapphires is placed on the inside of the ring to add luster. perfect wearing together matching with other metal wedding band rings. Buy our ladies two tone wedding bands now and enjoy a 30-day free return policy and a 1-year warranty. Eternal ladies two tone wedding bands wraps in a free elegant jewelry box, best for presentation and protection of the ring. our rings make a perfect gift for Christmas, birthday, anniversary, wedding, engagement, or valentine's day gift.
Gifts for him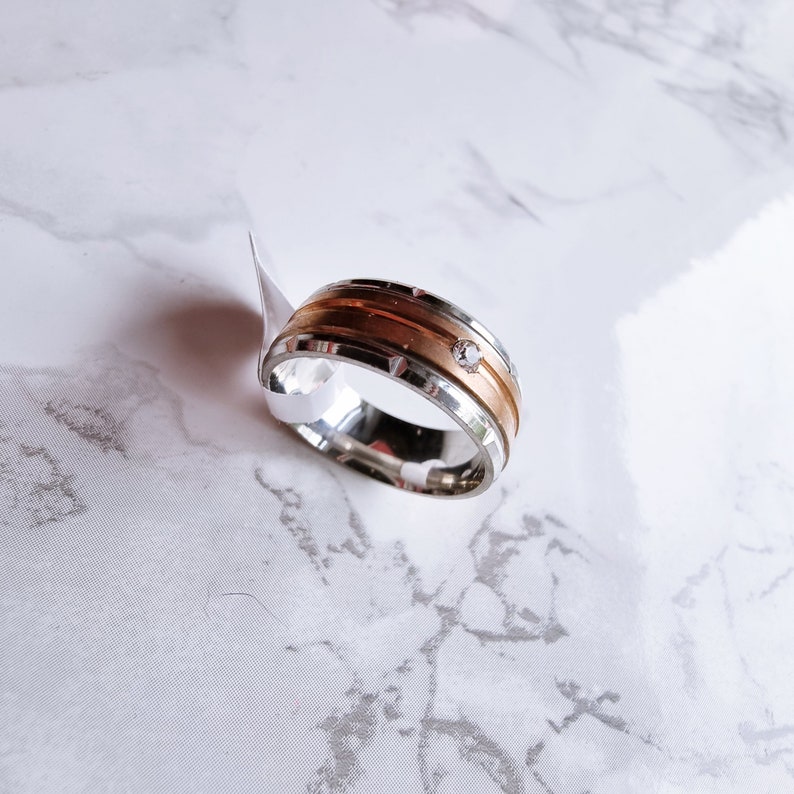 This ring is silver in color with copper coloring in the center. No markings on the band. It features a single clear rhinestone.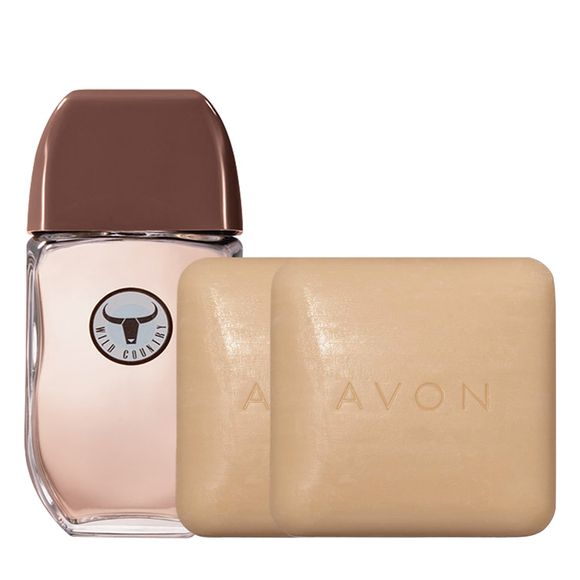 This set includes: Wild Country Cologne - 3 fl. oz. and Two Wild Country Bar Soap - Each, 3.17 oz. net wt.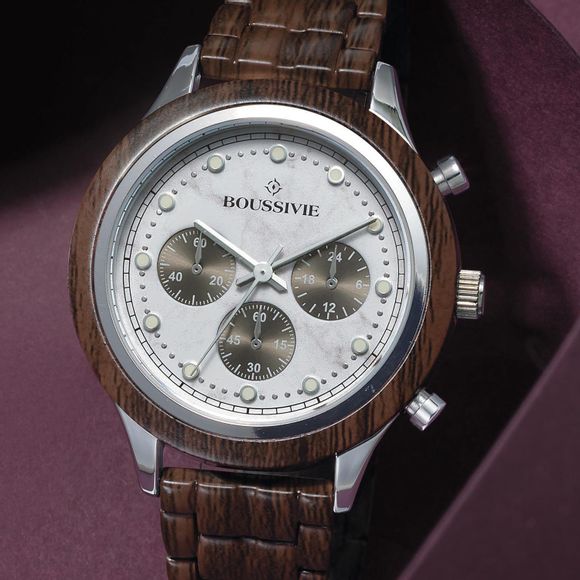 Time to go with the grain...and the trend of wood-like jewelry. Boussivie's naturally striking watch creates the look of wood with its uniquely modern mix of metal and faux wood-finish materials. Featuring an adjustable bracelet, this round-face timepiece comes with a marble-effect dial, three sub-dials, and luminous hour markers.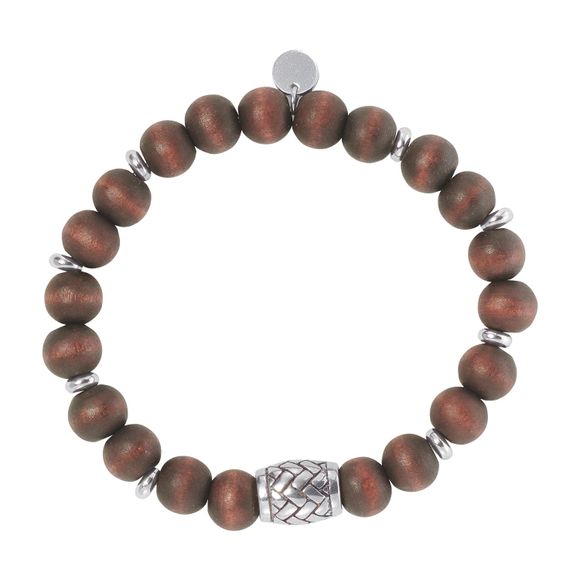 In ancient tradition, a beaded wood bracelet traditionally represents faith and attracts positive energy. Our modern-day version is crafted from hardwearing stainless steel and smooth wood beads. Designed to be a classic collectible, this stretchy style features round wood beads, a woven textured barrel bead, and slim bead stations in stainless steel.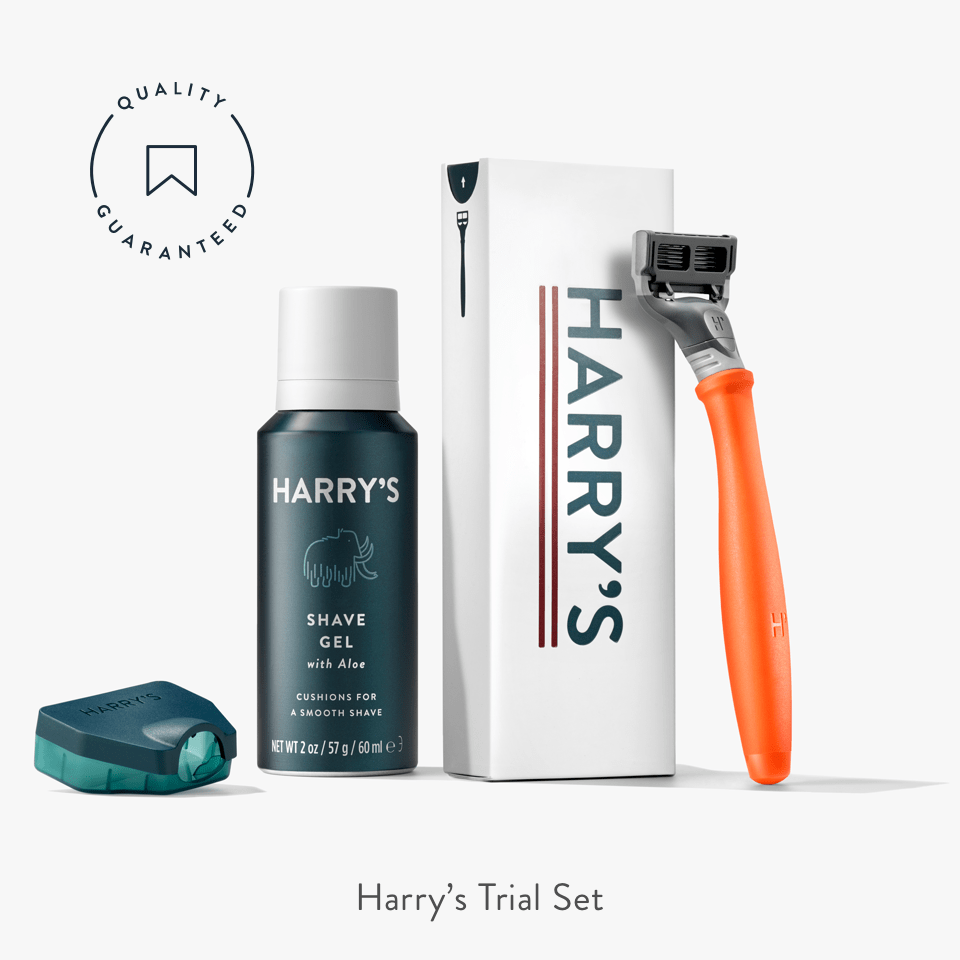 Harry's is a subscription service dedicated to providing their customers with a close and comfortable shave for less money! They offer high-quality razor handles and blades, as well as natural shaving gels. Before each shipment, you will get an email from them with enough time to modify or cancel your plan! Users have the ability to choose the subscription type that they want and they get to choose how frequently they shave. Users have the ability to cancel the subscription at any time.
Gifts for kids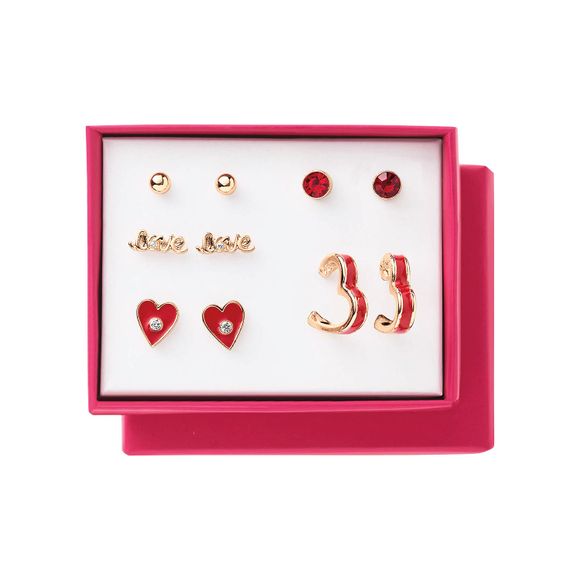 All the studs your heart desires! A timely gift set of five pierced stud earrings in gleaming goldtone with red accents. The set includes: one pair of goldtone round studs, one pair of faceted red stone studs, one pair of goldtone love-outline studs, one pair of heart-shaped studs with clear accents and one pair of red heart-hoop studs.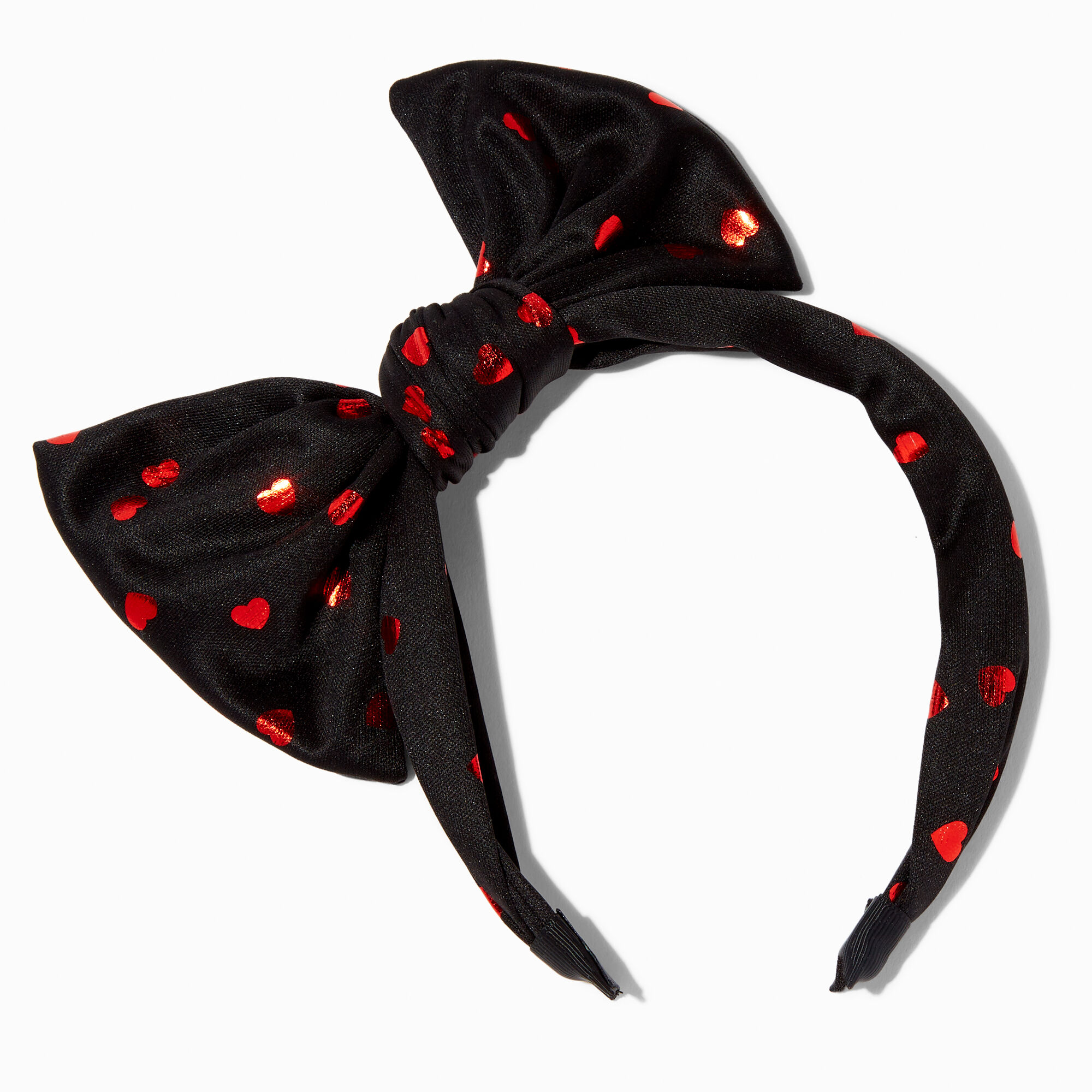 Add a cute Valentine's Day touch to your hair with this headband! It features a big black bow, and it's printed all over with shiny red hearts.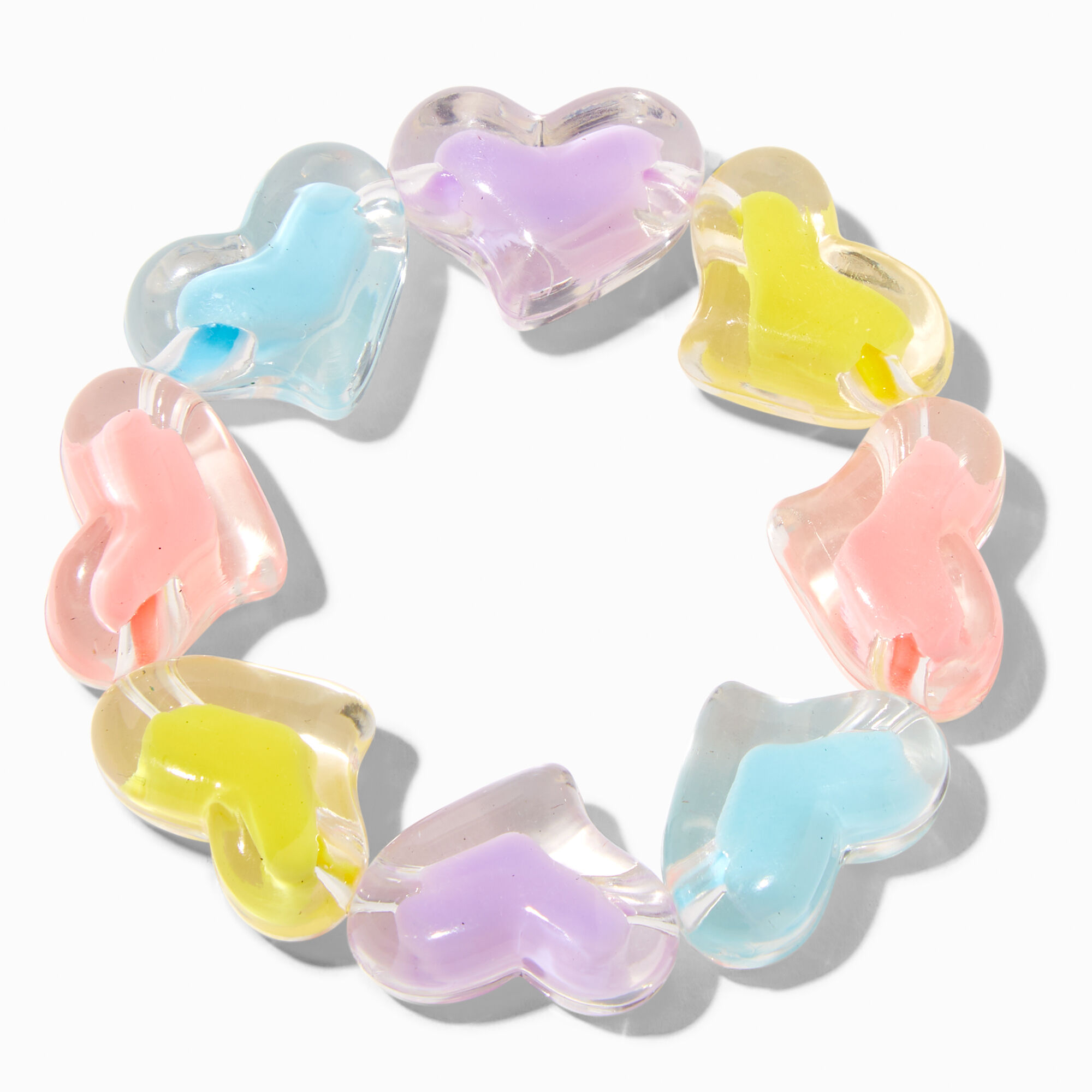 So cute for Valentine's Day, but so fun to wear on any day of the year! This stretch bracelet features clear acrylic heart-shaped beads filled with pastel colors. It stretches easily to fit.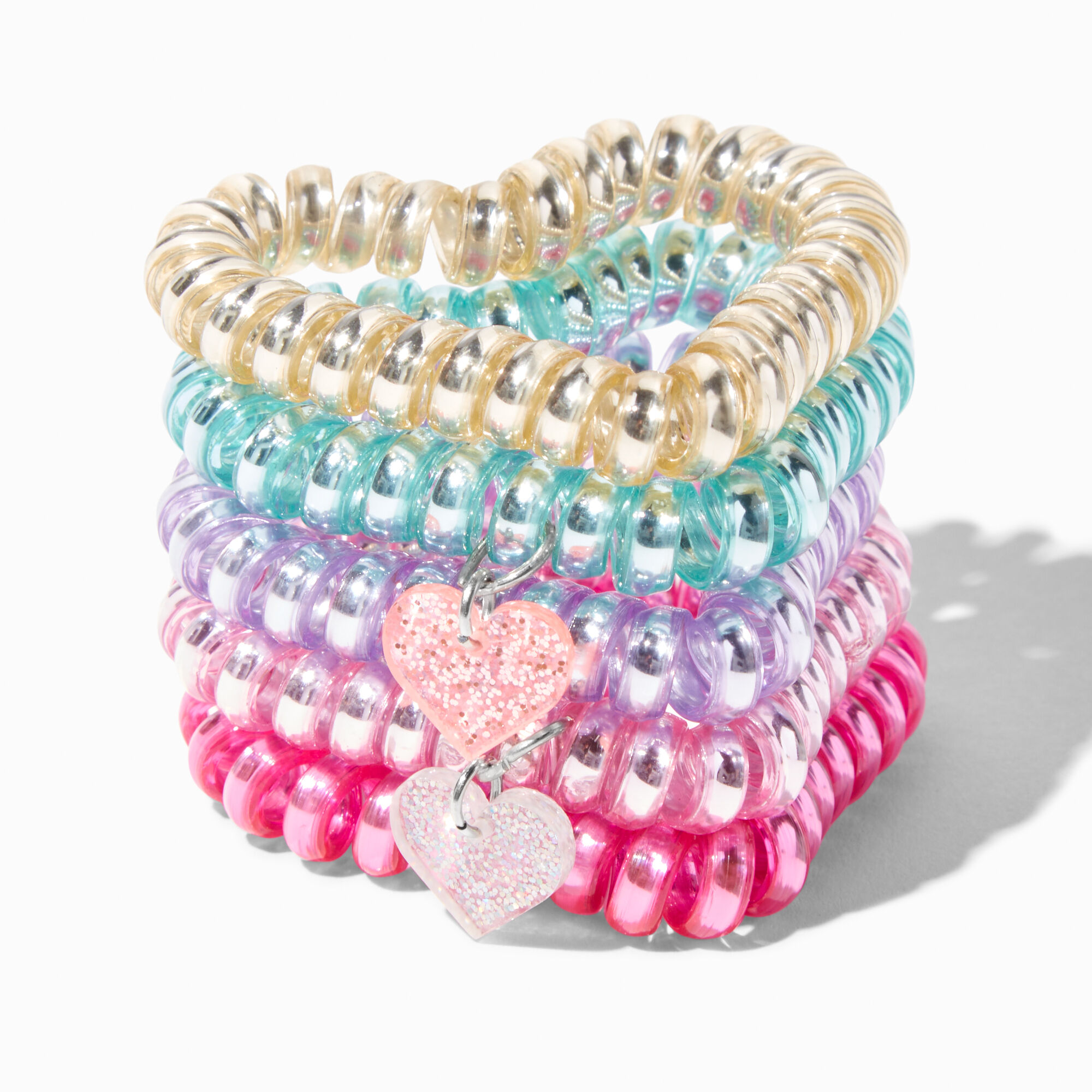 Hearts, hearts, and more hearts! These heart-shaped coil bracelets are perfect for Valentine's Day, or any day. Wear a few on each arm, stack all five together, or share with friends. The set includes five coil bracelets as shown, including two with sparkly heart charms.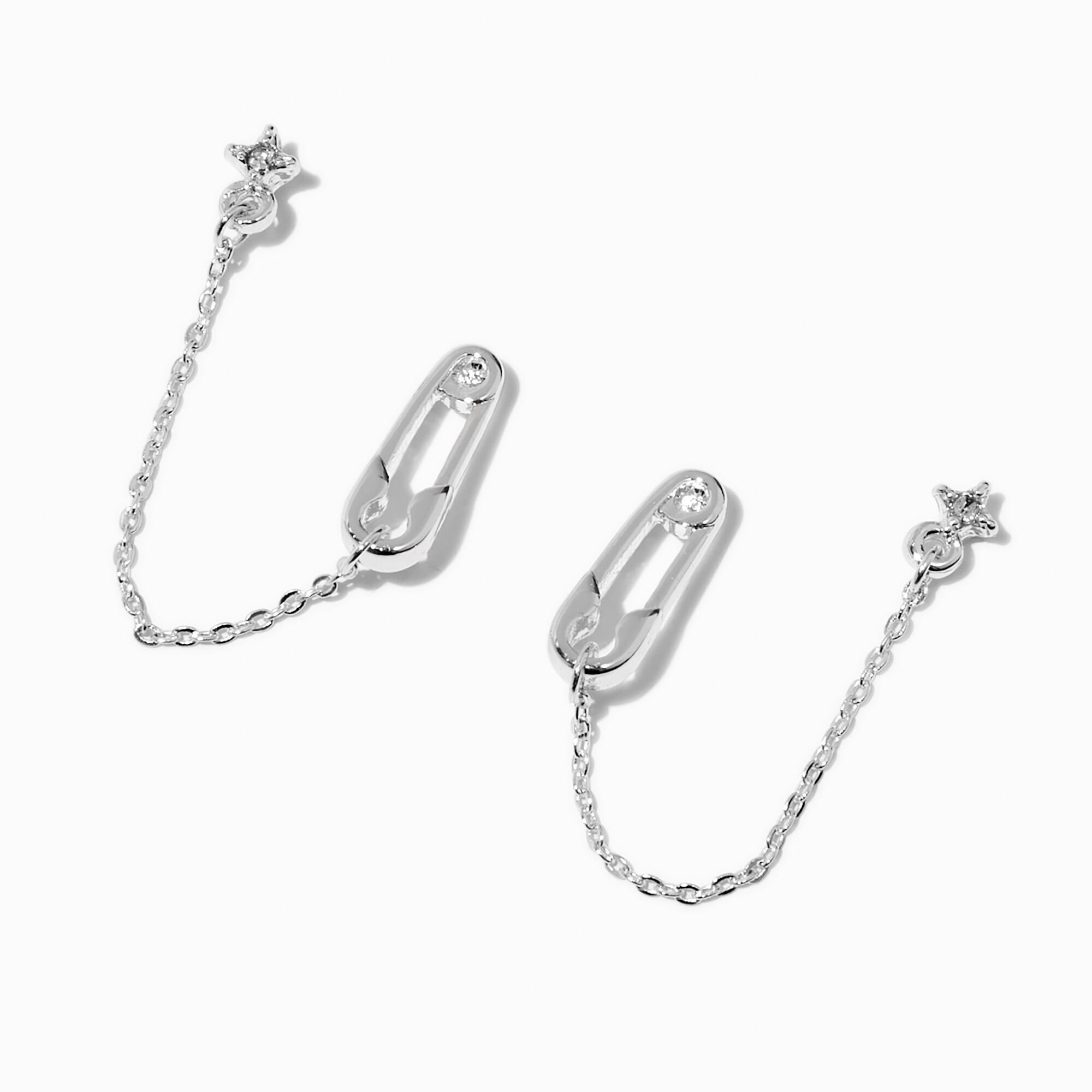 You'll love hugging and cuddling with your new squishy friend, all day long! Squeezed With Love™ plush toys are super-soft and designed to hold their shape. Holding a big red heart filled with festive confetti, this pretty kitty is perfect for Valentine's Day!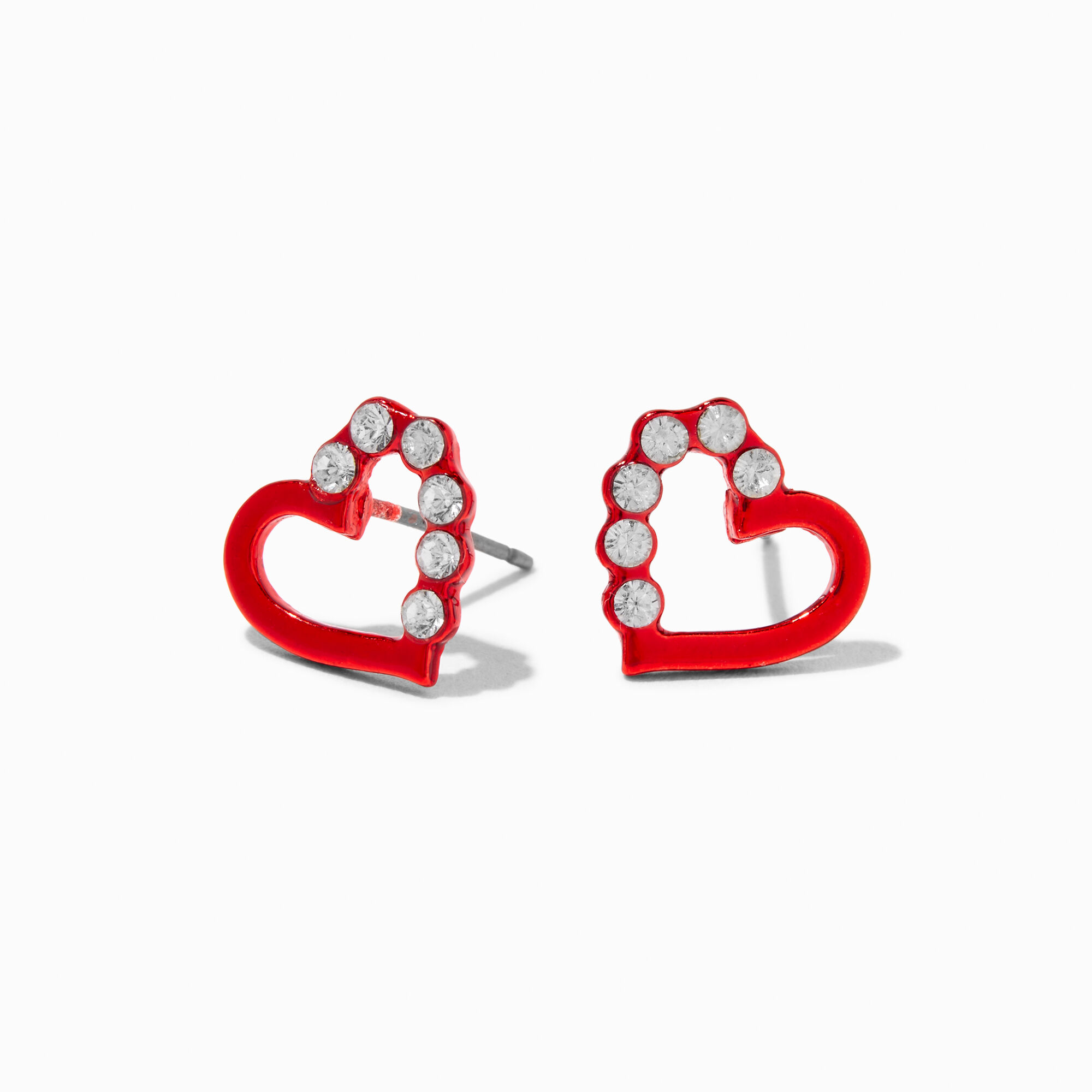 Dainty hearts never go out of style! These festive stud earrings, perfect for Valentine's Day, feature faux crystals that add a touch of sparkle to your attire.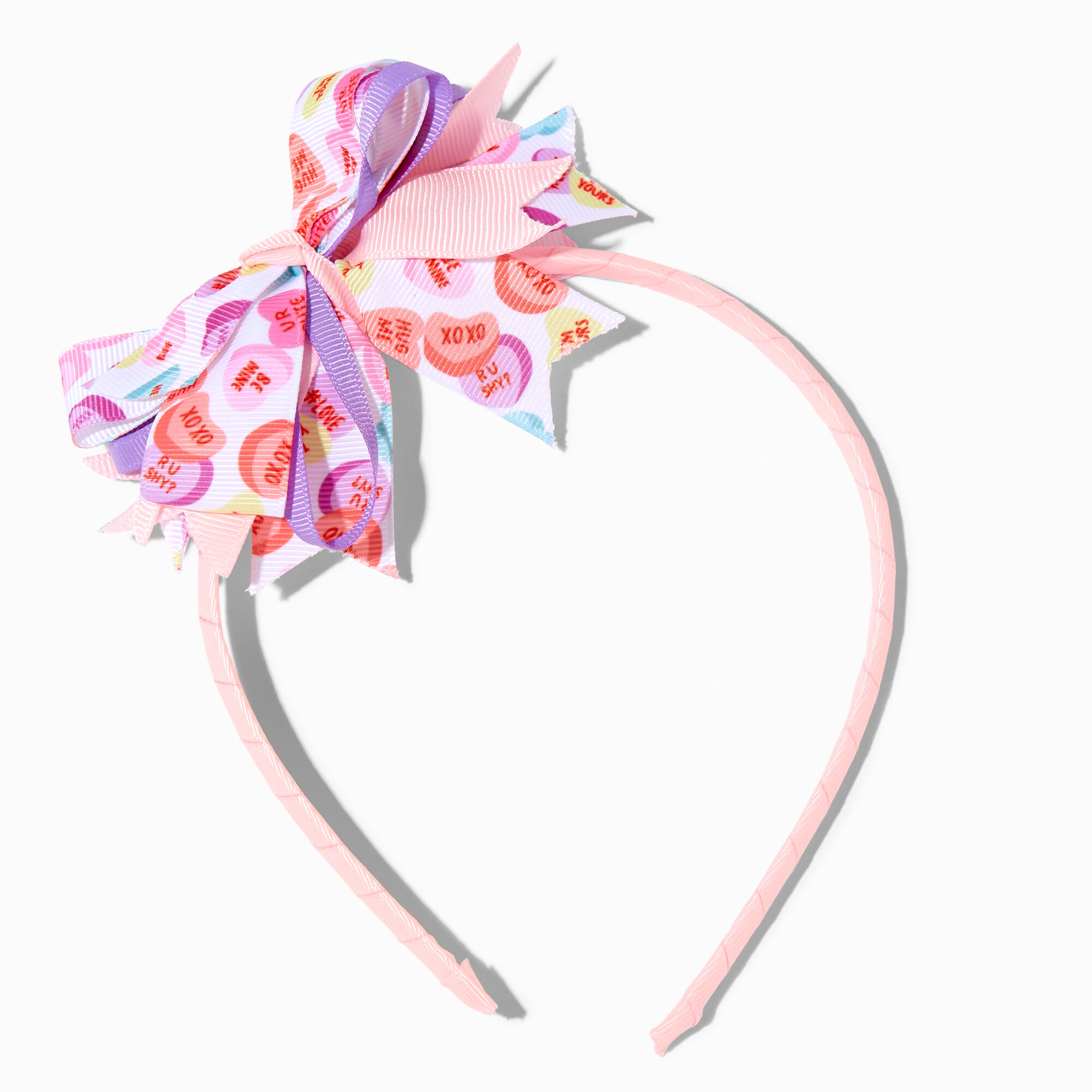 It doesn't get any more "Valentine's Day" than this! The headband is covered in pink ribbon and topped with a multi-ribbon bow featuring classic conversation hearts, featuring messages like "XOXO" and "Be Mine."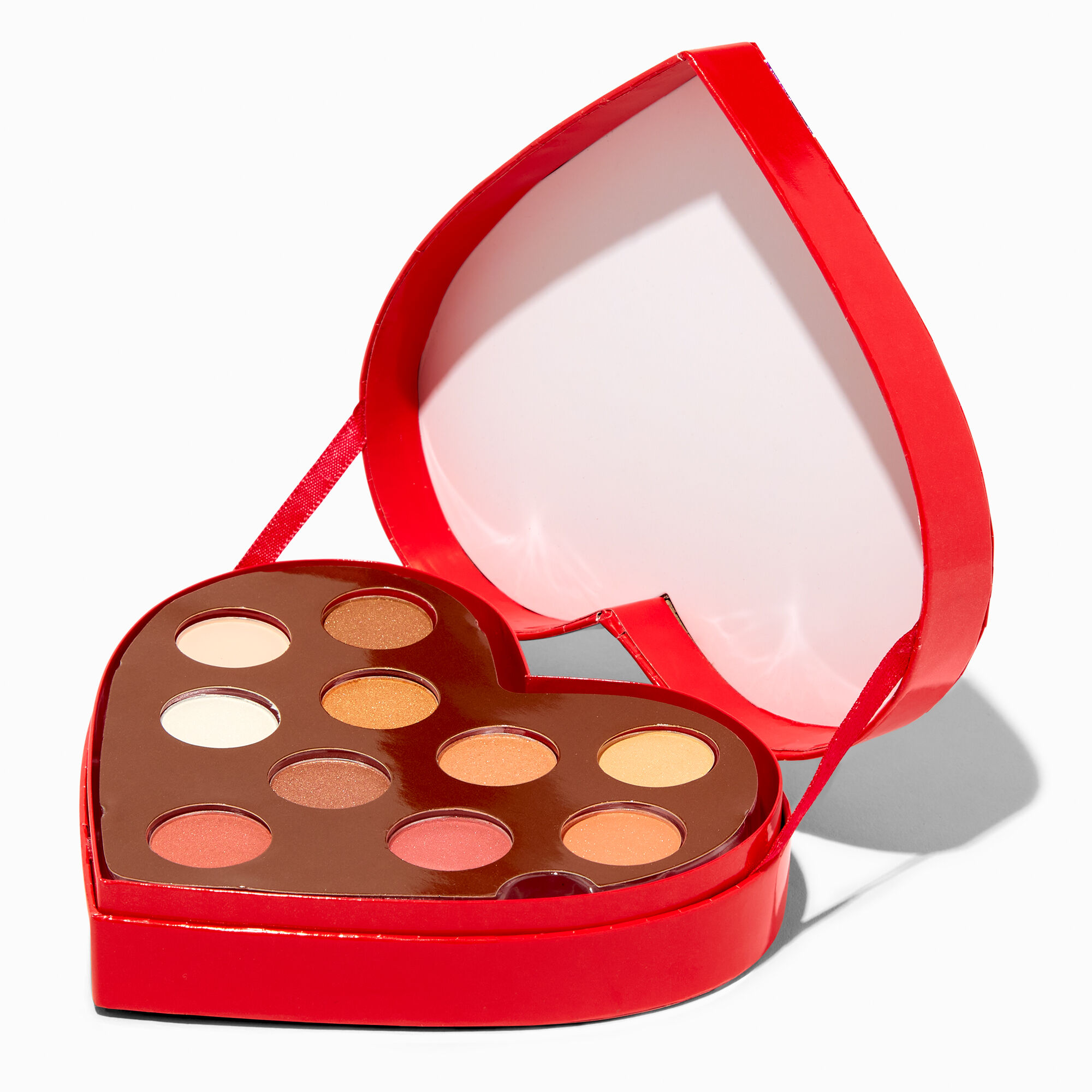 Create unique eye looks for Valentine's Day or other special occasions! This heart-shaped box looks like it's the kind with yummy candy inside, but it actually 10 different eyeshadows in neutral colors that coordinate well together. Some even have glitter accents for a more dramatic effect!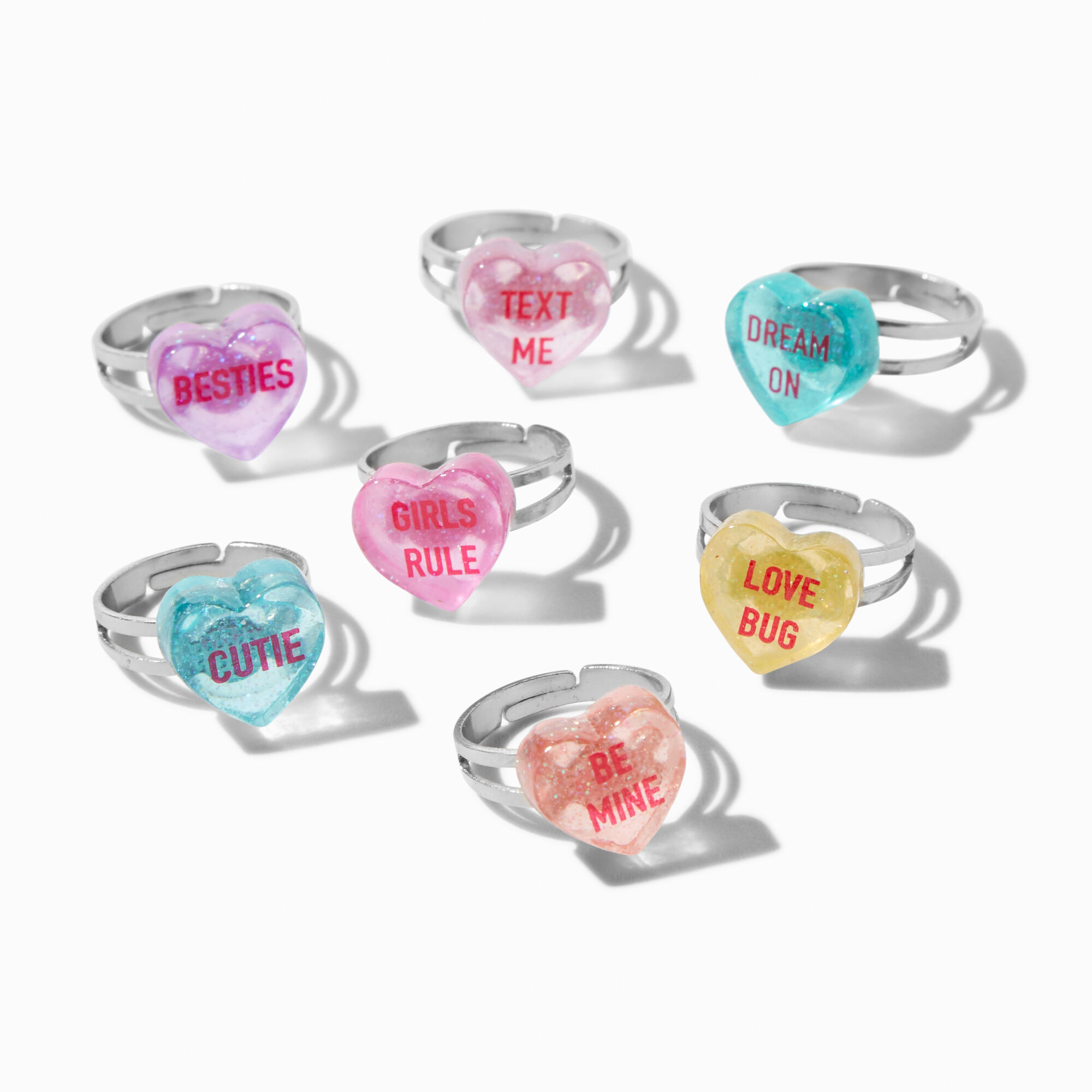 Make a sweet statement with this super sassy set. It includes seven adjustable rings with conversation heart designs. Options include, Besties, Text Me, Dream On, Girls Rule, Love Bug, Cutie, and Be Mine. Match your mood for an entire week without a repeat! Or share with your besties as a Valentine's Day surprise.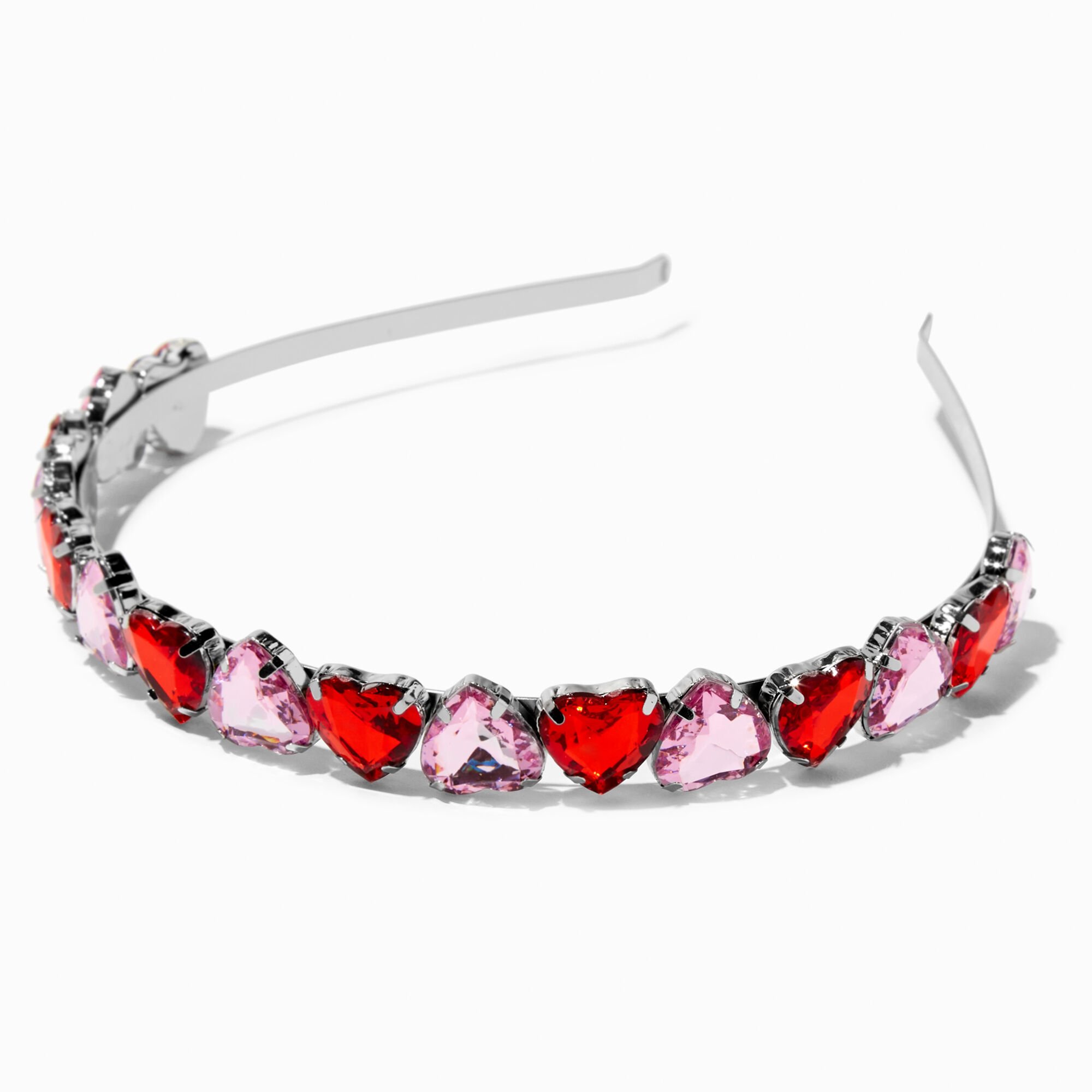 Add a Valentine's Day touch to your hair! This elegant headband features heart-shaped faux gemstones in red and pink to match your favorite February 14 outfit.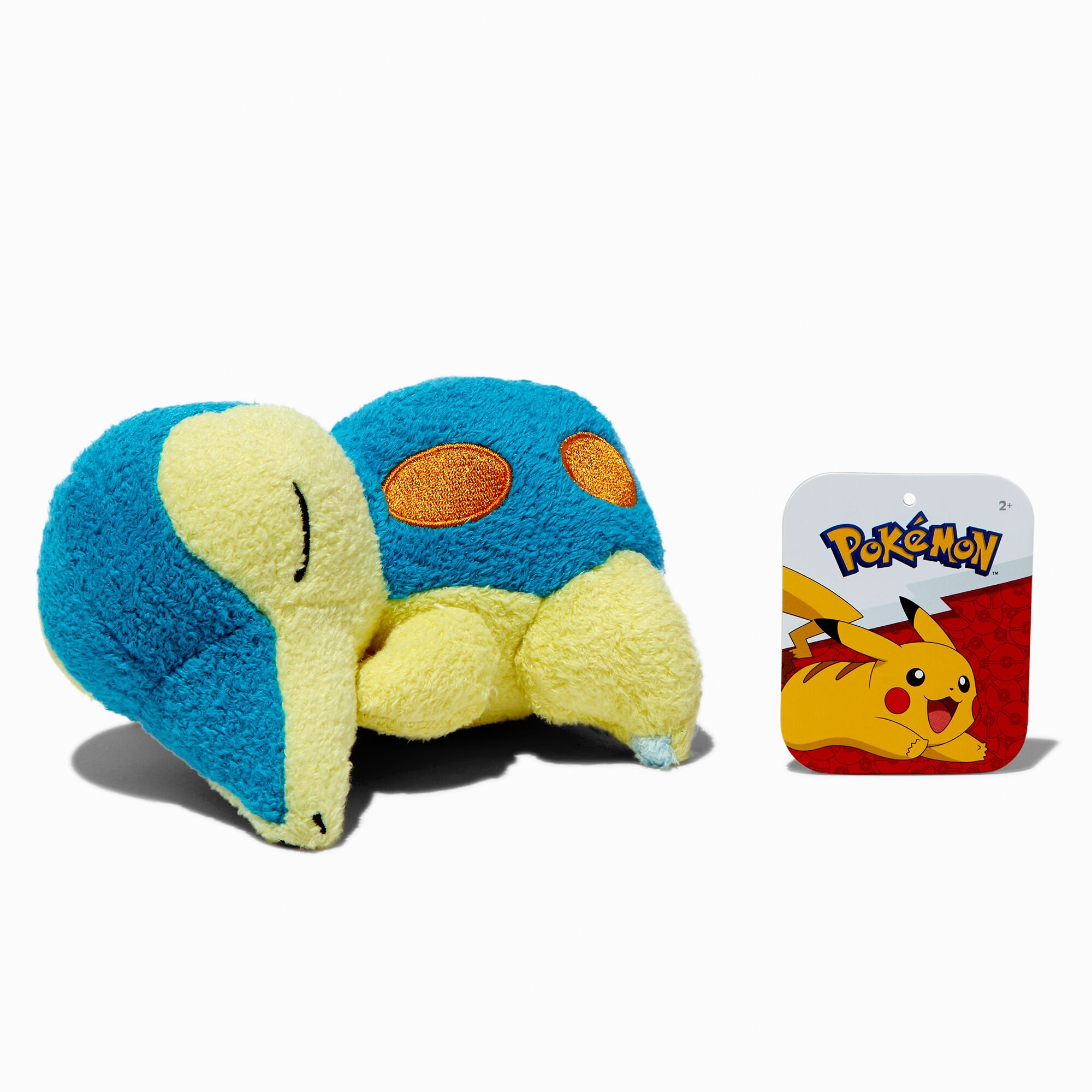 You'll love hugging and cuddling with your new squishy friend, all day long! Squeezed With Love™ plush toys are super-soft and designed to hold their shape. Looking tasty enough to eat (but don't!), this yummy donut is "frosted" with sparkling red and purple hearts, making it perfect for Valentine's Day!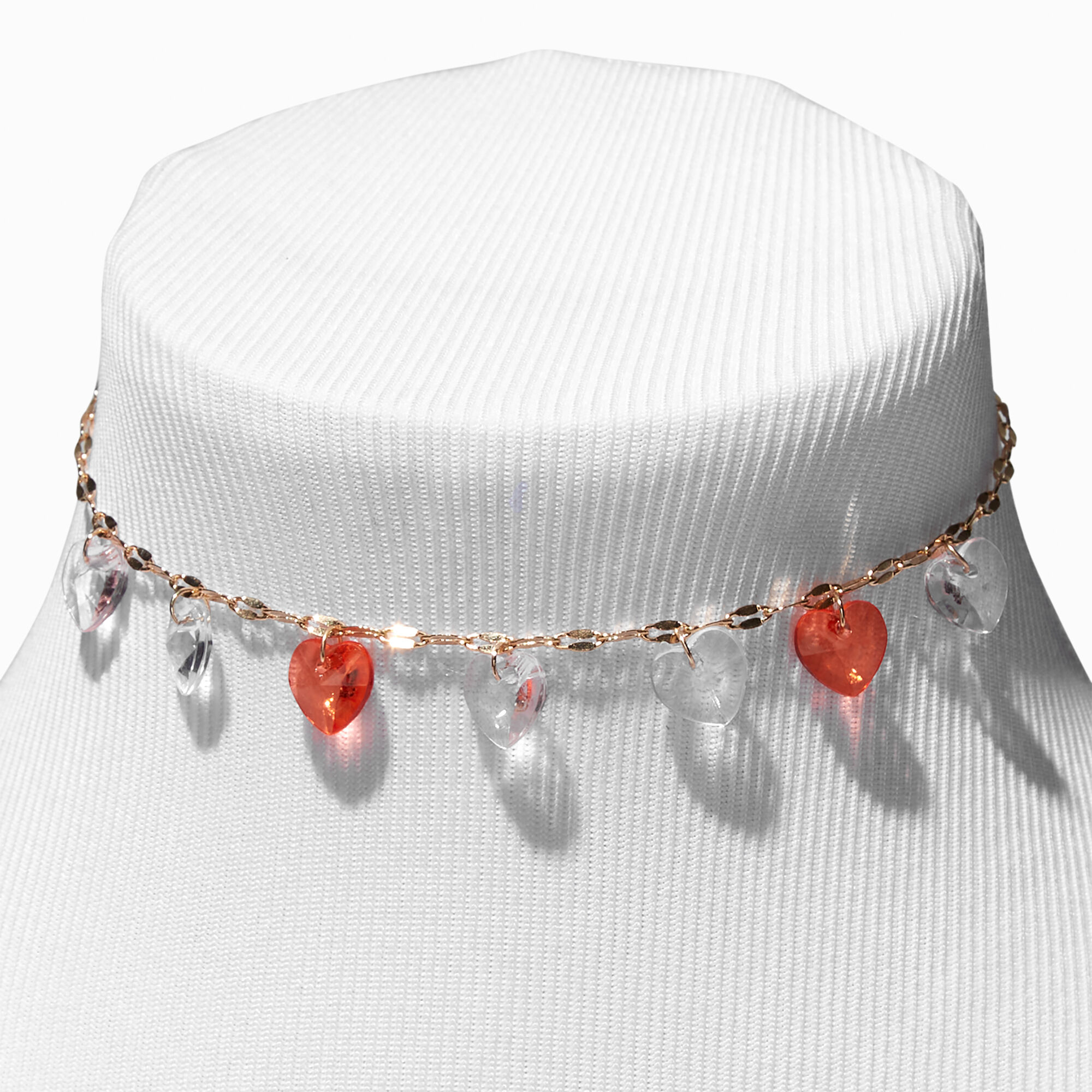 Dainty faux gemstone hearts dangle all along this pretty choker, perfect for Valentine's Day or anytime you're feeling the love.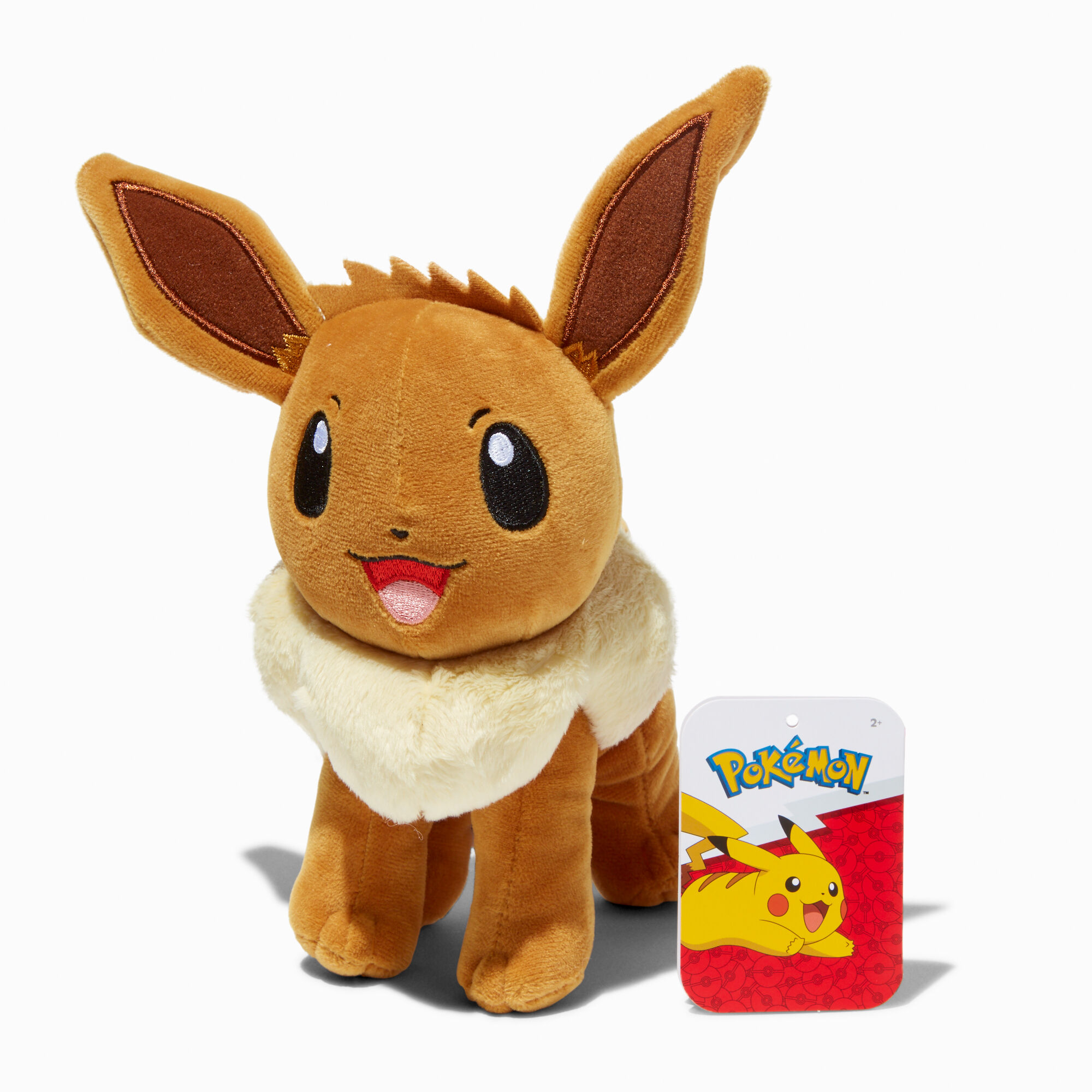 You'll love hugging and cuddling with your new squishy friend, all day long! Squeezed With Love™ plush toys are super-soft and designed to hold their shape. Holding a big red heart filled with festive confetti, this adorable little froggie is perfect for Valentine's Day!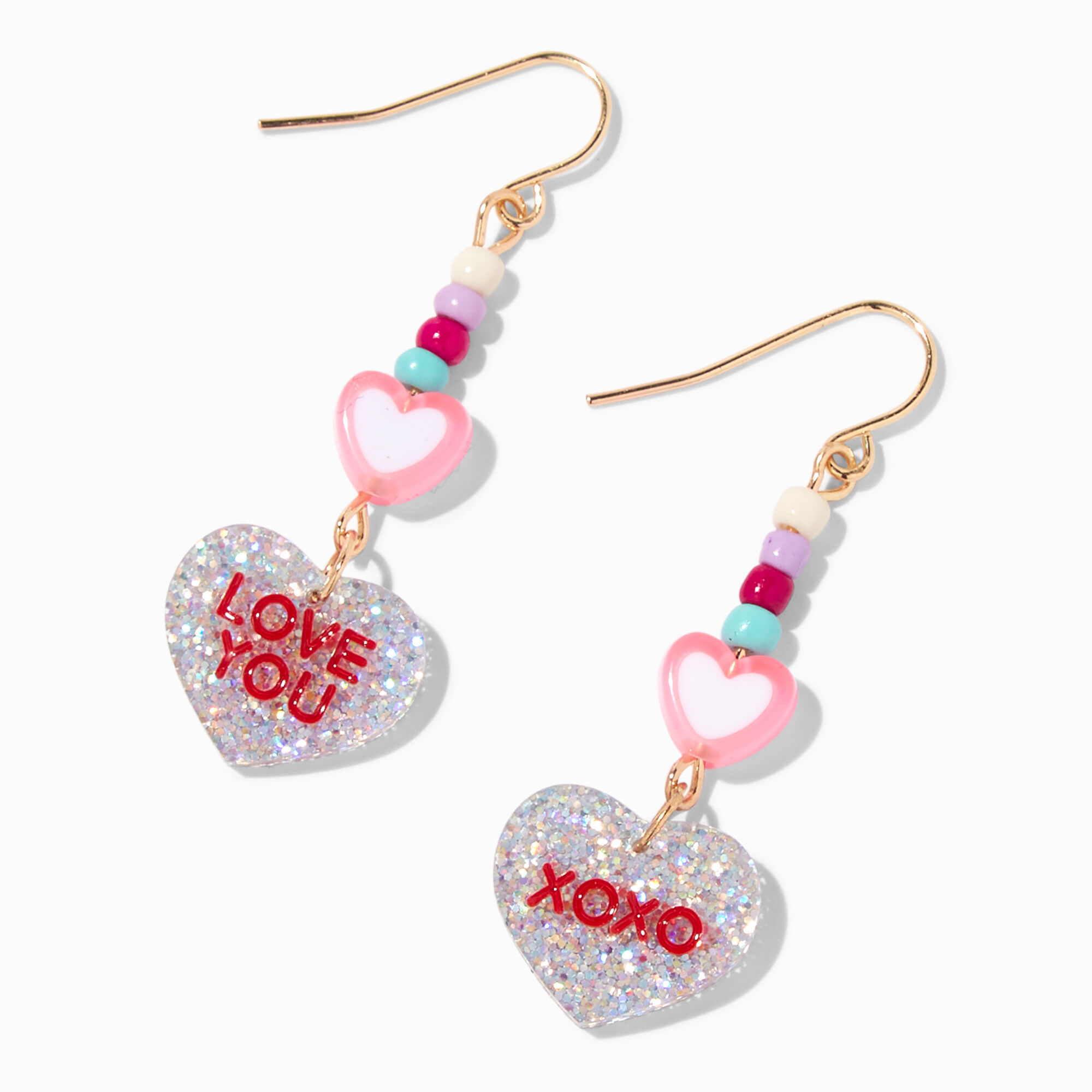 Conversation hearts really get your message across! These drop earrings, so perfect for Valentine's Day, have "Love You" on one glittery heart and "XOXO" on the other. They're accented with a row of colorful beads.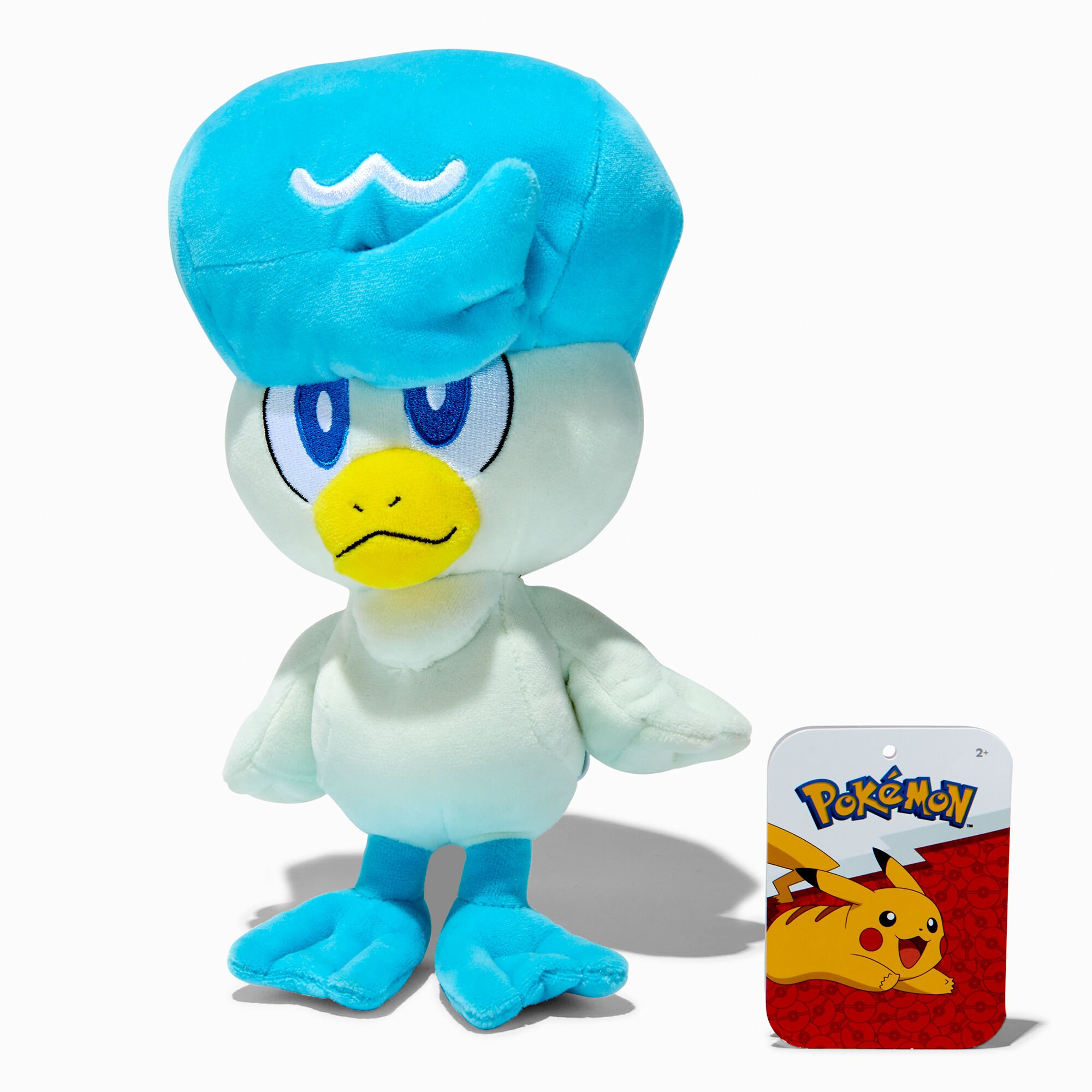 You'll love hugging and cuddling with your new squishy friend, all day long! Squeezed With Love™ plush toys are super-soft and designed to hold their shape. Holding a big red heart filled with festive confetti, this adorable little salamander is simply perfect for Valentine's Day!
Gifts for pets
Lip gloss was all the rage in the 90s. Now, your dog can get in on the throwback craze with this super fun three-pack of lip gloss toys. This toy comes with a set of lips and two different lip gloss toys in different shades. They all have plushy, polyester covers and soft, squishy stuffing that's easy on your pup's mouth. Plus, they squeak!
Help your pup get into some monkey business with the ZippyPaws Spencer Crinkle Monkey Dog Toy. This floppy monkey keeps dogs entertained with three kinds of sound—a squeaker, a rattle, and crinkle material in his arms and legs. Spencer the monkey is made of plush ribbed material, for soft cuddles at naptime and an easy grip when carrying. This pink monkey comes in a small size making it the paw-fect companion for small breed pups.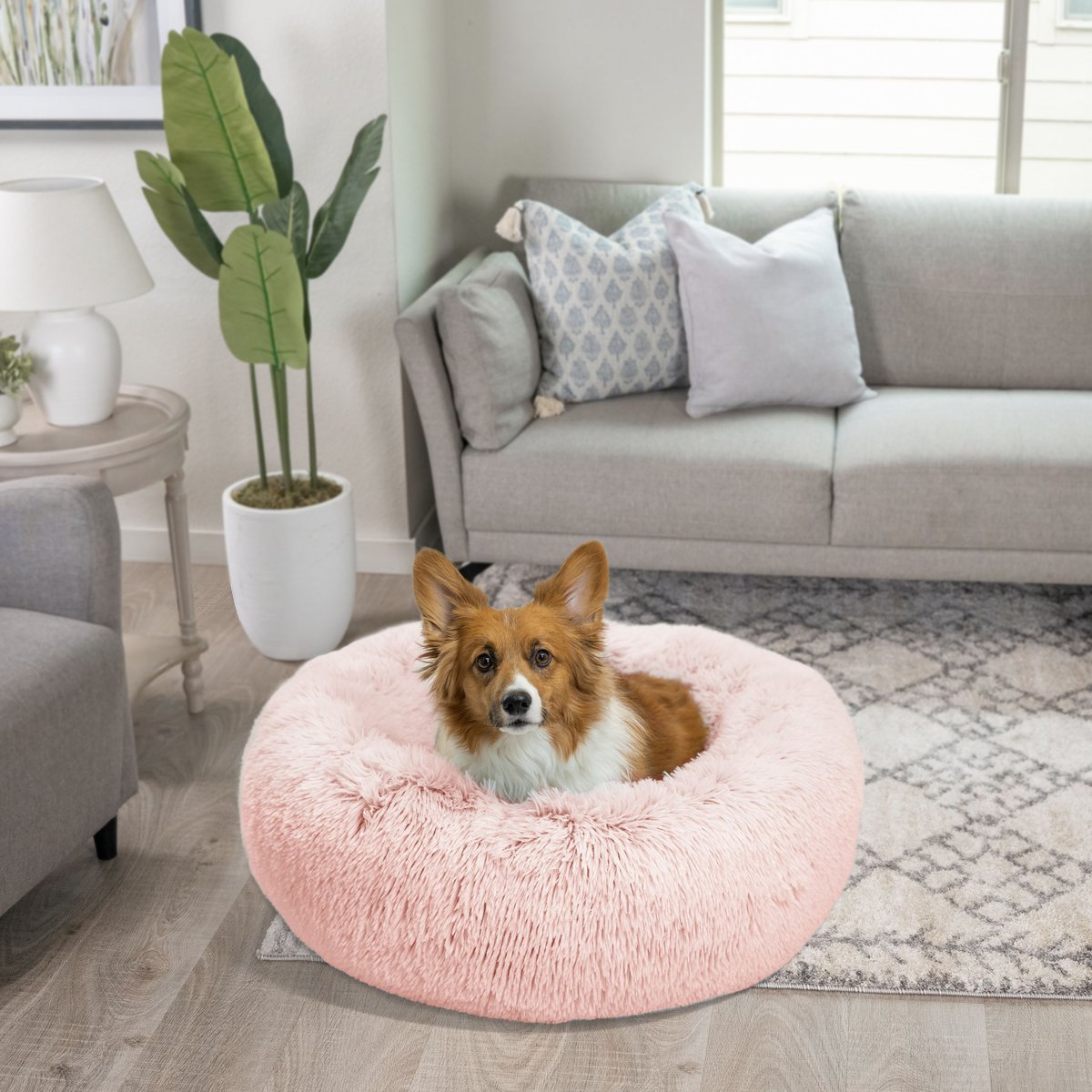 This dog bed is made with your pet's health and well-being in mind. It features luxurious faux fur and has a soft, lofty filling that provides relief for muscles and joints. It also features a raised rim that offers a sense of security, as well as head and neck support. And for your convenience, this water- and dirt-resistant bed is machine washable for easy care. It even comes in multiple colors!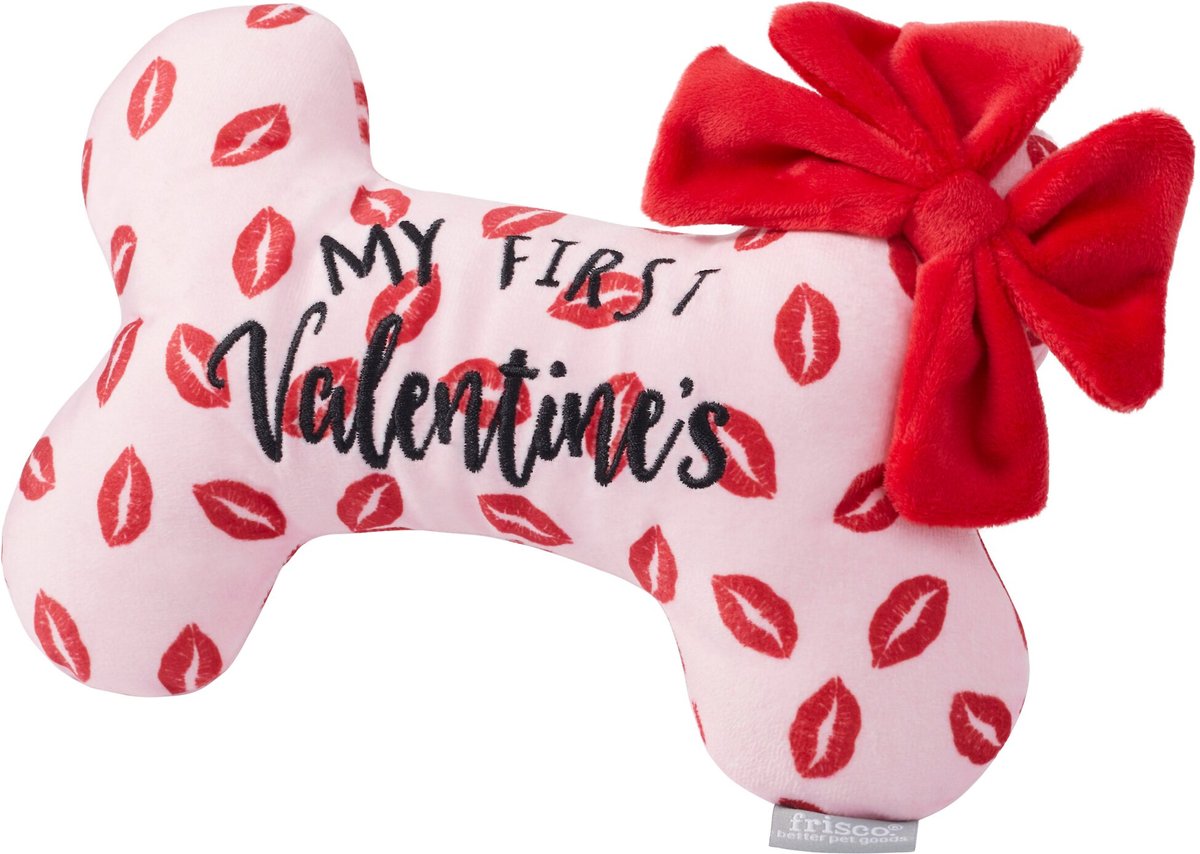 It's no secret that dogs love bones, and what better way to show them how much they mean to you than with one for V-Day? Your pooch will squeak, toss and fetch all day 'til their heart is content. This lovable, plush squeaky bone toy is reversible, and even has "My First Valentine" displayed on one side. Packed with plushy stuffing for a day of play or a night of Zs. This amazing treat comes with built-in squeakers, so spoil your dog and give them a gift that they will remember fur-ever!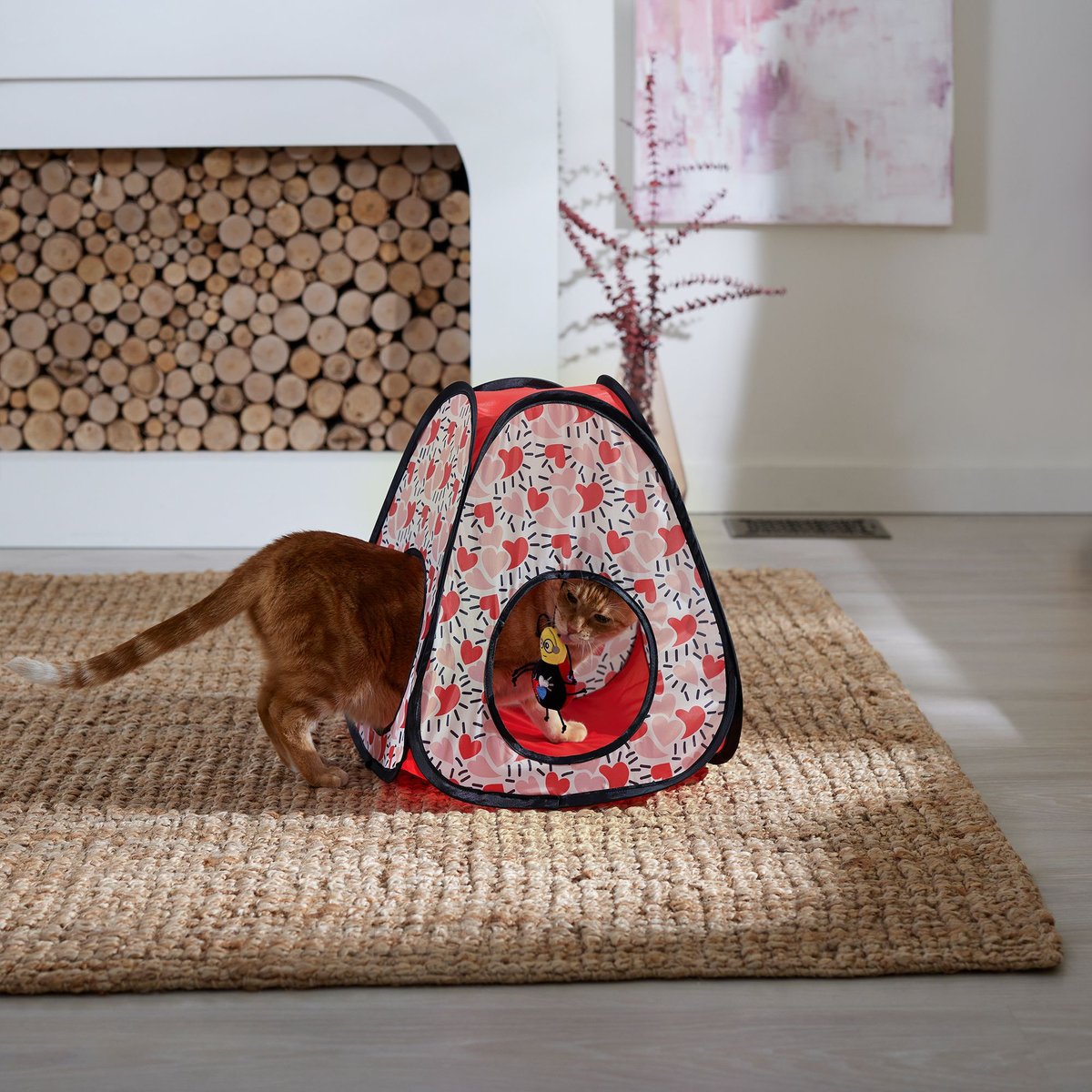 Self-love is some of the best love, and sometimes that includes a bit of me-time. Well, what better way for your cat to get some me-time than with this Valentine love bug pop-up tent, from Frisco by Chewy? Show your kitty how much you love them by giving them their very own hangout spot where they can just kick back and relax. Just pop it open and watch as your feline friend scampers right on in. They can come and go as they please, plus it's got a little dangly ladybug toy with some catnip to truly make this the best tent ever!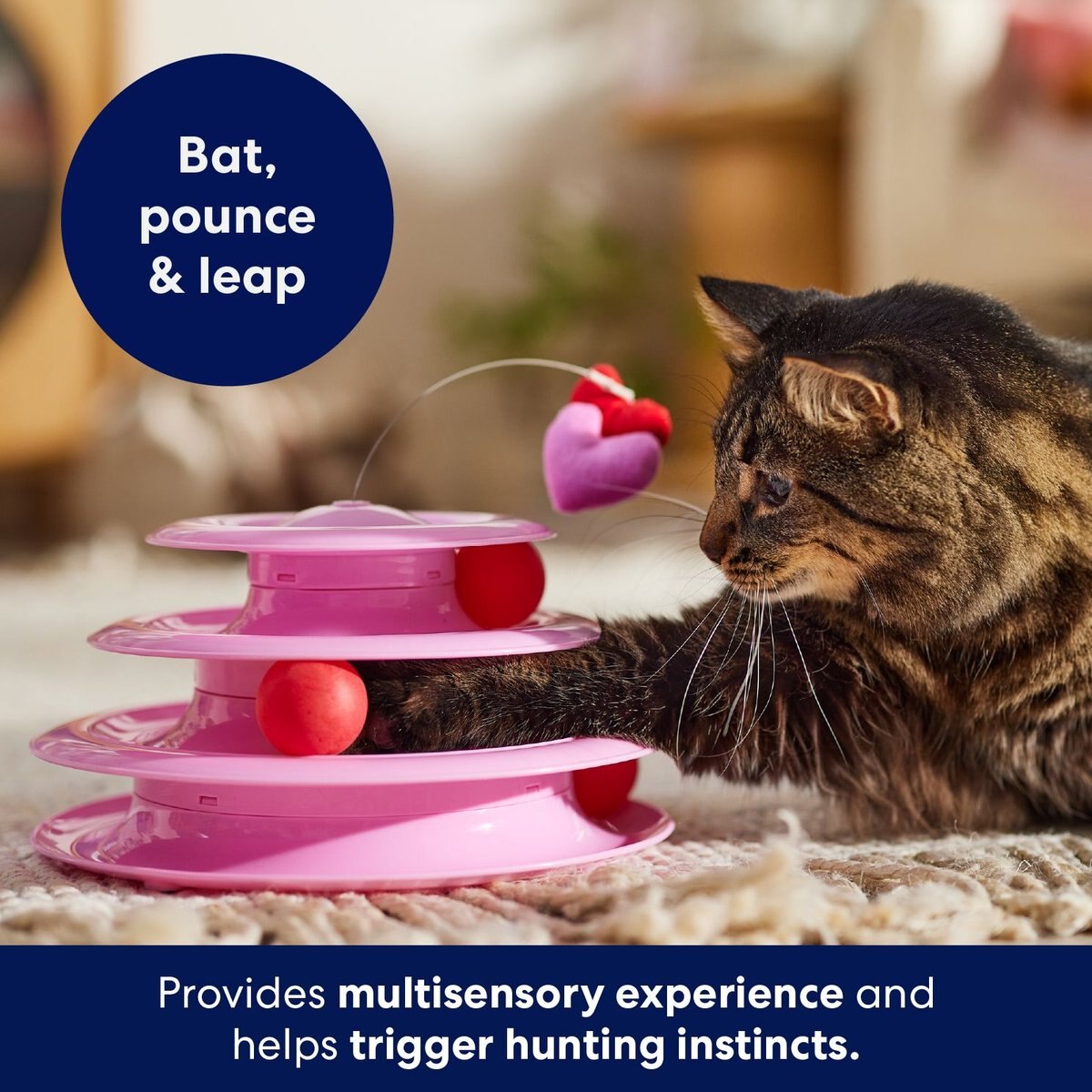 If there was a Valentine's Day themed amusement park for kitties, this toy would be the main attraction. These adorable pink tracks have everything cats love—a ball to bat and chase around the tracks, the excitement of the rolling sound, and even a super cute unicorn friend on top! There are three levels for even more play, each with its own rolling ball, so even kitty's Valentine can get in on the fun. With non-skid pads underneath, there's no telling how action-packed playtime can get under your roof.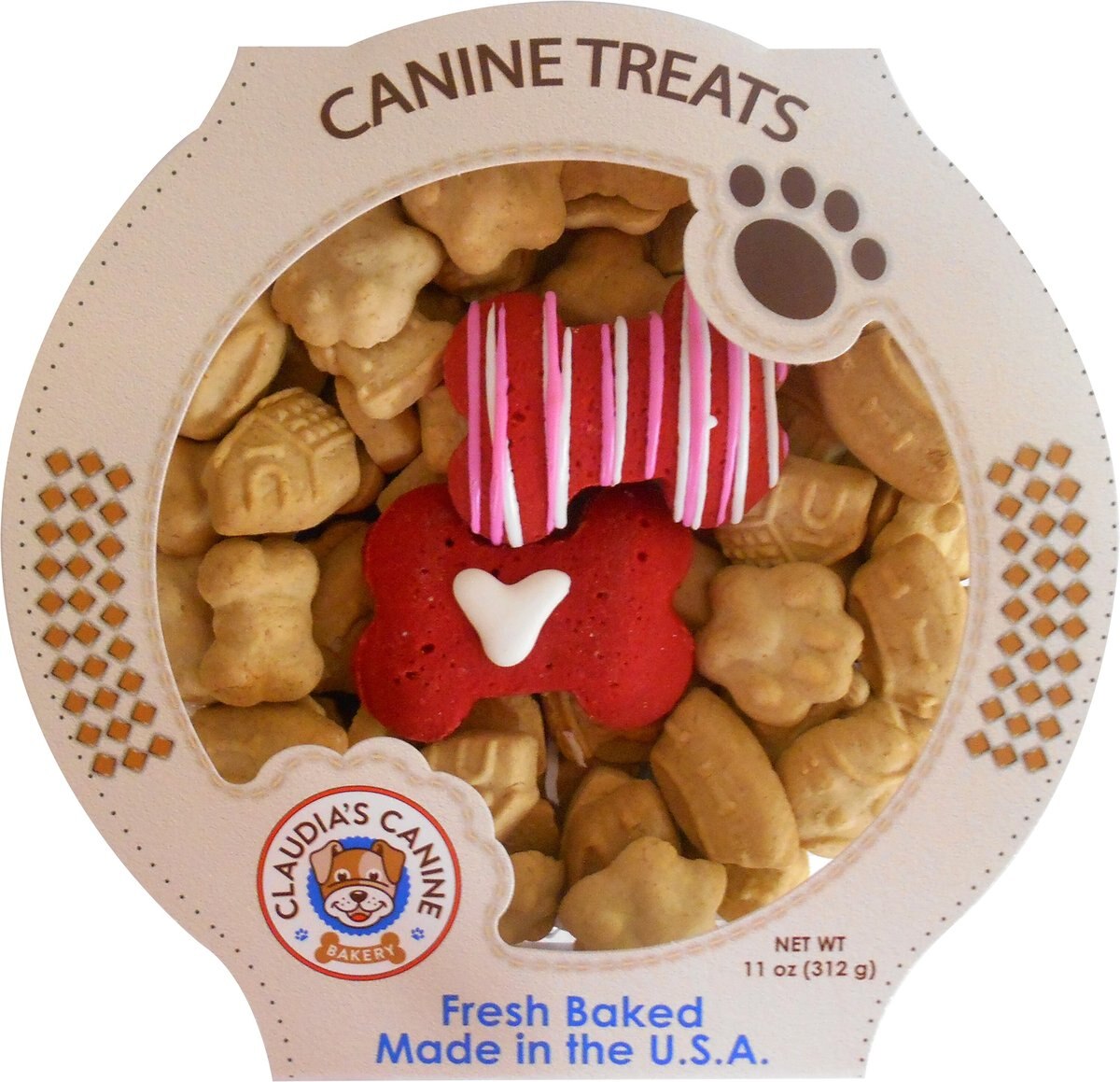 Give your furry valentine a little something special with this 11-ounce tub of Valentine's Bones baked dog treats by Claudia's Canine Bakery. This themed, Valentine's Day tub is the perfect gift for your canine friend on the one day created to celebrate the love in our lives. After all, our furbabies deserve love on V-Day, too! With Claudia's peanut butter-flavored bones in a delightful variety of dog-themed shapes, these spectacular tubs are filled with cookies that are absowoofly sure to tempt your dog. Plus, the tub is re-sealable, and each tub includes two, hand-decorated cookies that are dipped in creamy yogurt.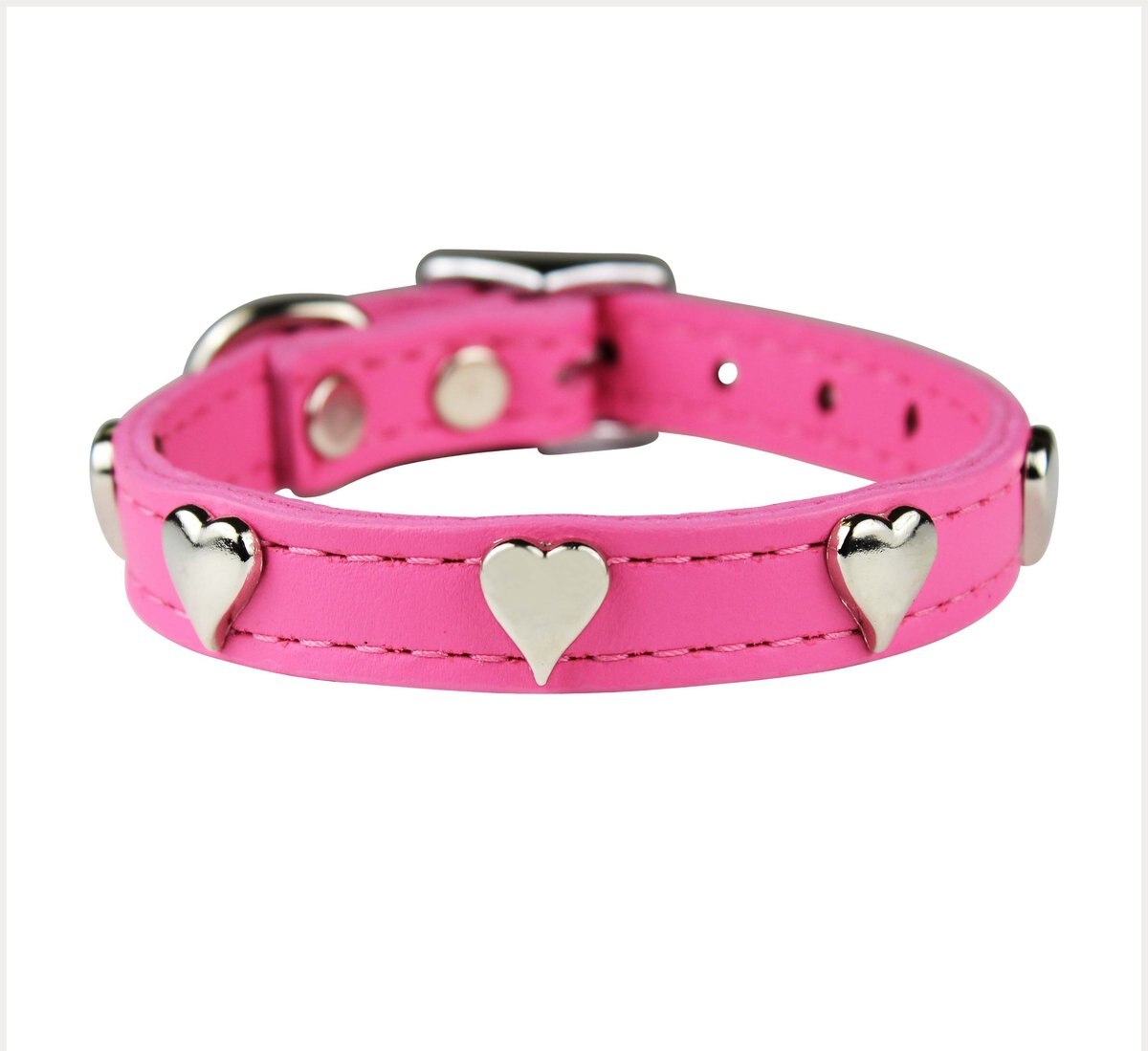 Remember to measure your pet for the paw-fect fit. Upgrade your pup's swagger with the OmniPet Signature Leather Heart Dog Collar. Made of 100% genuine leather, it's built for style and durability, with sturdy stitching that can stand up to daily wear, from the streets to the trails! It features adorable metallic hearts and durably-made nickel hardware and D-ring so you can easily attach your favorite leash. Plus, it's made in the USA and is available in a variety of colors and sizes so you can find the perfect one for your pooch.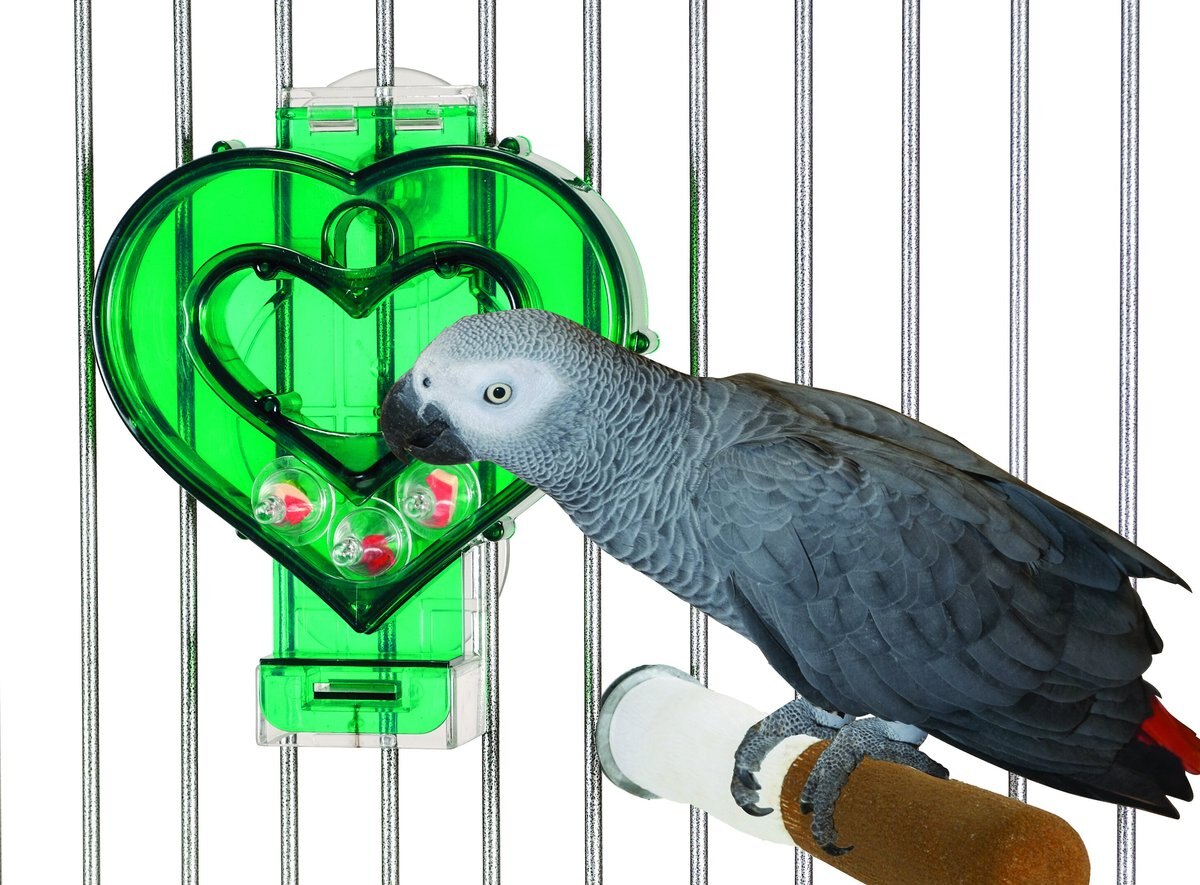 The Caitec Featherland Paradise Mastermind Heart Bird Toy is a fun way to teach your flying companion a new trick! Designed to promote mental and physical stimulation, it may also reduce the possibility of unwanted feather picking. It is crafted using strong plastic for long-lasting durability and is easy to hang in just about any cage using the strong stainless steel pear link. Foraging for food can help keep your beaked buddy at the top of his game, while also preventing boredom from getting the best of him.
Gifts for Anyone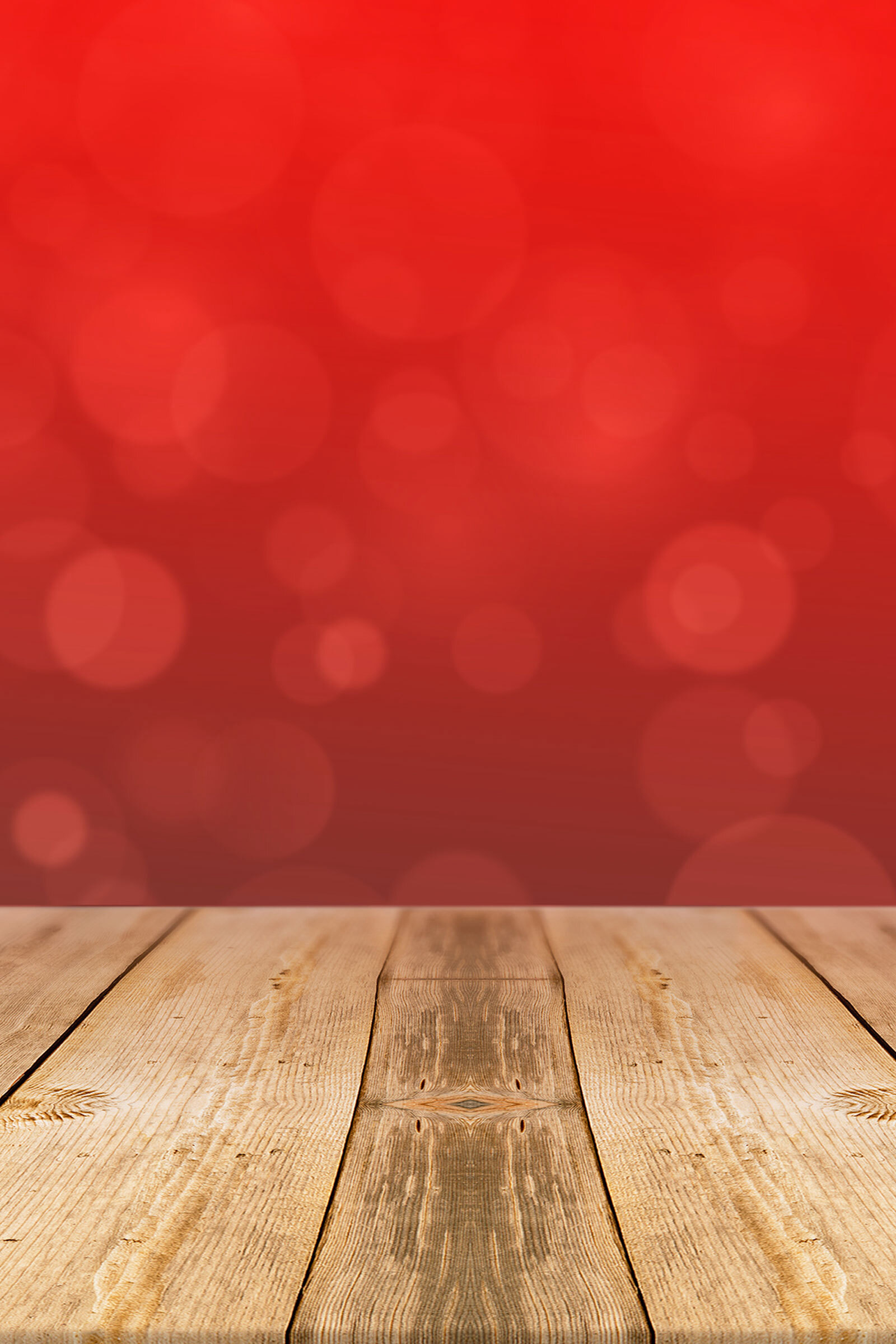 LoveBooks Starting at just $46.74!
LoveBookOnline is a unique gift idea that unlike anything else. A LoveBook is a hard or soft cover book that lists all the reasons why you love someone.
The LoveBook is created by using our web application at LoveBookOnline.com Each book is custom made in hard cover or soft cover. The user can customize each page with their own personal reason accompanied by a little stick figure illustration. The LoveBookOnline.com web app provide hundreds of user-generated "LoveReasons" to help fill your book. We also host thousands of different stamp images to help illustrate each page.
I absolutely LOVE these rings! They are high quality and have a variety of styles and colors to choose from. What's special about these rings is the fact that they are made of breathable materials because the inner grooves allow air in and moisture out with a specially designed contour to give you maximum breathability and performance. They are made with unique medical-grade materials for undeniable quality beyond any silicone ring that came before. I find the rings to be a perfect fit and go with any outfit! Plus, they never stretch out! These aren't the first rings I have gotten from Groove Life and all the past ones are still in amazing shape after all these years! Check out my
previous Groove Life posts
!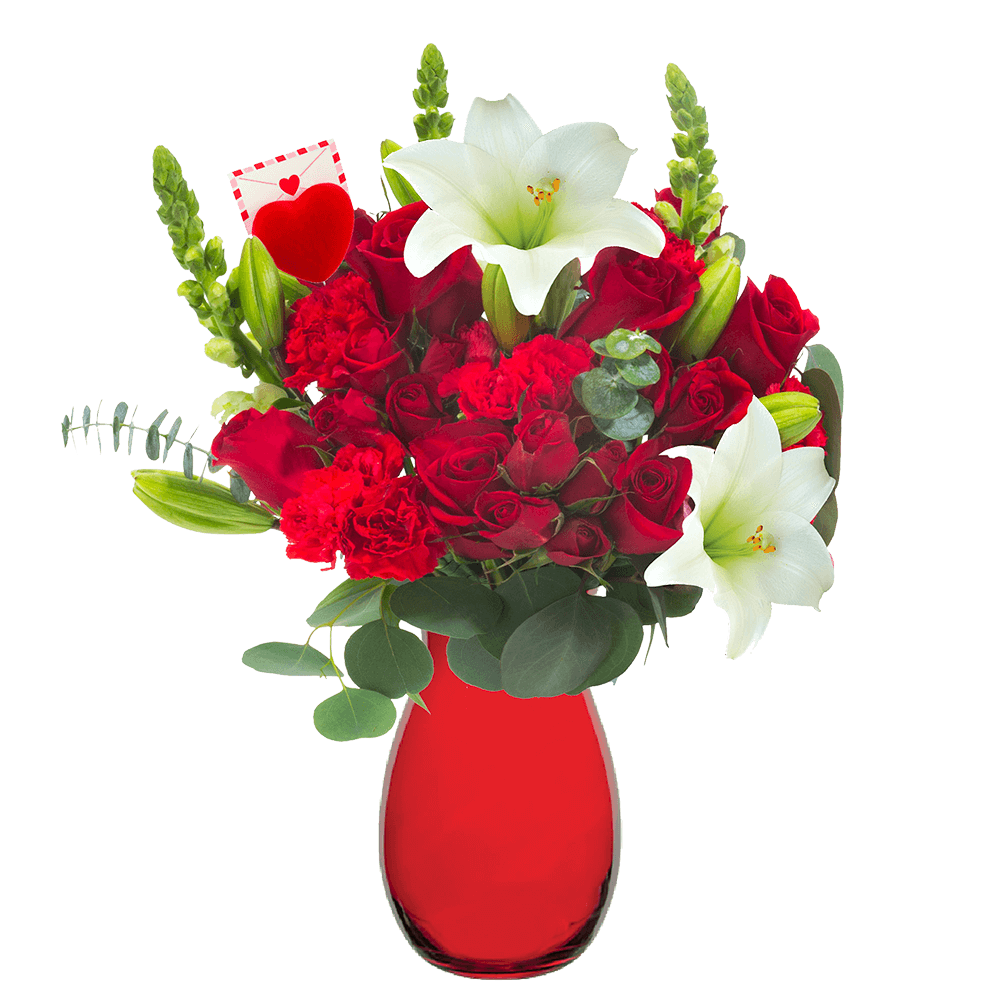 Treat your special lady with fresh flowers in pristine white, passionate red and refreshing green colors. Each box comes with 1 Easy to Love! Valentine's Day arrangement plus vase. This bouquet is made with 27 freshly picked stems; 7 Red Roses, 3 Silver Dollar Eucalyptus Leaves, 4 Red Spray Roses, 2 White Asiatic Lilies, 3 White Snapdragons, 5 Red Mini Carnations and 3 Baby Blue Eucalyptus Leaves. After presenting this spectacular gift to your sweetheart, these flowers won't be the only thing in the room that's easy to love!
Receive your FREE 16x20 Custom Canvas or get 65% off any other size Canvas from CanvasPeople, just pay shipping. Limited time offer only.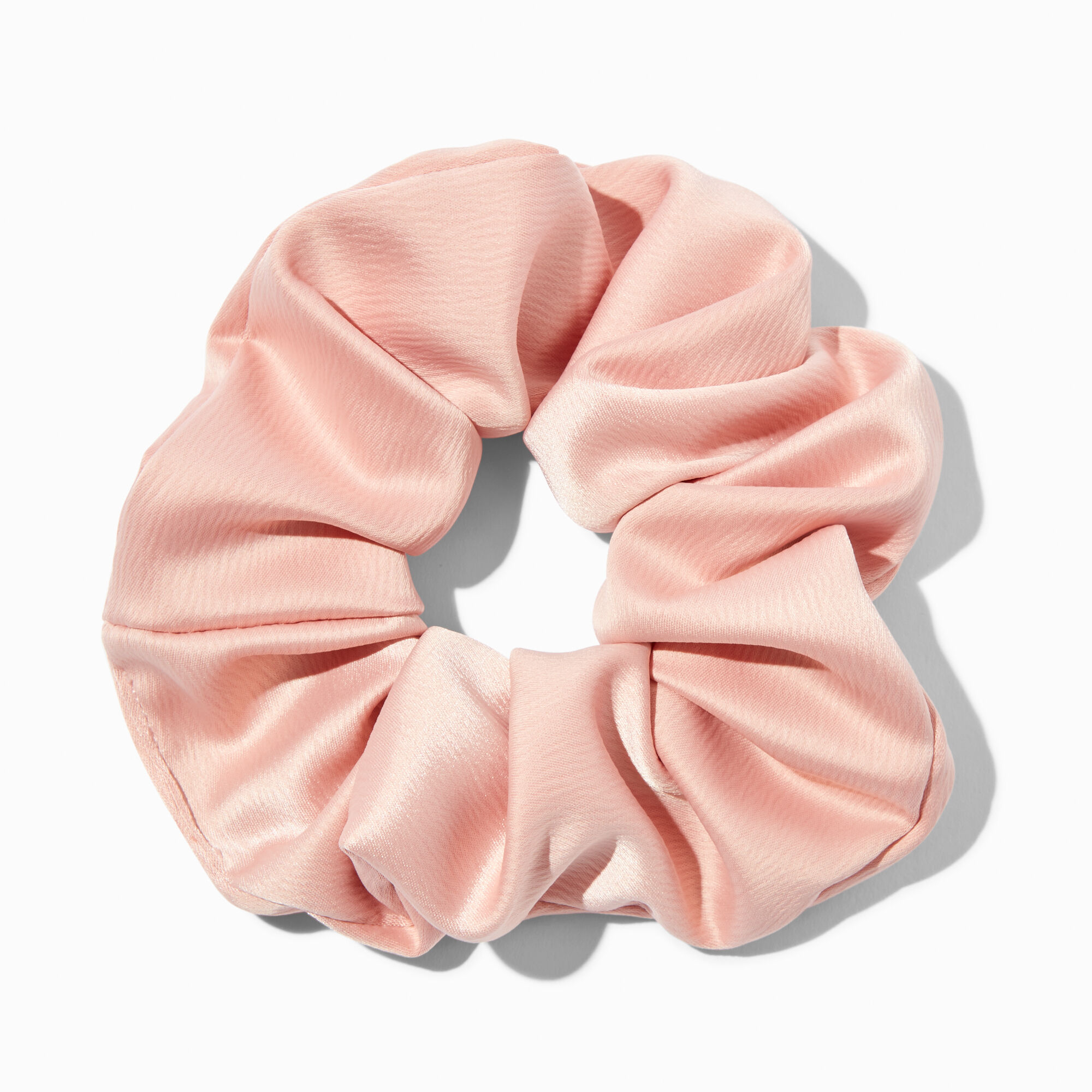 Here's the perfect Valentine's Day gift for someone you love, to remind them how important it is to stay hydrated during the day! This studded tumbler has a screw-top lid and comes with a coordinating straw complete with a heart-shaped topper.
Complete your stylish Valentine's Day look with this pair of sunglasses. Just look at all the awesome details... like heart-shaped cat-eye frames, tiny little studs all over, and groovy rainbow lenses. They're so pretty and so practical, too, since they help protect your eyes from the sun.
Gifts for Adults
Need some
sexy
adult gift ideas? Check out my
adult deals
section to find something
spicy
!
Whether you are a wine enthusiast or want to explore one wine bottle at a time, have a soft spot for Chapagen, Sweet Wines, or Big California Cabernets. Cellars has it all!
Romance Roulette is a game for 2 lovers or more! You have 3 rounds to bet for each category. Each chip has a hot and sensual action for you both to play out. It comes with a Roulette wheel, Roulette board, 35 playful chips, 35 sensual chips, and 30 sexual chips. Place your bets, spin the wheel, and get lucky!
This couples game from Little Genie is the perfect foreplay! Split the cards into His and Hers deck with the activities face down. Take turns rolling the die and whoever it lands on must draw a card from the corresponding deck and choose one of the two activities printed on the card.
Ginja9, named Liqueur of the Year 2020 at the Bartender Spirits Awards. Ginja (Portuguese for sour cherry) is a popular liqueur in Portugal with a long history. This tradition dates back to the Portuguese monks of the 17th century who infused sour cherries, also known as morello cherries, in alcohol. Monks started this process due to the healthy properties of sour cherries—they help with the digestive process and blood circulation. Of course for the booze as well 😋 Ginja9 features a 12 month infusion of sour cherries from the Óbidos region in Portugal, with no added colors, flavors, preservatives or sulfates. Vegan and gluten-free. The result is a dark raspberry colored liqueur with the aromas of fresh cherries. A striking balance between sweet and tart, it is the flavor of ripe cherries in liquid form. You can simply enjoy it straight, chilled, or on the rocks. It's perfect to enhance your favorite cocktails (mojitos, cherry mimosas, margaritas, and more). Mixologists love it for their craft cocktails🍹 Enjoy a delectable pairing when you pour Ginja9 into our edible dark Belgian chocolate cups.
*Prices are subject to change. Pricing is valid at the time of the original posting of when the product was added.
Would you like to add your product to our Valentine's Gift Guide? Send us a message to discuss how!