Shark week is here! If you are a fan of sharks, check out these fun shark-themed finds!
In no particular order, other than when they were found, check out these fun shark items. Let me know what your favorite is!
There's a treasure in these fossils! Kids become ocean archaeologists as they chip away at the shark's head to reveal mini-figurines, or maybe a real shark's tooth!
This shark can cause a fright! But don't worry, it's soft, flexible rubber, and fits kids and adults. It's fun in a pool or bath and ready for a baby shark dance.
These animal buds are longer than poufs and sponges, so kids can easily reach their backs. With gentle, lathering loofah mesh and plush, they're good clean fun!
Made of 100% fine ring-spun combed cotton, this lightweight fine jersey is exceptionally smooth and tight-knit.
The Shark Platters are a great way to excite your guests at your kid's shark themed celebration. Shimmering blue plates come in a pack of 4 and are shaped like real-life sharks.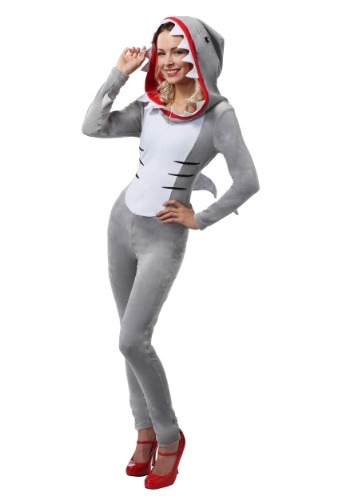 So, if you're gazing at this women's sassy shark costume, then you must have interest in becoming a finned underwater beast. Nice choice! Sure this super-soft formfitting jumpsuit is the ultimate shark costume, but if you want to really take over the Halloween party this year, then be prepared to really assert your fierceness. Show your teeth! Be as vicious as possible; don't spend any time or effort on being cute because this exclusive costume is everything you need in order to be deemed 'appealing.' The curve hugging garment features an oversized animal hood, gills, and attached dorsal fins transforming you into the ocean's top predator. Now, the only aspect of your costume that you have to worry about is your sassiness because sharks are pretty darn sassy. Wear this costume and hopefully the sheer sass will pour out of you. If not, then try playfully snapping your pearly whites at passersby. Show your fangs. Viciously swish your dorsal fin! Fellow partygoers will be chomping at the bit to hang out with the fierce girl in the shark costume!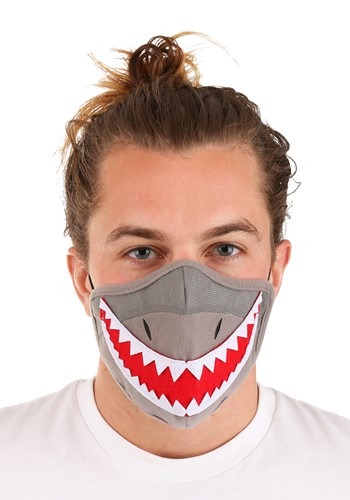 Show your solidarity for these fearsome fish in your Adult's Shark Sublimated Face Mask! A smiling set of chompers is printed on the velour and broadcloth surface, which is contoured for a comfortable fit over the nose and mouth. Elastic ear loops keep the mask snugly secure. You might get an odd urge to nibble an octopus while you wear this, but at least you'll be helping to prevent the spread of germs!
You know the theme song, you know the famous lines, you know what happens when you get in the water. Now its time to bring your love for Jaws home—literally—with this Jaws Logo Doormat. It's a licensed doormat with the films simple yet menacing, logo. Keep your guests on their toes!
From sun-up to sun-down is your little one singing a that constant "doo doo doo doo doo doo" refrain? Give them a new way to share the Baby Shark fun—and maybe save a few people from getting the song stuck in their heads—with this 5 Piece Backpack Set! The officially licensed set includes a backpack and snackpack with printed images of Baby Shark and their family, a water bottle, carabiner, and baby shark key chain that your kiddo will love accessorizing their day with.
On a perfect day to enjoy the sand, surf, and sail, what could happen? At playtime, anything! Whether they imagine making friends with great whites or swooping in as the hero to save their friend from the shark's jaws, this Playmobil: Shark Attack Rescue Playset is a must-have! Let their imagination swell like the waves they'll surf every time they sit down with this 14-piece adventure set!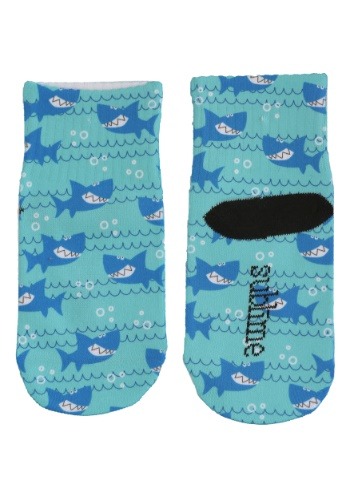 We know that the title might have confused you, but these are NOT socks for a shark. We don't even know how you would put socks on a shark... These Shark Ankle Socks are made of polyester and spandex and they were made for humans! They are perfect for any shark fans that you might know.
We've recently become aware of the necessity to have inflatables for young children. Usually, we would just hold on to them the whole time we were in the lake or in the pool, but that did get a bit aggravating after a while. Then we found out that there is apparently a whole host of floaties for little ones, to help them stay up in the water. Some of them have fun colors or extra features... and then there's this beauty. This is a blue toddler float, made to support up to 40 pounds. But this delightful little number comes with a PVC canopy. And that canopy? Looks like a shark. As a matter of fact, the whole thing looks like it's trying to swallow your toddler. It is, in fact, a Shark Lil' Canopy Float.
This Seymour the Shark Comfy Critter Blanket is made with 100 percent polyester microfiber fleece. It's sized just right for a child and features some pretty nifty blanket features. The signature hood is soft sculpted for 3D effect, and it's printed with the shark details to show off Seymour's face. It also features folds for hands in each upper corner for a secure and comfy wrap. And when nap time is over, this blanket wraps up into a plush bundle that can still be snuggled with or used as a pillow. From the Comfy Critter company, get this fun blanket to make nap time extra special!
This is a mixture of lemon, coconut, beach rose, sea salt air, and seagrass.
This is a mixture of lemon, coconut, beach rose, sea salt air, and seagrass. ​To Use: Wet hands, apply, lather, and rinse. Avoid contact with eyes.
This Shampoo is a mixture of lemon, coconut, beach rose, sea salt air, and seagrass. Shampoo, Body Wash, Bubble Bath 16oz
Would you like to be included in my Shark Week fun finds list? Email me at

This email address is being protected from spambots. You need JavaScript enabled to view it.

to discuss how you can be included.
Enjoyed this post? Share it on Pinterest!