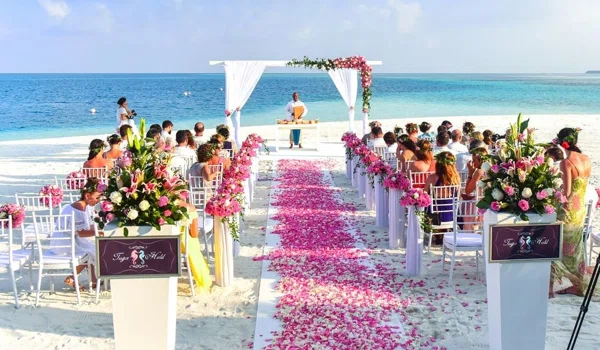 This post originally appeared on the Dealspotr blog. Dealspotr is the most accurate coupon site that pays you to save. I`m @ClosetSamples on Dealspotr, use my link to join today and earn 2,000 bonus points.
Being engaged and planning a wedding is one of the happiest things in life that will probably cost a small fortune. But it doesn`t have to be like that. A wedding is all about joining families and celebrating your love with the loved ones. It is not about flashing big bucks and having an over-the-top ceremony that will make a huge hole in your budget. After all, you are just starting a new family and saving money should be one of your top priorities. With that being said, it's still possible to have an affordable wedding without sacrificing an ounce of style. And today, we will show you how to shrink your wedding bill without dashing your big-day dreams.
1. Prioritize
If you are looking for a budget wedding, you should sit down with your partner and make a list of your top three priorities. This will help you determine where you can save some money and where to go all out. For example, if the venue is more important than the music, then make sure to find the location you absolutely love and get a DJ.
2. Guest List
Most restaurants charge per-person and the more guests you have, the more you'll have to pay. So you don't have to be a rocket scientist to figure out that a concise guest list will reduce your reception costs significantly.
3. Wedding Venue
One of the best ways to organize an affordable wedding is to find a wedding venue that doesn`t require you to use a particular DJ, photographer, bartender or caterer as they tend to be more expensive. Apart from that, you should choose a location that can be both a ceremony and a reception venue, which will save you the cost of renting the second venue. Your guest will be more comfortable, there will be less time restraints and stress, and you'll also save money on transportation. Now, when it comes to choosing a wedding venue, you have plenty of affordable options.
Courthouse
– A simple and intimate courthouse wedding is the best way to share a special moment with your loved ones, while saving a lot of money. You'll still be able to wear a fancy dress and invite a decent amount of guests. It will be easier to do all the paperwork, you won't have the pressure of preparing a fairytale ceremony, and you'll have more money for your honeymoon. Just make sure to choose some historic courthouse building that is budget-friendly and gorgeous.
Your Backyard
 –
Transforming your backyard into an intimate wedding venue is another option for people looking for an affordable wedding. If you are into a more casual reception, then BBQ is a great option. However, if you would like a more formal reception, then you can rent tables, servers, flatware, etc.
Rent a house
– We can all agree that renting a house for a wedding venue sounds strange, but it can definitely save you a lot of money. The rented house can be a wedding venue, housing for out of state guests and the secluded honeymoon venue. It's perfect for a small and intimate wedding.
National Par
k – Private parks and garden cost a fortune and have a years-long waiting list. The cheaper alternative is to get a special use permit (SUP) and organize your wedding in a beautiful National Park. It will be perfect for nature enthusiasts and everyone who loves breathtaking views.
Restaurant
– Instead of paying a small fortune to rent an empty space where you need to bring everything in, people looking for a budget wedding should definitely consider restaurant as their wedding venue. Most restaurants will have all the furniture, lightings, décor and dishes, so all you have to do is find the music, food and drinks. Some restaurants will offer these as well, but make sure to do the proper research to determine whether the price is fair.
4. Wedding Decoration
When planning a wedding, most people overlook the cost of a wedding decoration. For some reason, we all think that wedding décor is not expensive, and this wrong assumption can break our tight budget wedding. Therefore, it's important to include wedding décor as a big factor in all of our decisions, starting with the venue. Choosing one wedding venue for the ceremony and reception will help you save money on wedding décor as well. And if the venue doesn't need much wedding decoration, even better. For example, there are some wedding venues with a beautiful garden, so no decoration is needed. Once you have the perfect venue decoration in mind, it's time to start thinking about the flowers. If you are crafty, the ideal solution is to do it on your own and save thousands of dollars. If that's not possible, the next best thing is to order everything from
1-800Flowers.com
. You can also purchase small colored bud vases from
Hobby Lobby
and stack on wooden rounds. Alternatively, you can order flowers from a local flower wholesales and make bouquets and arrange wedding decorations on your own. Another budget-friendly approach is to purchase artificial flowers or to skip flowers altogether. And when you think about it, who really needs flowers?
5. Wedding attire
If you are planning for a budget wedding, you should rent anything you can, especially the wedding attire. After all, you'll only wear it once (hopefully), so it makes no sense to buy something expensive and never wear it again. The groom can find an affordable, great-looking tuxedos at
Menguin
, while the bride should check
RentTheRunway
for an elegant, yet stylish wedding gown.
6. Music
Couples looking for an affordable wedding can save a lot of money on music as well. Instead of going with the traditional live band that costs a small fortune, you can hire a DJ for a fraction of the cost. If that's expensive as well, you can create your own playlist and rent an amplifier and speakers. However, if a band is an absolute must, make sure to do your research and try to find amateur bands that sound great but "jam" for fun, rather than professional music bands.
7. Video & Photograph
Special moments in life are worth capturing on tape to preserve the memory which you can share with your loved ones. Weddings tend to go by so quickly and each precious moment should be captured by a professional photographer and videographer. Therefore, we strongly recommend saving money elsewhere and hiring professionals who know their job. After all, in 20 years you want to have a perfect memory that you can share with your kids and maybe even grandkids.
8. Food
If you want an affordable wedding, you'll have to find ways to reduce the price of food as well. The cheapest option is to prepare your own food, but that's stressful, time-consuming and we don't recommend it. Instead, hire a caterer who will deliver already prepared food. Use
Wedding Wire
to find local wedding caterers and make sure to compare their prices and check the reputation and reviews from other couples who already used their services. As for the wedding cake – fake it or replace it. For example, a baker can make a fake cardboard cake with the real top layer for cutting and everything else for decoration only. Then the caterers can serve basic sheet cakes for the guests and no one will know the difference. Another approach is to replace the cake with something sweet but cheap. To be honest, your guests won't even miss the wedding cake if they satisfy their sweet tooth with chocolate cookies (for example). The key here is the quality, and as long as you have tasty dessert, no one will complain about the cake.
9. Beverages
When it comes to beverages, especially alcohol, the cheapest option is to buy from a vendor and bring it to the wedding venue. You can wait for a bulk discount and get your beverages several months prior to your wedding.
10. Invitations
Using
Canva
(a free online design platform) you can create unique and professional-looking invitations that you can either print yourself or simply send via email and save money on the printing costs, while also being environmentally-friendly and avoiding using unnecessary paper.
11. The Date
Getting married any day other than Saturday can help you score a huge discount. Additionally, you can consider the "off season" winter wedding date, which will be at least 20% cheaper.
12. Wedding Favors
Wedding favors have been around for centuries, and it all started when aristocrats in Europe (mostly France and Italy) provided their guests with a small gift called bobonniere. It was basically a small box filled with various confections made of sugar that the guest could enjoy at home. The same tradition applied to weddings, as the couples felt they were passing a good luck to their guests by presenting them with a bonbonniere. And today, this tradition is known as wedding favors. Therefore, it's considered to be bad manners if guests do not receive wedding favors, and you should include this into your budget as well. However, there's no reason to spend a fortune on wedding favors when you can make them on your own; for example, homemade candles tied with ribbon are a lovely gift. Alternatively, you can give your guests something you already paid for – like a piece of a wedding cake.
How To Save Money for a Wedding
Before even thinking about an affordable wedding, you need to find a way to save money for a wedding. There are three steps you should take.
1. Set up a budget
One thing is always certain – wedding will cost you a lot of money. Therefore, setting up a realistic budget and sticking to is a must. You should create a list of everything you need to spend money on and highlight areas that are most important where you do not want to cut corners.
2. Do your research
If you want to save up for a wedding, you better spend hours and hours researching the best deals. For example, you can follow liquor stores and wait for a huge bulk discount. Then you simply store the alcohol and preserve it until your special day. You can do similar things with everything on the list. Research the cheapest retailers, venues, music, cakes, etc.
3. Figure out how much you can save up for a wedding each month
The average cost of a wedding in the United States is more than $25.000, and that's a lot of money. Therefore, you should start saving money at least 12 months before the wedding to be able to afford everything. The sooner you start saving, the more money you'll be able to spend for your wedding day.
Takeaway Notes
There are creative ways to organize an affordable wedding and create unforgettable memories that you'll cherish for the rest of your life. Regardless of your budget, you should pick three things that really matter to both of you and figure out ways to save money on other things. We recommend to start planning as soon as possible, set a budget and make sure you stick to it. Keep doing your research and look for amazing deals that will save you money. And in the end, make sure to say "I do".