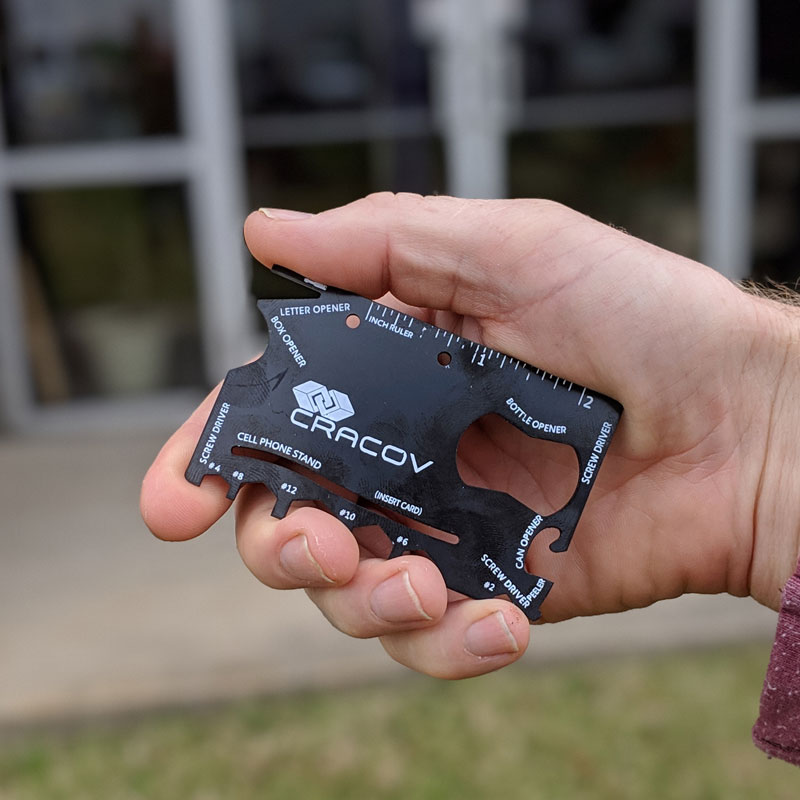 FREE STOCKING STUFFER, AND IT EVEN SHIPS EXPRESS IN TIME FOR CHRISTMAS! - The Ultimate 18-In-1 Credit Card Tool - Compare to "The Ninja" - This is awesome! It's a wrench, screwdriver, ruler, cell phone stand, bottle opener, box cutter and more! TSA approved for carryon too! Limit one per customer please.
The size of a credit card but packed with 18 useful, tools you'll find yourself using every day! This perfectly flat multi-tool packs six wrenches, four screwdrivers, two rulers, a cellphone stand, a bottle opener, a can opener, a letter opener, a box cutter, and a fruit peeler into a single piece of steel the size of a credit card. It's also TSA approved so no worries about taking it with you! Made from 4X heat-treated steel, you won't even know it's there until you need it.
Product Features
Dimensions: 3.25" x 2.125" x 0.06" (size of a credit card)
Material: 4X heat treated steel
1.5mm thick, completely flat
Fits in your wallet
Includes 18 tools
Lifetime guarantee to never rust, bend, or dull
TSA approved for carry-on during flight
Works as a cellphone stand
NOTE: This item is absolutely free, but please note that Closet of Free Samples does not ship out freebies and free samples! Also, Closetsamples.com does not offer free stuff or free samples for sale. Follow the instructions provided above to request the listed freebies. If you need to contact a specific merchant, please follow the link to that merchant's own website.
Visit Closet of Free Samples website every day for more new freebies and deals.