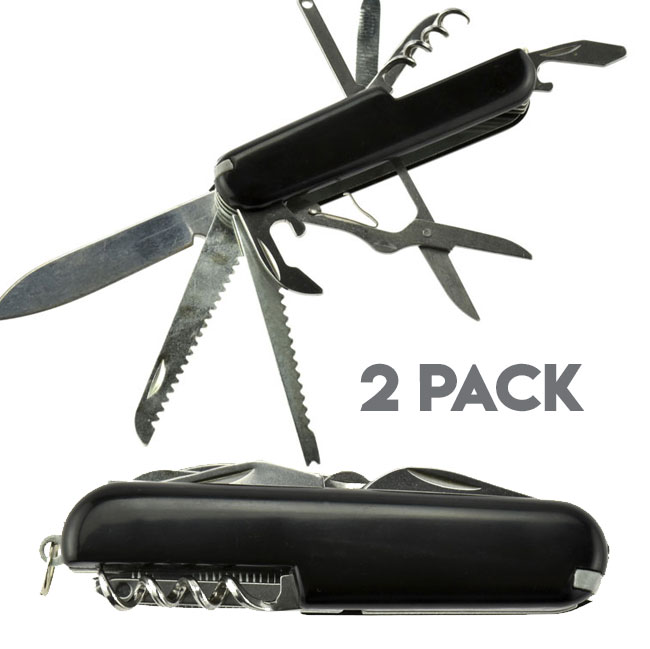 I love these freebie offers!
These knives have a tool for every problem and a function for every situation so you'll always want to have one in your pocket. This is a set of 2 knives so keep one on your person and one in your car or wherever you spend a lot of time!
Product Features
2 Pack of 16-IN-1 Multifunction Knives
(1) Knife Blade
(2) Wood/Rope Saw
(3) Hook Disgorger
(4) Fish Scaler
(5) Can Opener
(6) Scissors
(7) Bottle Opener
(8) Slotted Screwdriver
(9) Tent Reamer
(10) Nail File
(11) Nail Cleaner
(12) Cork Screw
(13) Sturdy Reamer
(14) Phillips Screwdriver
(15) Toothpick
(16) Tweezers
Black Color Body
Keychain Ring
If you like this, you will love

Deadwood Knives

! Presenting the Internet's favorite place for great prices and selection on quality knives and cutlery! Talk about variety... you can get everything here from Case knives and Hen and Rooster knives to Stockman knives and Boker knives. Save on pocket knives and any of our hunting knives, as well as, Buck knives and even exotic custom knives. Are you looking for a Damascus blade or some quality kitchen knives? You'll find them here, along with Case stag knives and a number of collectible knives that include the popular Yellowhorse knives. With this much variety at these prices, we know you'll find the perfect knife here!
NOTE: This item is absolutely free, but please note that Closet of Free Samples does not ship out freebies and free samples! Also, Closetsamples.com does not offer free stuff or free samples for sale. Follow the instructions provided above to request the listed freebies. If you need to contact a specific merchant, please follow the link to that merchant's own website.
Visit Closet of Free Samples website every day for more new freebies and deals.