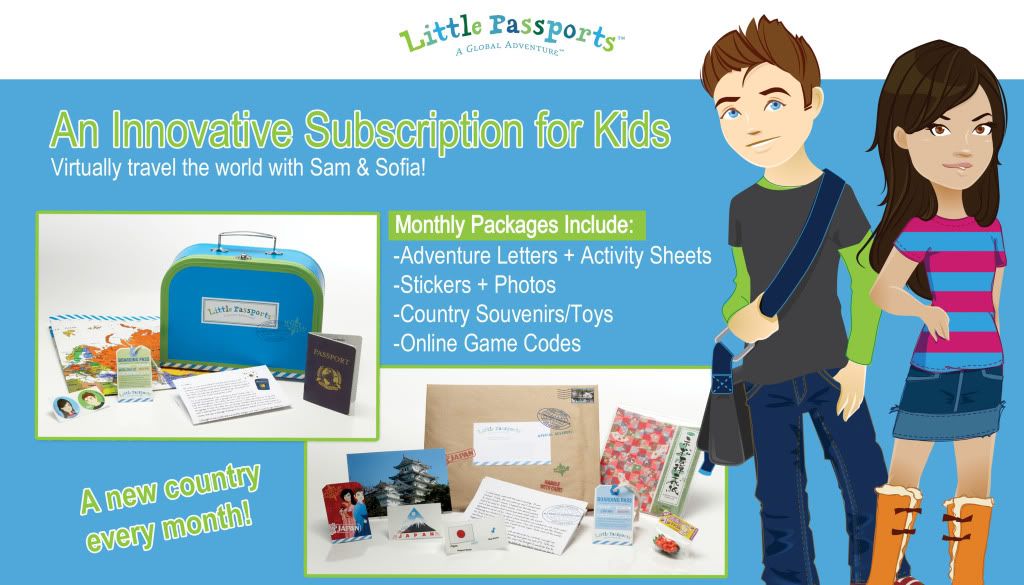 I'm excited once again to announce another awesome month of Little Passports! Last month I checked out their into to the World Edition subscription for Sophia. As I've mentioned multiple times in the past (and will do so again for anybody who's new or happens to stumble upon this post), I homeschool Sophia, my 5 year old daughter. Lately though I'll be honest, I'm starting to slack a bit thanks to this pregnancy beginning to come to an end. Tomorrow makes the 36 week mark and I've been extremely exhausted, going to bed early, sleeping like a log, then of course the normal aches and pains that go along with pregnancy. Thankfully Sophia is ahead of what she needs to learn with the exception of still needing to work more on her phonics so I'm able to get away with letting her do simple things on the days I'm feeling like that. Of course thankfully my husbands parents willingly help guide her in her education when she sleeps over with them on the weekends as well which is of course a big help. Well for a bit of fun this month Little Passports "sent us to Brazil" to explore!
About Little Passports
We are a San Francisco-based company founded by two moms wanting to design an inspiring and fun way for kids to learn about other countries and the 50 states.

We each have young children and hope they'll take an active interest in the world at a young age. We plan on encouraging them to do so by providing them with opportunities and experiences that inspire the imagination. As we thought about how to do this, we remembered the anticipation and excitement we felt when we received mail as kids. We decided to incorporate this element of surprise and joy with the online games kids love today. We blended these two concepts and developed the idea of monthly travel packages, including letters, souvenirs, activities and online games.
How it Works
Sign-up for a Subscription Package
Sign up for one or both of our subscriptions and follow Sam and Sofia on their exciting adventures around the USA and the world. Inspire a love and understanding of the world as your child learns about a geography, history, culture, and language in a fun and memorable way. We offer two subscription packages:
Every month, follow our characters Sam and Sofia as they embark on a new country adventure. Your first month's Explorer Kit arrives in a suitcase and contains everything your child needs to get started: a letter from Sam and Sofia, a map, a passport, stickers, access to online games and more. Country specific packages filled with fun souvenirs, letters, stickers, photos, activity sheets and more arrive every month thereafter.

Recommended age 5 to 10 years old.
With your USA Edition subscription, Sam and Sofia travel to and experience the wonders of all 50 states. Kick-off your USA adventure with the first month's Discovery Kit which includes a letter from Sam and Sofia, a USA Field Guide, a USA scratch book, a map, and a camera. Sam and Sofia then travel to two new states every month and send an activity-packed travel journal with stickers, postcards, pop-out models and access to online activities.

Recommended age 7 to 12 years old.
Choose Your Subscription Plan & Duration
We offer several different subscription plans depending on what works best for you. Sign-up for the convenience of our month-to-month plan or sign-up for a set number of months upfront. If you decide to sign-up or gift a set number of months upfront, you can also renew your subscription so your child doesn't miss out on any adventures.
Enjoy Monthly Adventures
Watch as your children race to the mailbox every month to learn about Sam and Sofia's latest destinations. Monthly packages arrive filled with lots of goodies and access to online games and activities.

My Thoughts
Obviously we didn't literally go to Brazil, but that was the country we discovered this month for our World Edition subscription. In this package we received a little introductory sheet, an activity page, a photo of a Red Uakari Monkey from Brazil, piece of amethyst, Brazil luggage tag, a Brazil sticker, and a couple stickers to mark our map and passport which had come with our start of the Word Edition subscription. Now of course Sophia and I didn't have an in depth lesson about Brazil because I'm not an expert and she's only 5, but she LOVED the monkey picture and the stickers. Her latest thing with stickers is to stick them all over the furniture. Gosh is it annoying, but at that age I did the same thing so can I really fuss?! I thought my desk made a great sticker collection display and apparently her dresser makes a great one for her. But the photo is very nice and even gives some brief information on the monkey. Sophia asked me if I took the picture of the monkey so it has to be pretty decent quality at least to her! As for me I fell in love with the amethyst. I love gemstones of all sorts so I kind of hoarded that piece to add to my collection. Shhh, don't tell Sophia or she'll get mad! Hey, it'll get lost in her room! It's like a black hole in there, once it goes in it may not make it's way back out. So better safe than sorry!
Needless to say I think we had another successful adventure with Little Passports! May I suggest though to add more photos such as how the monkey was high quality with a short description or small workbooks or coloring books? I love these subscriptions so much and just think tiny little updates like that would definitely improve the experience to make them even more fun for the kids. I remember at that age that it didn't really matter what it was, but if it looked like a lot then wow it was like finding treasure. Same concept with Christmas. If we got Sophia 1 or 2 "large" gifts, she'd be happy, but when we find cheap little things from the Dollar Store or on clearance to make it look like she has a ton of stuff - she's just over joyed. Just a thought to consider to really strike those youngsters! Either way, I still loved the kit. Sophia and I each found stuff we loved in the package while exploring Brazil and learning a little something new. Now to go find some Red Uakari Monkey coloring sheets for her so we can continue on in the fun...