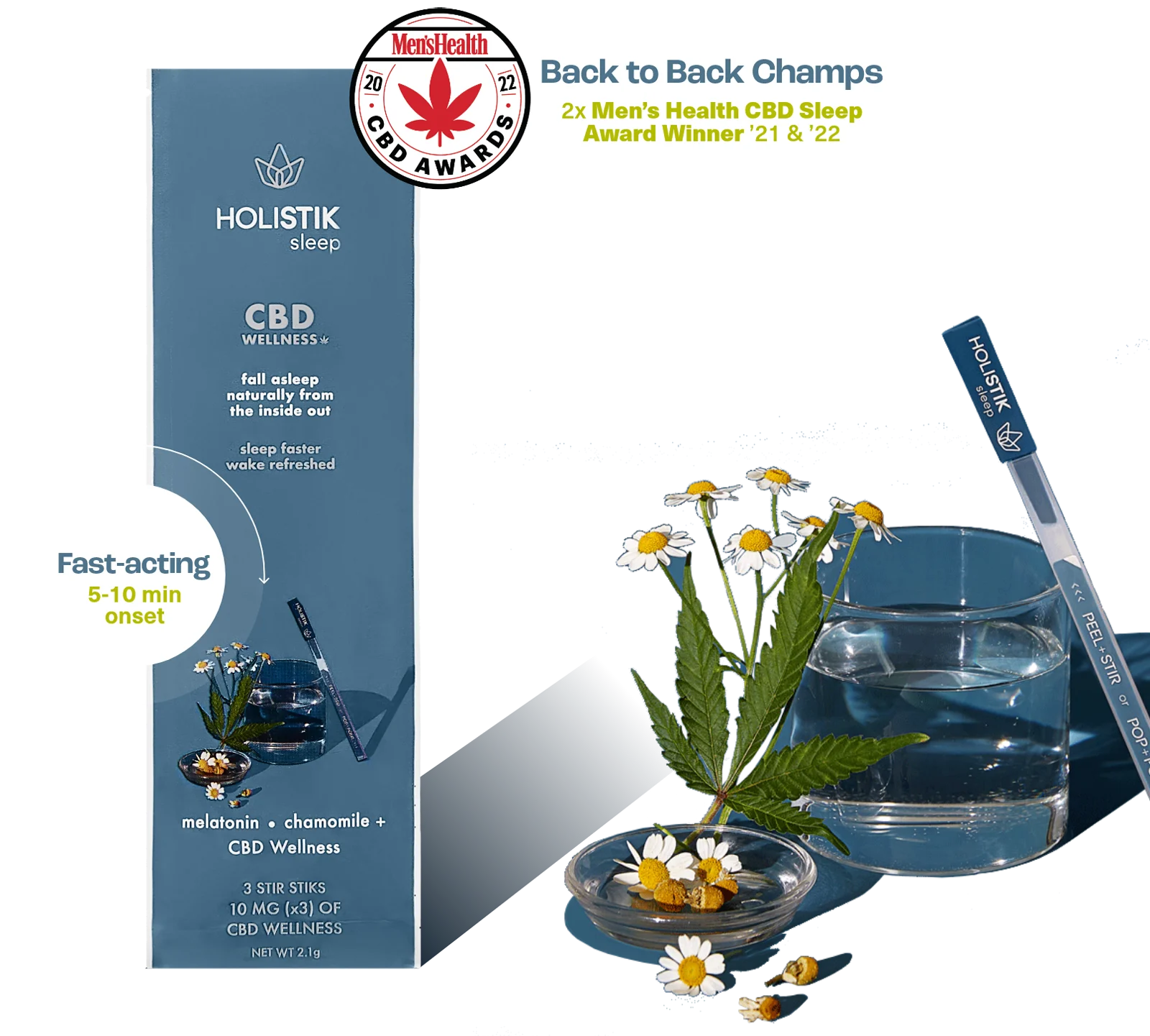 Take advantage of this freebie!
For all those nights when your tireless mind just won't let you wind down. Fall asleep faster and wake up refreshed with a proprietary blend of chamomile, melatonin, and 10mg broad-spectrum CBD Wellness. Stir your way to a restful night's sleep with the
HOLISTIK Wellness Sleep Stik
, formulated with water-soluble CBD!
Chamomile
A natural remedy for inflammation, anxiety, and stress, chamomile is full of the antioxidant apigen, which binds to receptors in your brain that may help initiate sleep.
Melatonin
They call it the sleep hormone for a reason. Melatonin works with your body's circadian rhythms — your "internal clock" — to help you fall asleep naturally.
What's water-soluble CBD?
Water-soluble CBD is CBD that completely dissolves in water — leaving no residue or texture. Your body also absorbs water-soluble CBD better, since it doesn't have to be digested before it's put to use. HOLISTIK's solubility in water also allows it to mix better with a wide variety of beverages. This allows you to get creative with your CBD-infused beverages for any time of day, anywhere!
How long will it take to kick in?
Everybody is different, but on average people feel the effects of HOLISTIK WELLNESS in 15–30 minutes.
What does it taste like?
Tasting mostly of sweet chamomile tea, the best way to describe this flavor is "comforting."
What should I mix this with?
The chamomile flavor goes nicely with a glass of warm water before bed. Like all STIKS, it tastes great with almost anything, so try it with your favorite beverage!
How do I use the stir Stik?
Simply PEEL off the sticker and STIR it into your beverage, or POP off the bottom plug and POUR it in. Stir for 15–30 seconds and enjoy!
TONS of Limited-Time EXCLUSIVE deals have been posted to my Telegram channel! These deals include limited-time offers, coupon codes, and Amazon deals! It's FREE to join so you don't miss out! 👉 Sign up here!
═════════════════════════════════
PROMOTE YOUR BRAND WITH US!
═════════════════════════════════
Want to showcase your product to the Closet of Free Samples audience? Then check out my available advertising options and email me at

This email address is being protected from spambots. You need JavaScript enabled to view it.

to discuss!
═════════════════════════════════
FOLLOW CFS ON SOCIAL MEDIA
═════════════════════════════════