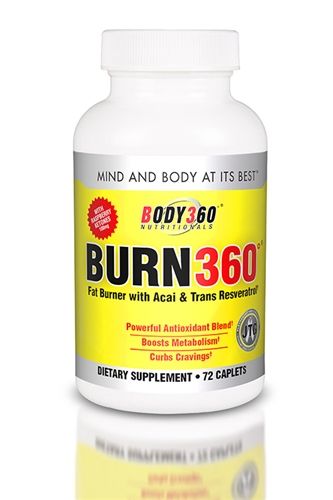 Body360 Burn360 - it is a powerful thermogenic with acai and trans resveratrol. What a free sample of the product? Send your name and address to:Â 
This email address is being protected from spambots. You need JavaScript enabled to view it.
Product Description:
Experience extreme diet & energy with Burn360™ - Advanced fat loss activator and detoxifying compound with hyper release delivery technology. Our super potent formula contains a proprietary thermogenic and metabolism enhancement complex including the power antioxidants and anti-aging ingredients acai and trans resveratrol. Burn360™ targets unwanted adipose tissue on the cellular level by potentiating thermogenisis and lipolysis essentially stripping the body of unwanted subcutaneaous and visceral body fat stores. Get Lean with the "next generation" fat loss activator!†
NOTE:Â 
* It should take approximately 2 weeks or less to get your samples. * You will receiver a single sample pack with two caplets in it. * A confirmation email will not be sent. * If you request a sample multiple times - only one will be sent. * Must be 18 years or older for a sample. * You must have a US shipping address.