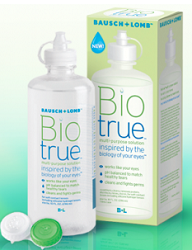 Did you miss this offer before? Hurry, grab a chance to get free Bausch + Lomb Biotrue Contact Lens Solution sample now. It's a product we love for its quality and nice size sample.
It's free and there's no need to purchase anything. This offer may go fast. Get one now while supplies last.
How to get free sample:
Simply visit Biotrue page by clicking the deal link below.
Provide some answers to few questions and click "Next." Fill out the form with your information and click "Submit."
Good job! Your free sample will arrive in the mail in a couple of weeks.
* One sample per household. While supplies last.