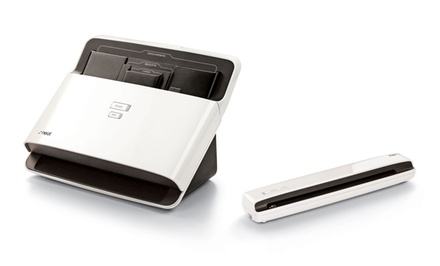 Groupon: NeatReceipts or NeatDesk Document Scanners for Mac or PC for $89.99 or $269.99!! Retailed value is $499.99!
Neat's scanners and Digital Filing System help to turn copies of bank statements, tax forms, medical records, and other valuable papers into organized digital files. Once you've scanned documents, you can automatically sort them by type, and you can use keywords to search the Neat Digital Filing System for important paperwork, tasty recipes, or the schematics to your super-secret blanket fort. The compact scanners can convert documents into color, grayscale, or black-and-white digital files with a maximum resolution of 600 dpi.
NeatReceipts
Mobile scanner and digital filing system
Stay organized at home or on the go
Includes Neat software
Identifies, extracts, and organizes key information
Scanned documents organized in Neat digital filing system
Receipts become digital records with vendors and amounts
Business cards become digital contacts
All documents become searchable by keyword or basset hound
Ideal for tax records, medical records, insurance forms, and recipes
Fully USB powered
Maximum resolution of 600dpi
Scans in color, grayscale, or black and white
Speed: 3–4 receipts per minute
90-day warranty from The Neat Company
Condition: refurbished
Dimensions: 10.8"x1.6"x1.3"; 10.6 oz.
In the box: NeatReceipts scanner, USB cable, AC adapter, calibration paper, dry cleaning paper, alcohol cleaning paper, instruction manual, and installation CD
NeatDesk
High-speed, duplex desktop scanner
Includes Neat software
Identifies, extracts, and organizes key information
Scanned documents organized in Neat digital filing system
Receipts become digital records with vendors and amounts
Business cards become digital contacts
All documents become searchable by keyword
Ideal for tax records, medical records, insurance forms, and recipes
Scans up to 50 pages per load and 24 pages per minute
One- or two-sided scanning
Maximum resolution of 600 dpi
Scans in color, grayscale, or black and white
90-day warranty from The Neat Company
Condition: refurbished
Dimensions: 10.8"x7.5"x7.3"; 4.4lb.
Includes AC power adapter
In the box: NeatDesk scanner, USB cable, AC adapter, calibration paper, dry cleaning paper and alcohol cleaning paper, instruction manual, and installation CD