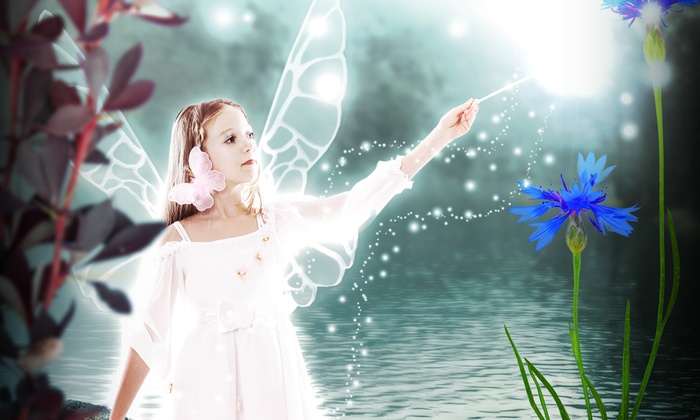 Kids ages 1–15 dress up as fairies or forest warriors and strike poses to be digitally combined with magical backgrounds and effects ($169.95 Value).
The Deal
Kids' fairy tale photo-shoot package
($169.95 value)
30-minute photo shoot for one child aged 1–15, including up to 30 poses
One 5"x7" print of favorite pose
Eight mini wallet prints of favorite pose
One social media low resolution digital image of favorite pose
During fairy tale photo shoots, kids dress up in a flowing fairy dress or woodland-warrior costume complete with shimmering wings and strike impish poses. Afterward, families will view the results and select the pose they like best to be printed and turned into a digital image. Processing-lab technicians and graphic artists will then add a digital background and magical effects to the chosen pose, creating an otherworldly forest scene. Groupon customers can take advantage of additional discounted kids' packages on the day of the session. Parents may also bring up to two wardrobe changes, props, and accessories to add additional pose selections.
Glamour Shots
The photos we leave behind may be the only way for future generations to see the styles and personalities we bear. That's why the professional makeup artists and photographers at Glamour Shots strive to capture the true essence of a person with their shoots. Whether trying to yield better online dating results, working to increase the effectiveness of business pictures, commemorating a milestone event, or memorializing a successful trip to the grocery store, each session begins with the shop's signature full airbrush and style makeover. This approach works to prevent unwanted shine while imparting a chic aesthetic. Makeup artists tailor looks to the purpose of the shoot, imparting children with a red-cheeked glow and boudoir subjects with a dark, seductive color palette (makeup not included with camera ready sessions). Photographers encourage everyone to bring a few outfits and props from home, allowing them to give each professionally-lit photo shoot an individualized touch without snapping close-ups of their subjects' fingerprints. Clients get to see the photos immediately so they can approve the looks and order their favorite shots in the form of pictures, phone cases, or calendars. A professional lab then prints out the chosen items using a range of color finishes—including colorization to make one color pop and the company`s signature Glamour Touch retouching—onto made-to-last Kodak paper. To make things easier, the majority of Glamour Shots are located in strip malls, so those looking to up their photograph game can quickly and easily put themselves in their best light.