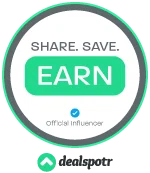 Some of you may already know, I'm a Verified Influencer for
Dealspotr.com
. Have you heard of it?  It's quickly becoming one of my fave sites as a deal hunter.  With a more custom deal finding experience with the New Feeds that have been added, interests, and following your dealspotr friends, what is not to love?
What Is It?
Dealspotr is run by Zipfworks.  With the idea that finding products and deals isn't the latest billboard or magazine ad anymore. It's people sharing product on facebook, blogging about a cool find, instagramming that dress you love,  or tweeting to people about the good deal you just grabbed. I mean look at what Chewbacca mom did for Kohls! On
Dealspotr
you can get coupons for the stores you want, learn about a clearance only people that sign up for the newsletter know about, and catch amazing product deals that savvy deal hunters find both online and off. Dealspotr has added aspects like "Feeds" (read more below) to allow you to have a more customized deal finding experience.
Why Dealspotr?
First of all, it's FREE, so no worries there. It's not just a coupon site.  Think of it more as a social media site for people wanting to save money. There are feeds. Feeds for newly listed stores, feeds for "hot deal" leadersboard so you know who to follow to find the best deals, feeds for interests…like if you're a foodie and you really want to stay up to date on restaurant deals you can follow the "Restaurants and Eating" feed. If you are always on the look out for deals and gift ideas you can follow the "Gifts and Gift Ideas" feed (curated by yours truly).  There are feeds for outdoor enthusiasts, fashionistas, and more.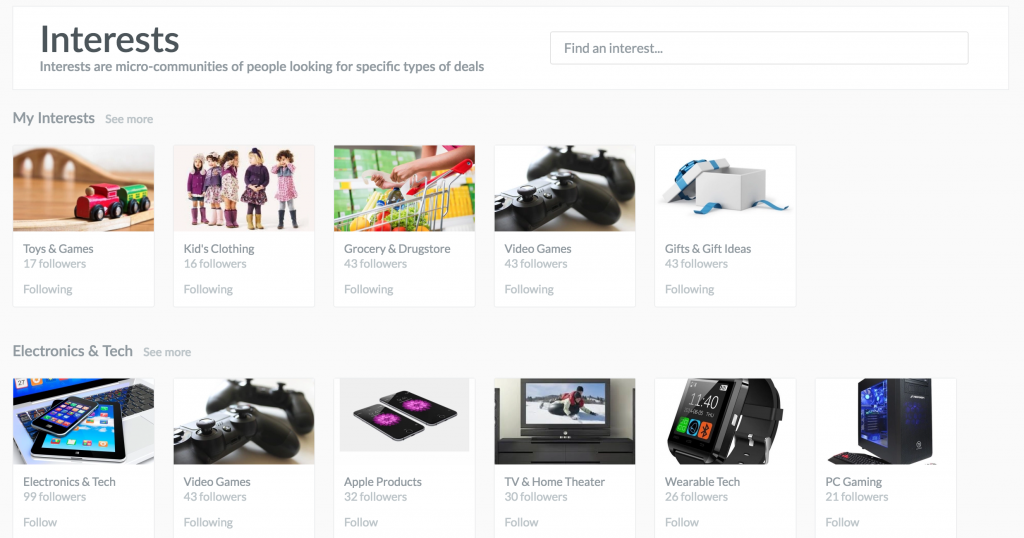 It's also a sort of social network. Follow your friends, discover your favorite deal hunters, comment on deals, post deals you find, spot deals you like, so on and so forth. Maybe a big draw to the site is you earn points for doing lots of things. You earn points for posting deals, you earn points if you deal goes "hot", you earn points for commenting on other's posts, earn points for referring our friends, and earn points for correctly spotting hot deals.  What do you do with those points?  Turn them into FREE Amazon gift cards.  Seriously. With the new Feeds find the deals you actually want as soon as you log into Dealspotr. You can always add more or remove more categories as you discover Dealspotr.
How Do I Create An Account?
I told you how you could earn points but didn't really show you how.  The first thing you'll need to do is
register for a Dealspotr account
(yes it's free).  You'll be taken to a page that looks like this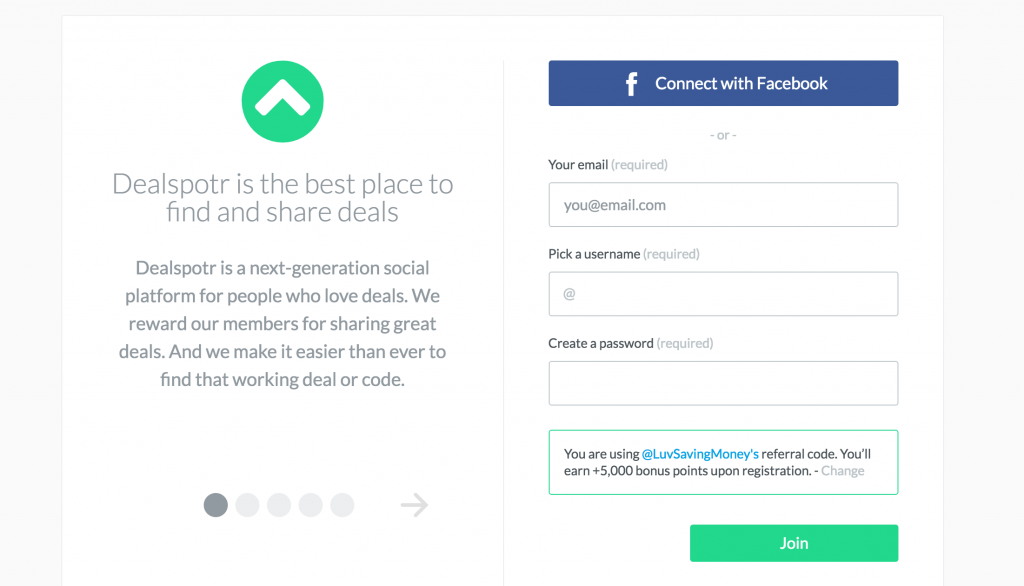 This is where you'll create your username that will show up when you post, create your password, and register the email you want to use to get notifications for things like when you gain a referral, one of your deals go hot, etc. You can see in the screenshot you can earn points at registration. You will then be taken to a page to choose interests.  You'll see feeds for deals in the categories you choose and will be listed under "My interests" in your account. Then you'll choose a few stores to follow and it will generate your initial deal feed. Don't worry you can change and add more later if you like.
**NEW** How Feeds Work
Feeds is a newer feature on Dealspotr. As mentioned above, when you create a Dealspotr account You'll select stores to follow and interests.  You can always add or remove some later. Once you're signed up you can also follow other Dealspotrs like
@closetsamples
 for example. This is the beginning of setting up your feeds.  Feeds are a way to get a more catered way of seeing the deals you want to see.  Perhaps you don't have pets so you're really not interested in seeing pet supply deals. Maybe you're not the outdoorsy type so deals from stores like Gander Mountain or REI aren't really of interest to you. Once you're logged in you'll see deals from your interests, stores you follow, and other Dealspotrs you follow.  If you'd rather just see deals from your favorite stores you can click the "stores" link in the "Your Feed" bar.  at the top.

You might also notice the box to the left in the picture above. It says "Your Feed"  and then lists things like "On Fire Deals" and "Hot Deals" which are the popular deals in your feed.  "My Deals" would be deals you have posted. To add more interests, stores, etc go to the top of your screen on Dealspotr. You'll see categories for, Deals, Interests, Brands, and People. Each has their own drop down box to let you choose from different options. Find hot deals, Automotive deals, just added brands, etc. For instance, I clicked on interests and chose "Restaurants & eating out"  and I'll get a page that pulls up like this: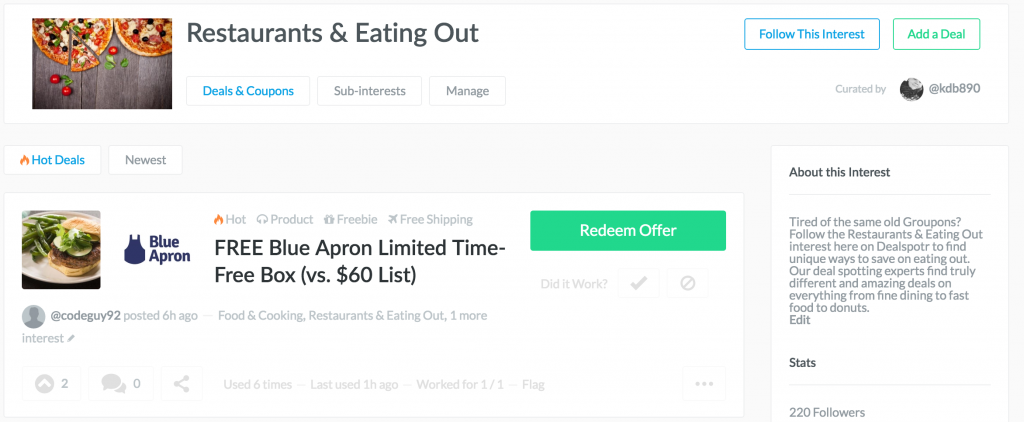 Notice the "Follow this Interest" button on the top right? Click that and you'll now see Restaurant deals in your feed.  Simple right? Feeds allow you to make Dealspotr your own, letting you decide what kinds of deals you'd like to see more of.
How Do I Earn Points On Dealspotr?
Posting Deals:  You can find deals just about anywhere.  I find deals and coupon codes through emails I've signed up for, facebook ads, twitter feed, and even snail mail. Now instead of seeing junk mail or clogged email boxes I see a potential to earn free Amazon gift cards.
There are 2 different ways to post deals. You can post for sales or sitewide deals or you can post deals on individual items. For example maybe you see Gamestop has a specific video game for $10 off regular price until Sunday. So If I want to post about the Gamestop deal I'd click "add deal" at the top of the Dealpspotr page, choose "Product Deal" Then fill out the form with the name of the store, link to the product, end date for sale, etc. If the deal has already been posted it will say so in red letters before you submit it.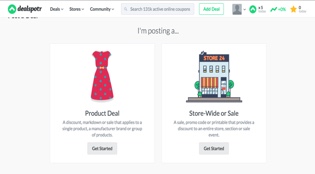 Spotting Deals:  Next to your username, in the bar at the top of the Dealspotr page you'll see an up arrow with a number beside it (circled in blue below). That's the number of deals you can "spot" when you see a good one.  If you correctly spot good deals you'll earn points. If you're the first one to spot the deal you'll earn more points than, say, the 4th one to spot the same deal.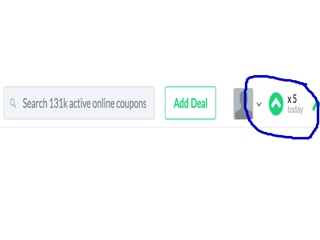 Each deal has a similar up arrow underneath it. If you think something is a good deal hit that up arrow. Use them wisely though, you only get so many a day!
Commenting on deals:  This one is pretty self explanatory.  Under each deal posted is a comment button that looks like a thought bubble. It's right next to that up arrow to spot the deal.  Add your comments, reply to other people's comments on the deals.
Posting Hot or Fire Deals:  If enough people are interested in a deal you posted it will go "hot" if A LOT of people are interested in the deal you posted it will "catch fire". You earn extra points for a deal that goes hot and even more for a deal that catches fire.
Referring Friends: Once you get the hang of it you're sure to love it.  Why not tell your frugal friends about the best place to find deals, connect with other deal hunters, and earn free Amazon gift cards.
Daily Checklists: Each day you'll have a new checklist in your dashboard with 3 different tasks for your to complete on the site.  It might be "comment on 5 deals today) or "post a sitewide deal" If you complete your checklist for the day you'll earn extra points.  Click on your picture at the top of the dealspotr page, from the drop down box choose "My dashboard" you'll see the check list on the right side of the page.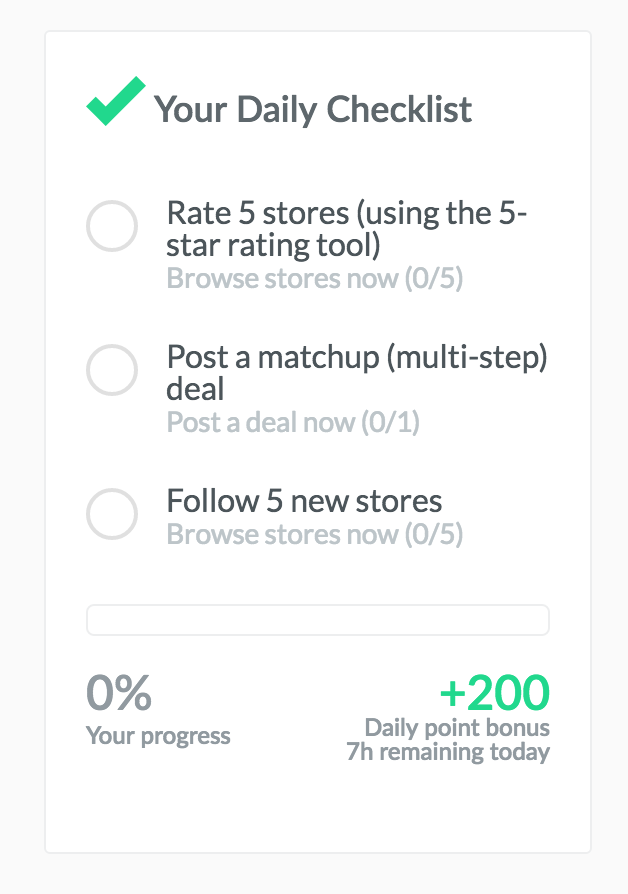 How Do I Redeem Points for Amazon Gift Cards?
Once you reach 10,000 points (which sounds like a lot but you'll earn them quickly) You can go to "Points & Rewards" under "My Dashboard" You'll see how many points you've earned. Once you've earned at least 10,000 points a green "Redeem Now" button will be available click that button and you're on your way to getting your Amazon gift card.  Just a note, if you'd rather save up and cash out later you can. That's what I like to do but the choice is yours.
Still have questions?
Dealspotr
and Verified Influencers like me are happy to help, you just have to ask! P.S. - Already have a Dealspotr account? Want to become an influencer?
Email me
and let me know - I`ll give you an invite code to sign up!