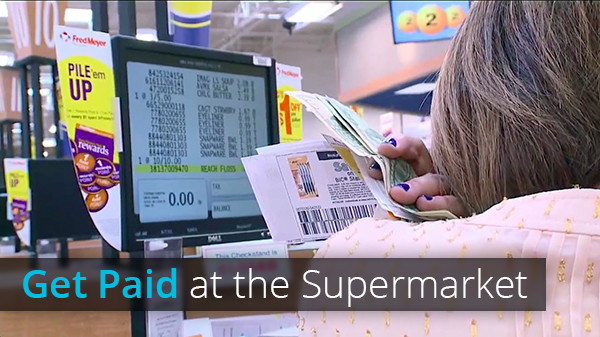 I am often asked, How can you "make" money when you use coupons?
The answer is Yes, you can! We never "count on overage" when couponing but we love it when we get it!
I always note on my posts if we get "overage" during my shopping trips. Overage is when you purchase an item for $.80 and use a coupon for $1.00. You will get the $.20 back towards another item in your order. You will normally
not
get cash back, except at
Walmart
, so what you want to do is purchase another item so that the "overage" applies toward that item.
The following are guidelines and limitations:

Only one coupon per item is permitted.
Coupons must have an expiration date and be redeemed prior to expiration.
Coupons may exceed the price of the item. Change may be given or applied toward the cost of the basket purchase.
Walmart only accepts coupons for merchandise that we sell.
Coupons must be presented at the time of purchase.
We accept the following with Customer Service Supervisor/Management approval:

40 or more coupons
Any coupon over $20
$50 or more in coupons in one transaction

Walmart: Does not double coupons. They do accept Internet Printable Coupons (IP's). They do price match (limit 6). They do not allow you to stack coupons. If you want to use of 40 or more coupons per transaction or redeem more than a value of $50.00 worth of coupons it will require approval by Customer Service Manager (which is no problem but you will have to wait for the CSM to come turn their key). You can get some good deals when you find items are that are on "roll back" and everyday pricing due to their buying power. Prices to vary regionally at Walmart.
Another way to get overage is when you "stack" coupons. You can sometimes get overage by using both a store and manufacturer coupon.
Getting overage will totally depend on the store's coupon policy. Some stores automatically adjust your coupon "down" to match the items price.
You don't have to feel guilty in earning "overage" because the manufacturer pays the store for the face value of the coupon regardless of how much you purchased the product for.
To me, overage is a cherry on top of a sundae! I don't always count on it but love it when I get it! It is a nice way to save you additional money while couponing and to get savings towards other items in your cart that don't offer coupons.