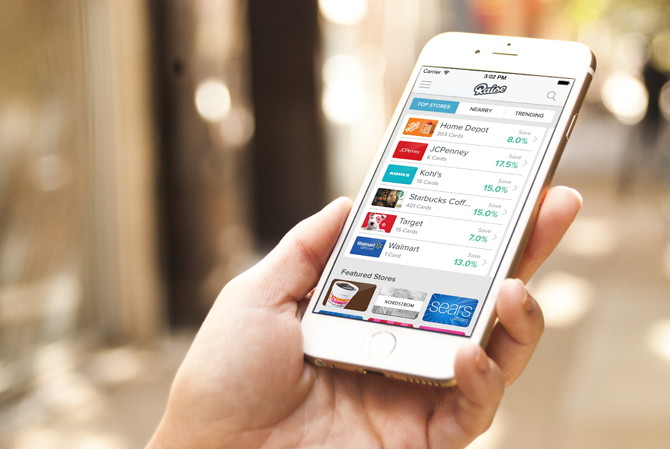 What if I told you with
Raise.com
I've saved over $1,100 in the last year? That's a little like getting a raise, right?
Raise.com
buys and sells discounted gift cards, partnering with companies willing to sell their gift cards at a discount. Why? Well, because they're banking on one of three things: First, that you'll be more likely to shop with them once you buy a gift card or two; Second, they hope you'll buy more gift card than you can spend and; Third, they hope you'll forget to use your cards altogether (billions of gift cards go unspent each year). Since you're a Krazy Coupon Lady, you'll do none of those things. You'll just buy discounted gift cards at
Raise.com
before you make any significant purchase and, in doing so, you'll save an average of 12-15% on all your purchases. Here are the reasons you'd have to be straight-up crazy not to use
Raise
.
Tip: Buy, don't sell. Ebay takes less of your commission from sales (10%) than Raise.com (15%).
1. All new members get $10 off of a $50 purchase.
When you sign up and use code

adrewes

at Raise.com, you receive $5 off of a $50 purchase.
Better yet, new users get an automatic $5 more off the first purchase for a total savings of $10 off of a $50 purchase! Select "Use a promo code" during checkout, and click "Apply" before submitting your order.
2. Email alerts let you know when cards you want are available.
Looking for Kroger cards at 7% savings or higher? Kohl's for 20% or more? Alerts trigger an email to your inbox as soon as a card meeting your set parameters hits the marketplace. To set your alerts, simply choose your store-brand card, "Set alert," set your desired percentage off, and the maximum amount of the card you'd like to buy.
Tip: Buy those alerts cards immediately, since many often even disappear by the time you even received the email.
3. Sorting by the highest percentage off is the quickest way to search deals.
Because
Raise.com
works with national companies, you get pretty remarkable deals on most of the brands you already shop. And we're not talking about weird, one-off brands, either:
Forever 21 Up to 35% off Claire's Up to 35% off Lane Bryant Up to 34.1% JCPenney Up to 24% off Victoria's Secret Up to 23.8% off Olive Garden Up to 23.5% off Macy's Up to 22% off Regal Cinemas Up to 20% off McDonald's Up to 20% off Ulta Up to 20% off T.J. Maxx Up to 19.7% off Kohl's Up to 19% off Cabelas Up to 15% off Walgreens Up to 12.9% off Lowe's Up to 10% off Starbucks Up to 10% off Kroger Up to 7% off Shell Gasoline Up to 5% off iTunes Up to 4.4% off Walmart Up to 4% off Southwest Airlines Up to 3.9% off Amazon.com Up to 3% off
Tip: Gifted a card to someone? If something goes wrong, the 100-day, 100% satisfaction guarantee still applies, but only when the company is contacted by the card purchaser (you).
4. The Raise mobile app wallet makes organizing cards a breeze.
As soon as your gift card order is processed, all of your cards appear in your wallet. Keep updating your wallet by deleting used cards, or you'll end up with a lot of unnecessary digital clutter.
Tip: Accidentally delete a card? Never fear: You'll still have the gift card numbers and pins in your account and email.
5. The best days to shop are Monday and Friday.
This is because people aren't yet planning for weekend noshing on a Monday when cards are restocked. On Fridays, Raise.com sends out its Save 5% deals to email subscribers for added weekend savings (so that 14% off Lowe's card will now be 19% off). Just add featured cards to your cart, check out, and click "Use a Promo Code" (like TAKE5) to apply the savings.
Tip: Check out the new "On Sale" cards featured at an added 1% off. Just click the "Buy Cards" tab, click "On Sale," and apply the promo code at checkout.
6. Old Navy Gift Cards can also be used at Gap. Here's why:
Some retailers that share a parent company accept each other's gift cards as forms of payment. So, if you find an Old Navy gift card for 16% off at Raise.com, while Gap cards are 11% off, your best bet is to buy the Old Navy card and redeem it at either store. Same goes for Pottery Barn Kids/Pottery Barn/West Elm/Williams Sonoma, Sephora/JCPenney (seriously!) and others. Sometimes Darden Cards are better buys than specific brands (think Olive Garden, Bahama Breeze, and Red Lobster). Buy any Kroger gift card (Fry's, Fred Meyer, Smith's, Kroger, King Soopers) to use at other Kroger Stores. FYI, you can buy Bonefish Grill cards for use at Outback Steakhouse.
Tip: While Raise.com gift cards don't expire, they are only guaranteed for 100 days (so buy only what you can use in that time).
7. Digital gift cards are delivered in minutes.
This means you can typically apply them to purchases almost right away. Instant gratification FTW! To use them: In-store, once you click "wallet" and confirm the 4-digit PIN of your card, you can give the serial and PIN numbers on the back of the cards to the cashier as a gift card/payment. Online, once you fill your cart and know the total cost of your purchase after discounts and coupons, purchase the number of Raise.com cards you need to cover the order. Complete your purchase by entering your gift card and PIN number as payment on the website.
Tip: Some companies like Dave & Buster's only offer physical cards deliverable by mail, so if you're planning a birthday party, prepare to wait up to 3 weeks for cards to arrive (though they typically arrive in 2).
8. eGift vouchers can be spent in the store.
As long as the gift card states "e-gift" and "voucher," it's redeemable online and in stores. Just print it out and take it with you.
Tip: While Raise.com gift cards state no expiration date, spend the full amount and return whatever you don't need for full store credit.
9. Multiple gift cards can be used in the same order.
Once you know what you plan to buy, nearly all online retailers will let you use up to 5 or more cards in a single transaction. Just
purchase the right amount of cards
for delivery to your account.
Tip: We like to buy a little less than the total amount when possible, just so we don't have to remember to use those cards later (it's a bummer having $1.47 left on a JCPenney gift card).
10. Stacking coupons with cards saves the most.
To get the best oomph for your moolah, shop the sales, apply store coupons, loyalty card information, and discounts. Don't forget those added app savings (
ibotta
, Savings Catcher, etc.) on the back end of the purchase. Better yet, buy your Raise.com cards with a rewards credit card.
Tip: Paribus is an app that shops for even better deals after the fact and rebates you the overage!
11. For every friend who signs up, users earn $5 more.
When you refer friends to join the Raise.com marketplace, they'll get $5 off their first order. They just have to make a purchase within 30 days of signing up, and you get $5, too. Redeem your rewards at checkout for any gift card.