Do you like reading fun facts?! Well, you're in luck because here we have decided to start posting them daily!
A wise man once said, "Learn something new every day." We might not know a lot about the world yet compared to how much is out there, but we always discover new things about it. What's useless info to some is, to others, cool, amazing fun facts that make the world a stimulating and awe-inspiring place. Are you one of those people who love collecting unexpected pieces of knowledge? If so, prepare to have your mind blown with these interesting fun facts that will amaze adults and kids alike.
Definition of fact:
noun
. something that actually exists; reality; truth:
Your fears have no basis in fact. something known to exist or to have happened: Space travel is now a fact. a truth known by actual experience or observation; something known to be true: Scientists gather facts about plant growth. Enjoy reading interesting facts?
You can see previously posted daily fun facts here
.
Follow me to save more money!
Don't forget to
follow me on Twitter
for daily deals and freebies. I am very limited on my posting on Facebook due to all their "violations" and such. I don't even like to post kitchen knives on there anymore! Whereas everything has been getting shared on Twitter. Of course, you are always welcome to still follow me on Facebook as well! So don't miss out on all the money-saving offers!
Plus, I share extremely limited-time offers on
my Telegrams channel
, so be sure to follow me there as it is free!
TODAY'S DID YOU KNOW...?
The Fukang meteorite is 4.5 billion years old and weighs over two thousand pounds. It was discovered in China in 2014 and was probably formed when our solar system was first created.
Speaking of meteorites, check out these products:
This beautiful silver tungsten carbide ring with a dark tone inspired meteorite-like resemblance design. It is 8MM in width. If you are looking for a ring that is scratch proof and forever keep its shine, then our Tungsten Carbide rings are for you. Tungsten Carbide is ranked second hardest next to diamond on the Mohs scale, diamond being a 10 followed by Tungsten Carbide as 9.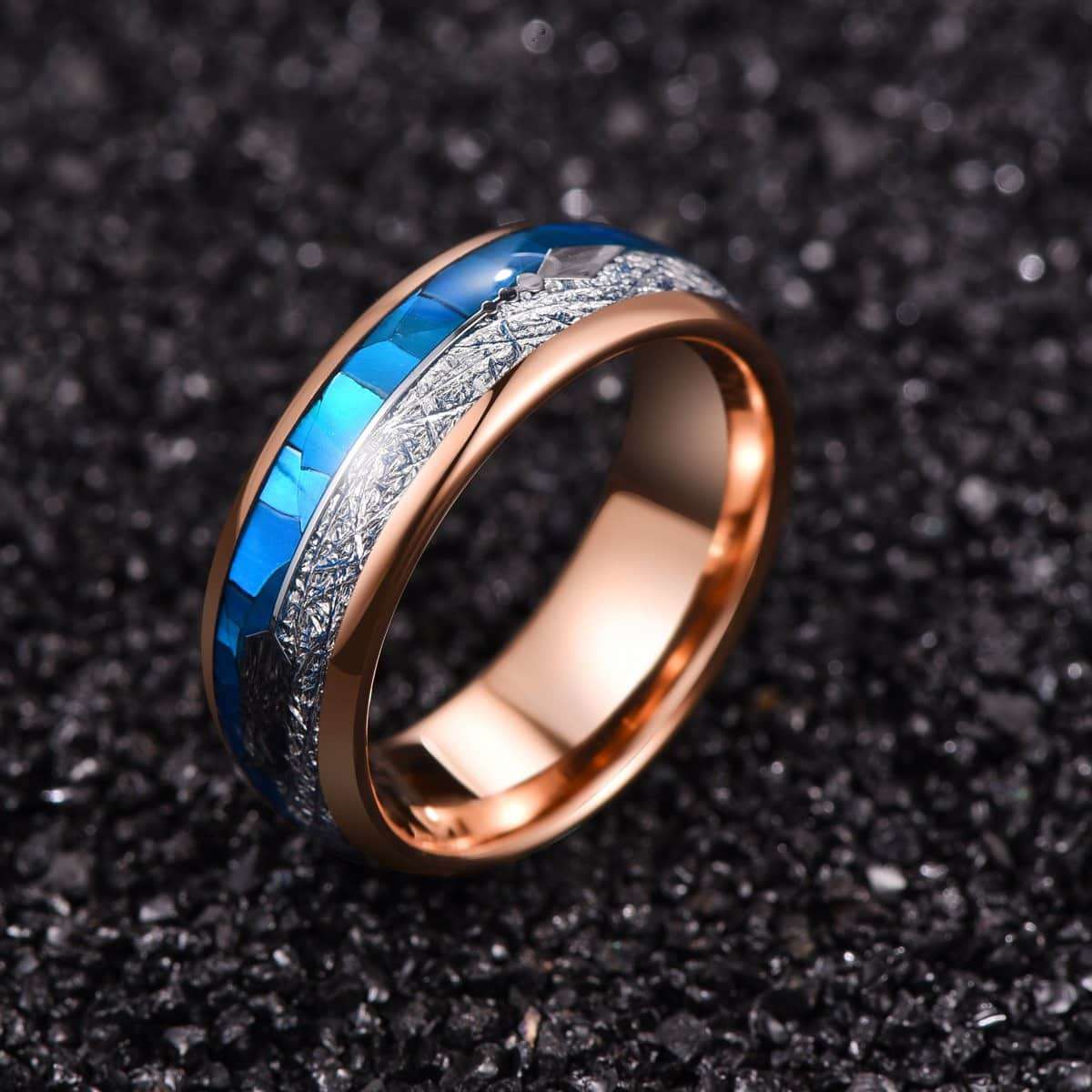 This unique ring features a tungsten carbide band with brilliant rose gold plating that is embellished with a lustrous blue shell inlay and a strip of genuine meteorite ore with authentic Widmanstätten patterning. The kaleidoscope of colors and textures shows off a distinctive style – what will you do with this power?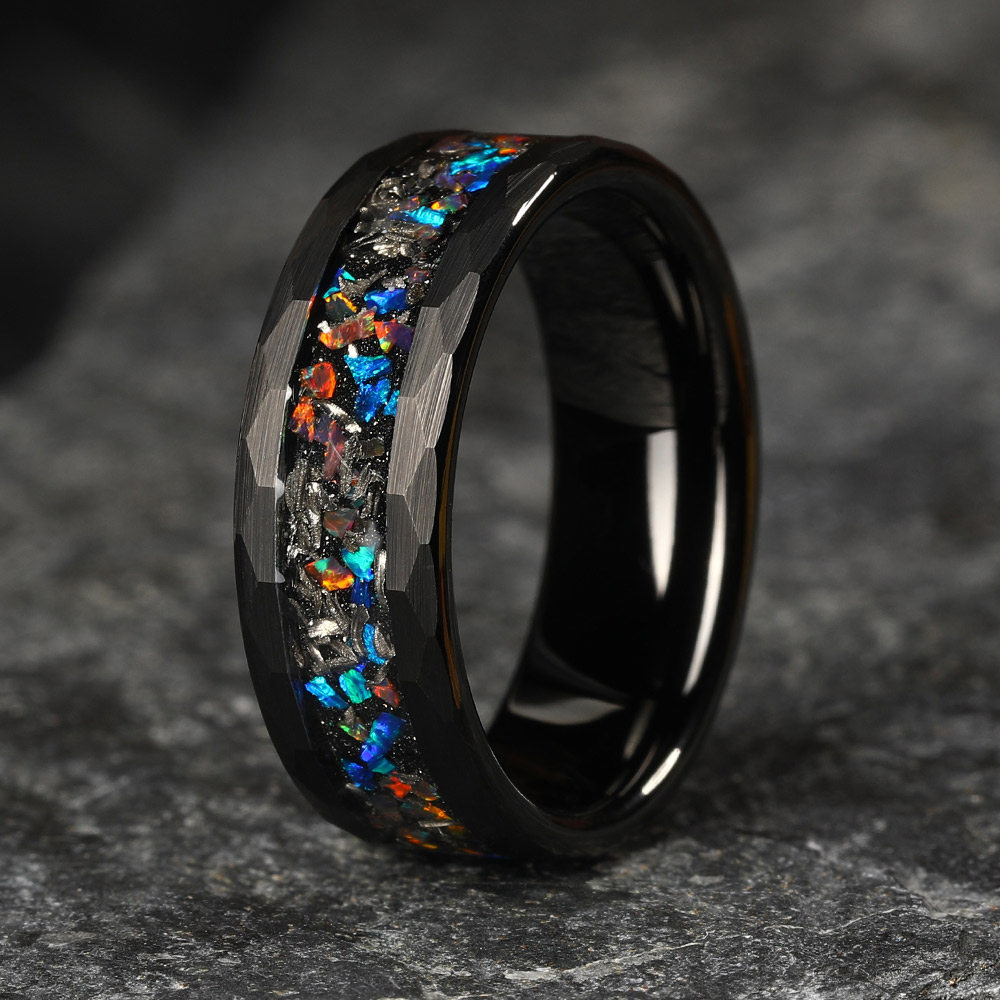 #3 Mens Wedding Bands The Treasure
How can a ring be more than the sum of its parts when those parts are exquisitely textured tungsten carbide, sparkling Galaxy opal, and genuine Gibeon meteorite flakes? The combined luster, strength, and beauty of those elements create something more. It's
okay to have some bling on your finger, just roll with it.
TODAY'S AMAZING FACT:
Although Earth day began as an American movement in 1970, it has since become a global affair - albeit under a different name. In 2009, the United Nations General Assembly designated April 22 as International Mother Earth Day. The symbol of Mother Earth serves as a common metaphor and representation of our planet in many countries and cultures. In the United States, the holiday is still commonly referred to as Earth Day.
Speaking of Earth Day, check out these products:
The Full Balmie Collection: 14 plastic-free crayons for eyes, lips, and cheeks. From cool, icy shimmers to warm and vibrant hues. Balmie crayons appear small because there's no plastic tube but they're the standard lipstick size at .12 oz. The kokum butter and sunflower wax creates a drier and more matte feel for the Balmies which contributes to a long lasting product. Great for people with oily skin or who use face oils.
Planting trees in honor of your family, friends, and co-workers is a perfect way to show you care about both your honoree and the home we all share. Earth Day gifts give back to the planet as well as your gift's recipient!