Do you like reading fun facts?! Well, you're in luck because here we have decided to start posting them daily!
A wise man once said, "Learn something new every day." We might not know a lot about the world yet compared to how much is out there, but we always discover new things about it. What's useless info to some is, to others, cool, amazing fun facts that make the world a stimulating and awe-inspiring place. Are you one of those people who love collecting unexpected pieces of knowledge? If so, prepare to have your mind blown with these interesting fun facts that will amaze adults and kids alike.
Definition of fact:
noun
. something that actually exists; reality; truth:
Your fears have no basis in fact. something known to exist or to have happened: Space travel is now a fact. a truth known by actual experience or observation; something known to be true: Scientists gather facts about plant growth. Enjoy reading interesting facts?
You can see previously posted daily fun facts here
.
Follow me to save more money!
Don't forget to
follow me on Twitter
for daily deals and freebies. I am very limited on my posting on Facebook due to all their "violations" and such. I don't even like to post kitchen knives on there anymore! Whereas everything has been getting shared on Twitter. Of course, you are always welcome to still follow me on Facebook as well! So don't miss out on all the money-saving offers!
Plus, I share extremely limited-time offers on
my Telegrams channel
, so be sure to follow me there as it is free!
TODAY'S DID YOU KNOW...?
Mattel once sold a doll called Growing Up Skipper that got taller and grew larger breasts when you turned her arm.
Speaking of Mattel, check out these products:
The object of the Kerplunk is to skillfully remove the sticks from the tube while dropping the fewest marbles possible. The sticks are passed through holes in the middle of the tube to form a lattice "web." The marbles are then placed in the top of the tube and held in place by the web. You must use steady hands and a cool head to remove the sticks from below the marbles. So set it up, start playing and watch out for marbles that go "Kerplunk!" For 2-4 Players. Ages 5+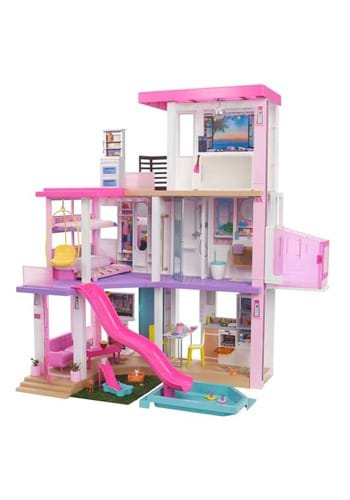 Growing up, the Barbie Dreamhouse was the pinnacle of playsets. Barbie is already the GOAT regarding girls' toys—even back in the day, having a Barbie Doll meant infinite playtime possibilities. Every young girl begged their parents for either a pony or a Barbie Playset. They looked so cool in the commercials. It was so fun to envision your dream home back when you were a kid and could imagine it to your heart's content. Even today, Barbie is known as the lady who can do it all. Plus, she always wears a fancy outfit and drives a sweet car like a boss. When she isn't at 1 of her 100 jobs, she usually kicks back at her fantastic doll house. That's where you come into play, literally. Today is the day if you have always dreamed of having a Barbie Dreamhouse. Relive a piece of your childhood with this Barbie Dreamhouse Playset. Oh, we guess you could get it for your kid; instead—we guess.
Barbie is the best-known doll in the world, thanks to her effortless style and endless accessories! Barbie Ballerina doll features a sparkly tutu and coordinating head piece that is sure to make her the star of the show.
TODAY'S AMAZING FACT:
Brazil's Ilha da Queimada Grande, or "Snake Island," is home to a rare and incredibly deadly species of viper called the golden lancehead. According to some estimates, there are one to five snakes for every square meter of land on the forty-three-hectare island. The snakes are so dangerous that the Brazillian government has forbidden people from visiting; rare exceptions are made for scientists, but they have to be accompanied by a doctor - just in case.
Speaking of snakes, check out these products:
Glass terrarium is a preferrable choice for the best view and convenient cleaning, also suitable for damp and humid condition. Glass material also maintains the correct heat gradient, which is safer and and critical to the reptile's well-being as they're cold-blood animal and need to use external heat sources in their environment to regulate their body temperatures.
The Snake Plant Laurentii, or Sansevieria trifasciata 'Laurentii', is a succulent plant characterized by its upright sword-like leaves with vibrant yellow edges. It is popular for its incredibly easy-going nature (it can tolerate low light and drought) and its air-purifying capabilities. The easiest way to kill this plant is to overcare for it.