Life hacking allows people to take more ownership of their lives. Before attempting to hack life, people shouldn't just set an end goal but should also ask themselves how they want to feel on a daily basis. If people aren't happy with what they are doing daily they won't succeed. Maybe all this life hackery is just another way the internet tries to hold your attention. Some life hacks might really be game-changers. Either way, it doesn't hurt to try, right?!
Definition of life hack
informal. : a usually simple and clever tip or technique for accomplishing some familiar task more easily and efficiently. "Life hacks," as they are known, are all about eliminating life's manifold frustrations in simple and deliciously clever ways.
Why are life hacks so popular?
Life Hacks are the best things that can happen to a person. Why wouldn't you like to do the same thing in a short and simple way? Like Bill Gates always said He would like to hire a lazy person rather than hard-working person because he will find an easy way to do the same. Life Hacks merely make the work easy with the same results. They are popular because they can improve the rest of your life.
Follow me to save more money!
Don't forget to
follow me on Twitter for daily deals
and freebies. I am very limited on my posting on Facebook due to all their
"violations"
and such. I don't even like to post kitchen knives on there anymore! Whereas
everything
has been getting shared on Twitter. Of course, you are always welcome to still
follow me on Facebook
as well! So don't miss out on all the money-saving offers!
TODAY'S LIFE HACK
Staying at an all-inclusive resort? Start your trip by giving the bartender a $20 tip. You'll get amazing service for the rest of your trip.
Speaking of traveling, check these out:
Track and display your travels with this attractive, framed Black and White World Map. Our own exclusive design, this paper world map is not only a beautiful piece of art for your wall, it is also a unique and fun way for you to show off your past travels and plan out your next big adventure. With each new pin you place in your map, you will relive your most cherished memories from your travels. The map's modern design makes it an outstanding choice for any space in your home, office or business. Makes a great gift idea for anyone…from newlyweds who are just starting out to retirees who finally have time to check dream destinations off of their Bucket List. We also offer a canvas Black Ice World Map!
Want to see the Great Barrier Reef, explore Brisbane, drive around Fraser Island and cruise the Whitsundays? Then this is the trip for you! Travel to Magnetic Island, explore the Noosa esplanade, take a surf lesson in Surfer's Paradise and get ready for a party in Cairns. This is the ultimate East Coast escape. With this tour, you'll get flexible travel options so you can see the East Coast exactly the way you want. You'll get a 12 Month Travel Pass, which includes all your travel from Sydney up to Cairns, valid for one year. Travel by air-conditioned minibus, on a high-speed train with your own movie screen and by ferry! Your trip with start in Sydney and since you'll be travelling in a hop-on-hop-off bus, you'll get to choose which activities you want to do and when! All your activities can be booked with open dated tickets, valid for 12 months. You'll also get 28 days of awesome accommodation included in the price! This includes 2 nights onboard a luxury boat and 2 nights camping on Fraser Island. Your accommodation can be open-dated, so you can use it when it suits you or opt to have a set itinerary... it's up to you!
Refreshed Traveler's Travel Safety Kit II with Foam is your complete health and wellness solution. It's perfect for anyone who has a low immune system, health and hygiene conscious, likes things clean and anyone else who wants to protect themselves and stay clean, safe and healthy when traveling. This TSA compliant reusable zipper bag includes antibacterial wet wipes, facial tissues, two individually wrapped 4-Ply carbon filter face masks, 50mL foaming alcohol free antibacterial hand sanitizer, and toilet seat spray/menu sanitizer spray.
TODAY'S GREEN HACK
Want to save 544,000 trees? If everyone in the United States switched just one roll of virgin-fiber paper towels with 100-percent recycled ones, we would.
Speaking of recycled paper towels, give these a try: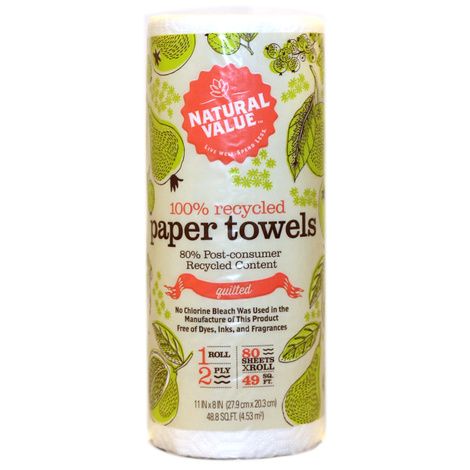 Natural Value Recycled Paper Products are manufactured using a dioxin-free bleaching process and are microwave-safe.
Clean more, waste less and help reduce the need for virgin wood pulp. Reach for these hardworking, recycled paper towels, and you're not only cleaning up messes in a flash; you're helping to keep more trees standing. Made with a high percentage of post-consumer content - the paper we all recycle every day at home, school and work, these unbleached paper towels have a unique color that visually cues care for the environment in a way white paper cannot. Being made without dyes, inks or fragrances saves natural resources compared to virgin or whitened recycled products by eliminating the whitening process, which saves water and energy. The two-ply paper towels come in rolls that fit standard household, kitchen roll dispensers. Each sheet measures 11" x 9".
Single-fold towels help you keep costs under control while delivering reliable performance. These Envision, single-fold towels offer a cost-effective choice for areas such as washrooms in government and public facilities, office buildings, foodservice facilities and lodging. Economical, EPA-compliant towels contain recycled fiber content and offer dependable absorbency, thickness, and strength. Folded width is 5-5/16".