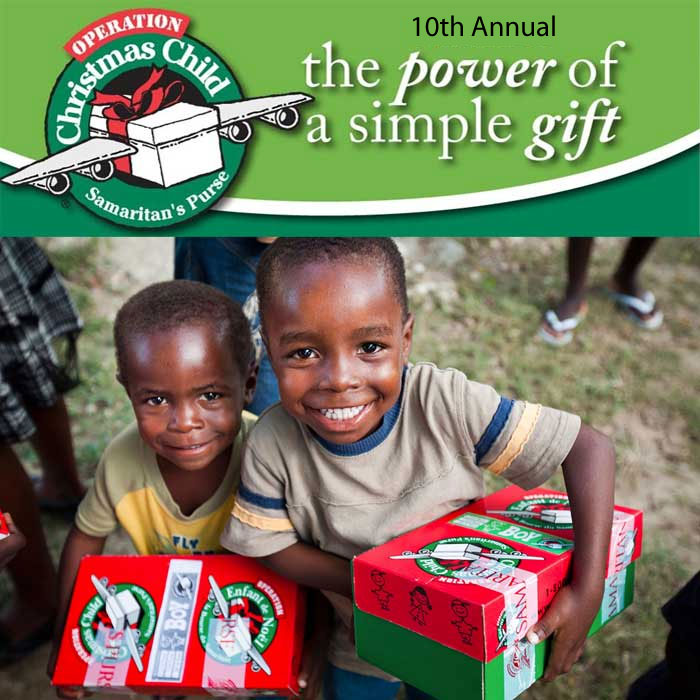 Today is our semi-annual donation day and we are so excited! Not only do we have some great items for donation, it is also our 10th annual Operation Christmas Child Shoebox Day! When you make this purchase, a shoe box will be assembled in their honor and donated to Operation Christmas Child. This is a huge success every year due to the giving nature of amazing customers like YOU. Let's work together to make this year even better!
10th Annual Shoebox for Operation Christmas Child - Give a Little Love! Give a little love...They donate a box, we donate a box!
Our other donation items are:
Donate a Bag of Treats or a Toy for Our Local Animal Shelter for $1! You are not donating a $1, you are actually buying treats or toy that we will deliver locally on your behalf!
Donate a Pair of Thermal Socks To Our Local Shelter Help us GIVE BACK this holiday season by donating a pair of thermal socks for $1.00. Join us as we will take their sock donations to our local shelters and humanitarian organizations in our area.
Donate a Kid's Hooded Sweatshirt to Our Local Shelter For $3.00 they will be donating much needed warmth if the form of a child's hooded sweatshirt to a local shelter in our area. They are outreach programs and local homeless shelters. So little can result in warm hands for a long time.
Donate To A Child In Need - Pillow Pets Glow Pet - It's a Pet It's a Pillow It GLOWS! - See the video Help out a child in need this Christmas season by purchasing them a Pillow Pets Glow Pet Toy! These toys will go to a under privileged boy or girl and will be the exact toys shown in the pictures.
This very well may be the only present this child receives so your generosity can make a REAL difference this Christmas.