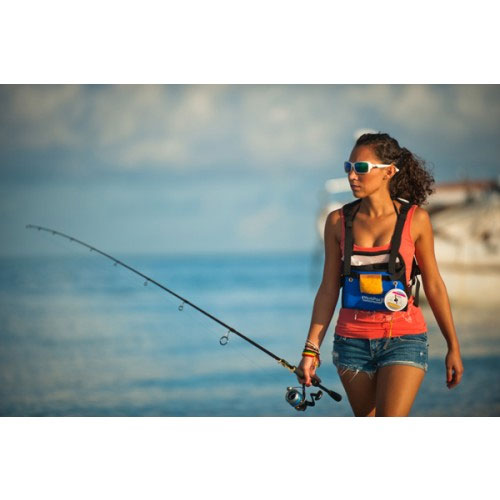 VestPac
is like no other pack ever made! The revolutionary 3-D Airmesh adapts to any climate, keeping you cool in the summer and warm in the winter. Convenient chest pockets provide ample storage for your valuable electronics and accessories. The low-profile back panel houses a hands-free hydration system. The form-fitting, athletic design guarantees maximum comfort, durability, and style; while heavy duty elastic straps ensure a perfect fit for all sizes.
Product Features
Designed specifically for fishing, the DriftPac Hydration Pack / Fishing Vest offers tool retractors, a tippet holder, and a velcro pouch for easily attaching tackle boxes, first aid, and accessories
Our patented 3D Airmesh technology keeps you warm in the winter and cool in the summer while providing superior comfort and durability.
Four chest centered pockets for secure convienient storage
Includes: Fold-down Velcro pouch for attaching tackle boxes and accessories, 5 metal gromits for attaching tools and supplies, 3 tool retractors, 1 T-tippet holder, and a Velcro starter pac.
Includes front, back, straps, and 1 liter hydration reservoir
Get Cash back on this purchase by using TopCashBack! Sign up here for FREE!
Tip: Open the TopCashBack link a new window, search for the store, select it and it will open in a new window. Once this happens, you can close that window and continue shopping from where you were. Doing this will log that you are shopping through TopCashBack without losing your place!
Want to Save EVEN More Money? Try these out:
Honey, 
DealSpotr
, 
Coupon Surfer, Checkout 51, SaveAround Coupon Books, 100BigCoupons.com, Mr. Rebates, and eBates
FIND HIGH-QUALITY COFFEE AT: 
Koa Coffee
 | 
Volcanica Coffee Company
 | 
Hawaii Coffee Company
 | 
CoffeeCakes.com
 | 
Coffee.org - Hand Crafted Coffee`s and Teas
 | 
The Senseo Store
 | 
Cross Country Cafe
 | 
Bean Box
 | 
JavaJig, LLC.
 | 
LEANER CREAMER LLC