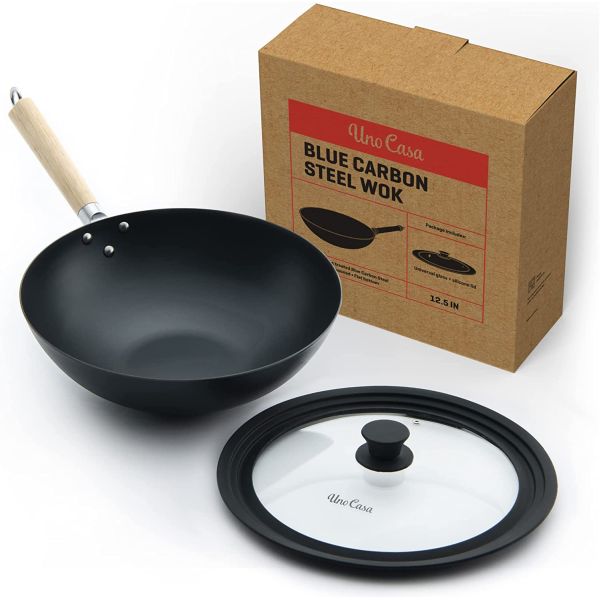 THIS ITEM IS ON PRE-ORDER and will ship around March 23rd - Uno Casa Blue Carbon Steel Wok Pan - 12 Inch Woks Stir-fry Pans, Durable Flat Bottom Wok, Compact, Induction Wok for Both Indoor and Outdoor Cooking - This is an EXCEPTIONALLY nice pan and quite a unique addition to your kitchen! $43 on amazon with 1,000+ 5-star reviews (see additional image) - SHIPS FREE!
If you need a new pan, check this one out!
EASY-TO-USE - The thicker, wider base of the lightweight Uno Casa carbon steel wok pan works with any cooking surface. AND the detachable, triangular handle makes tossing & stirring easy.
NON-STICK - Pre-seasoned & ready-to-use, this non-stick blue carbon steel pan's surface is specially treated to bond faster with oil. Remember, no acidic/alkaline foods & to dry it off after each use and this pan will work it's magic time after time!
HEATS FAST & HOLDS IT - With great heat distribution & retention, this carbon steel frying pan heats up quickly on any cooktop, even electric. It holds heat so well that you may see some cool changes in the pan's coloring.
EXTRA UNIVERSAL LID - Your purchase will also include an extra wok lid! Use the lid to perfect your meals by trapping heat & moisture in this wok or any other Uno Casa cookware!
NATURE-FRIENDLY & HEALTHY - Heating up quickly & made without the use of harmful chemicals, this Chinese wok is energy-efficient & better for nature. It can also increase the iron content of food cooked in it.
Product Dimensions 19 x 12 x 5 inches
🌟 If you like Amazon deals & coupon codes join my Telegram Channel (It's FREE!)! 👉 Sign up here!
═════════════════════════════════
PROMOTE YOUR BRAND WITH US!
═════════════════════════════════
Want to showcase your product to the Closet of Free Samples audience? Then check out my available advertising options and email me at

This email address is being protected from spambots. You need JavaScript enabled to view it.

to discuss!
═════════════════════════════════
FOLLOW CFS ON SOCIAL MEDIA
═════════════════════════════════