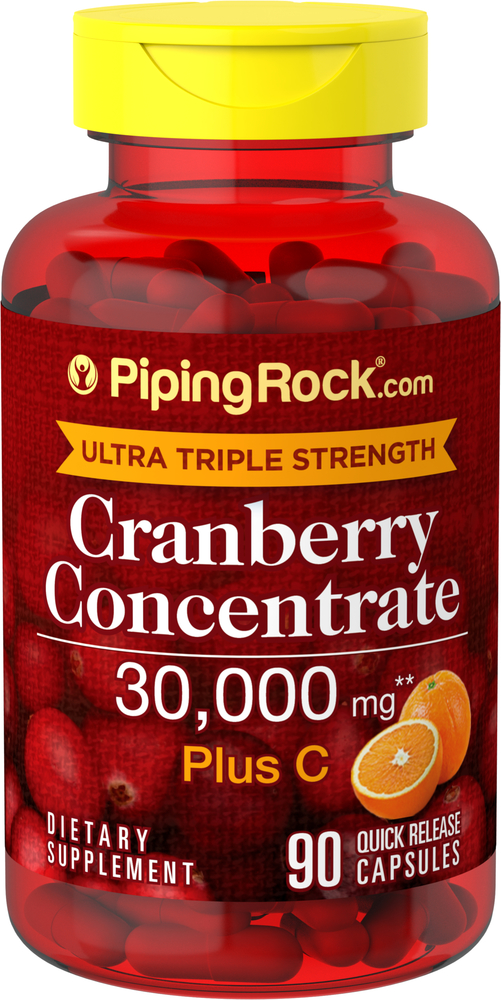 Grab these while they're on sale!
Native to the shallow wetlands of the Northern Hemisphere, cranberries are plump red berries grow on shrubs that can reach 7 feet in length. These red, plump berries boast a nutrient-rich profile, supplying vitamin C, dietary fiber, antioxidant activity, and manganese.** Cranberries have been used in wellness practices to help support urinary tract health and overall wellness.**
Piping Rock's Promise:
We proudly offer you our ever-growing selection of Vitamin & Supplement products designed to help you achieve your wellness goals at the lowest cost in the industry! The beauty lies in the depth of our assortment. Piping Rock carries hundreds of Vitamin & Supplement products for Men & Women's Health. We offer capsules, powders, soft gels, liquids, organic formulas, and much more. Our products are stacked with premium ingredients, sourced from all over the globe. Our robust product line is evolving every day to meet your wellness needs!
About Piping Rock's Quality:
You've found your One-Stop-Shop for
Vitamins & Supplements at Piping Rock
. Our formulas are crafted in our own "GMP Certified" manufacturing facilities. We verify Piping Rock products with third-party, FDA-registered agencies to ensure quality & purity. Each product goes through hundreds of checks, in-process, and post-production. Furthermore, we can assure you that everything that is on our label is consistent with what goes into our Vitamins & Supplements. We guarantee purity, potency, safety, and innovation in everything we do.
NEW? Use the coupon code ABG529 to get $5 off your first purchase UNDER $40 or $10 OFF your first purchase OVER $40!
Psst...

I frequently post exclusive deals and coupons on my

Twitter Page

.

Be sure to follow so you don't miss out!