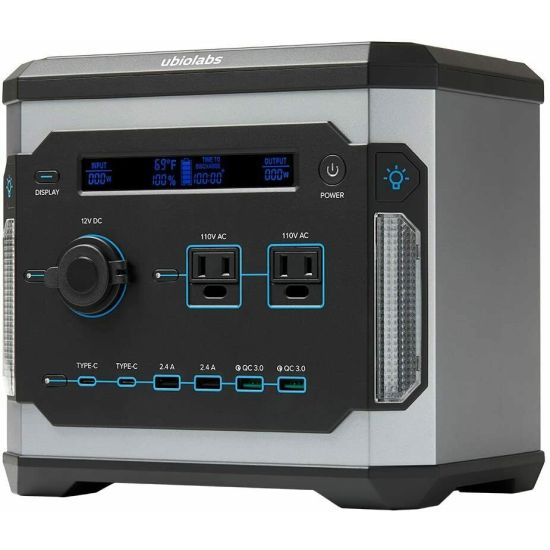 Grab one of these to keep with your emergency supplies!
Ubio Labs 500Wh
Portable Power Station
, Rechargeable Lithium Battery Pack, Quiet Generator with Car Port, AC Outlets, USB, Quick Charge, Type-C Outputs, with Lighting for Emergency Outdoor Camping. Keep important devices charged during emergency outages or stay powered up when there is no access to an outlet. The Ubio Labs 500Wh (137,700mAh) capacity power station is a portable, high performance lithium ion battery pack that provides safe and reliable power in any situation. Power up to 9 devices at once with a wide array of connection types for phones, tablets, laptops, Bluetooth speakers, and more. Never be without power. Whether you are camping, having an outdoor party, or ready to tailgate, this power station is ideal whenever you are without access to AC outlets. Convenient lay flat, full grip carry handle makes this energy system easy to transport.
Portable Generator: 500Wh (137,700mAh) lithium-ion battery power supply for emergency, camping, outdoor
9 Charging Ports: 2 110V AC wall outlet, 12V DC car port, 4 USB-A (2 Quick Charge), 2 Type-C outputs
Compatibility: Powers smartphones, tablets, laptops, drones, small appliances, CPAP machines and more
Other Features: Rechargeable battery includes built in lighting, smart LCD screen and easy grip handle
Safety Guaranteed: Advanced protection circuits, verified testing and certification ensure safe charging
Product Dimensions - 9.2 x 8.2 x 6.5 inches
Item Weight - 14 pounds
Manufacturer - Ubio Labs
Batteries - 1 Lithium ion batteries required. (included)