No Electricity or Wiring Needed! Dusk to Dawn Sensor, Solar Powered, Easily switch from garden light to UV bug zapper.
Everyone wants a nice set of lights to decorate their garden, but don't want the hassle of all the wires and installation. We've made things easy for you today with this solar powered LED garden light & UV bug zapper. Not only will your garden look fantastic, but all of your summer night barbecues and dinner parties will be bug free when you easily switch between LED light mode to bug zapping mode. The bugs won't be able to resist the UV light. Convenient, functional and easy to install garden light today! Summer's going to be here soon and these are sure to fly. Get in early for the early bird special and don't miss out. We've been waiting for these babies to arrive for quite a while now and the timing couldn't be more perfect - What a bargain! Enjoy!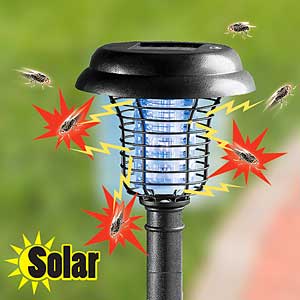 You will receive (1) one unit per order.
Product Features:
Fast and easy to install super bright light & UV bug zapper
Environmentally friendly solar powered design
No electricity or wiring needed
Switches between Light & Bug Zapper with a simple switch
Metal safety grill and internal transulent finger shield
Dusk to dawn sensor (Automatically switches on at dusk)
Uses 1 x AA NiCd Rechargeable Battery (Included)