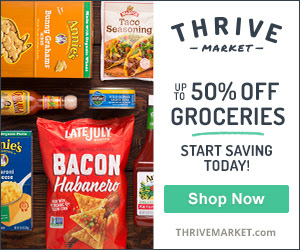 At its core,
Thrive Market
is a membership-based shopping club offering the world`s best healthy, organic foods and lifestyle products always 25%-50% below retail prices. Because of our unique membership model, we`re able to offer premium organic products at prices similar to or better than their conventional counterparts. If you haven`t tried Thrive Market yet, now is the time!
???? Get

Cash back

on this purchase by using TopCashBack! Sign up here for FREE!
*Tip: Open the TopCashBack link a new window, search for the store, select it and it will open in a new window. Once this happens, you can close that window and continue shopping from where you were. Doing this will log that you are shopping through TopCashBack without losing your place!
???? Want to Save More Money? Try these out: