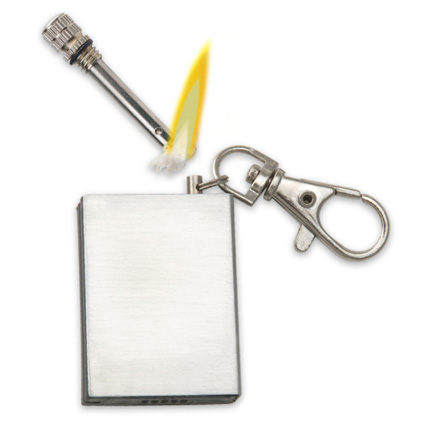 A good fire starter is a mission-critical piece of equipment, hands down. From backyard camping to survival, fire is a must have. After all, you can`t sleep if you`re freezing to death! Grab one now and make sure that you`re never left in the dark. This portable reusable match fire starter can ignite over 15,000 times. Simply fill the striker with lighter fluid (not included per shipping regulations) and never be stuck without fire again.
Product Features:
Works Like a Match Stick
Lights up to 15,000 Times
Magnesium Rod Length: 2"
Overall Size: 1.25" x 1.5" x 3/8"
Striker with Yarn
Key chain Included
Small Convenient Size
More Great Deals:
Bobble Water Bottle w/ Carry Cap - $7.99 SHIPS FREE
Retails for $9.99 on Amazon - save $2 on one, even more with quantity discounts
Sheffield Hardwood and Stainless Steel Montrose Folding Pocket Knife - $6.99 SHIPS FREE
Quantity Discounts: One for $7 or Two for $12!
Set of 3 Travel 26" Duffels by SportPak - $15.49 SHIPS FREE
That`s $5.16 per bag
Jack`s are back!
Jack Links Teriyaki Beef Steak Nuggets -$2.99
Inspirational and educational
Judging A Fish By It`s Tree Climbing.. Einstein Quote Poster - $9.99 SHIPS FREE
Available in Canvas too
Must have for fitness
20oz Blender Bottle - $5.99 SHIPS FREE
Quantity Discounts: 1 for $6 or 2 for $8
Smith & Wesson Clip Folding Knives 2-Pack - $13.49 SHIPS FREE WITH CODE
Make sure to use code
WESSON10
during checkout
DigiWeigh Precise Pocket Sleeve Digital Scale - $8.49 SHIPS FREE WITH CODE
Make sure to use code
SCALEDBACK
during checkout