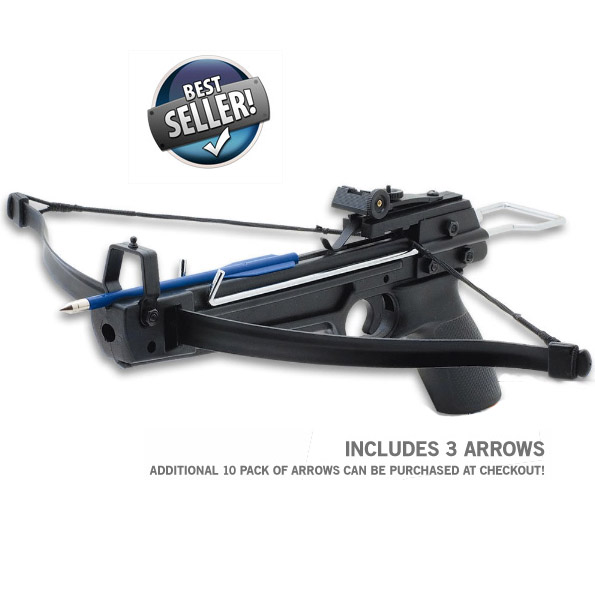 This Pistol Grip Crossbow
is constructed of stainless steel with a black hard plastic overlay. Complete with a sight positioned at the end of the barrel for precision in aiming. Perfect for target practice and amateur competitions! It has a 50lbs draw, cocking lever, adjustable sights, safety, durable fiber construction, and comes with three plastic bolts (arrows). Bolts fired travel at 200 fps+ (feet per second) with pinpoint accuracy up to 60 yards.
Note: If you plan on firing this crossbow even more than just occasionally, you should pick up some extra crossbow string which is available during checkout, along with extra arrows!
Product Features:
50lb Draw
Cocking Lever
Manual Cocking
Sight positioning at end of the barrel
Adjustable sights
Safety to prevent accidental fires
3 Bolts (arrows)
200 feet per second shots
Accuracy up to 60 yards (180 feet)
???? Get

Cash back

on this purchase by using TopCashBack! Sign up here for FREE!
*Tip: Open the TopCashBack link a new window, search for the store, select it and it will open in a new window. Once this happens, you can close that window and continue shopping from where you were. Doing this will log that you are shopping through TopCashBack without losing your place!
???? Also,

Save even

 

MORE

 money with Honey - a FREE Add-on that automatically searches and applies coupons to your purchases!
*Tip: Honey is a browser extension that automatically finds and applies coupon codes at checkout on thousands of sites. But that`s not all–– Honey also instantly finds better prices on Amazon and offers cash bonuses on many stores.  It works in various browsers and take just a minute to sign up -- plus it`s FREE! When you`re on a checkout page with a promo code field, Honey will pop up and ask if you want to check for savings. Simply click the "Find Savings" button and Honey will automatically try all known coupon codes for that store (including Honey exclusives). If they find a code that works, they'll apply the one that saves you the most money to your cart. It`s that simple!