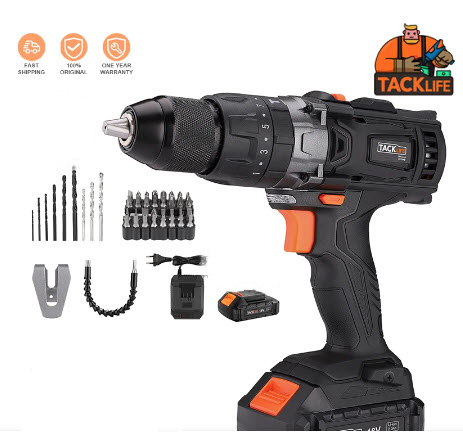 Introducing the
Heavy Duty 18V Cordless Drill
, the ultimate tool for all your drilling, screwing, and hammering needs. With its remarkable price of $37.54, a
56% discount
off the regular price of $84.95, this electric variable speed drill offers exceptional value, performance, and convenience that will revolutionize your DIY projects and professional tasks.
One of the standout features of this cordless drill is the inclusion of a 2.0Ah Li-Ion Battery, which is a significant deal on its own. These batteries typically cost over $50 when purchased separately, making this offer truly exceptional. With the 2x2.0Ah batteries, you can extend your working time and tackle even the most demanding jobs without worrying about running out of power.
Equipped with a built-in LED light, this cordless drill ensures optimal illumination of dark work areas. No more struggling to see in dimly lit corners or under cabinets. The LED light provides enhanced visibility, allowing you to work with precision and accuracy, even in challenging conditions.
The Heavy Duty 18V Cordless Drill also features a hammer function, offering three functions in one tool: percussion, drilling, and screwing. With 16 adjustable torque settings, you can easily adjust the drill's torque to match the requirements of your task. This torque limiting feature prevents over-drilling, protects screw heads from damage, and safeguards the material you are working on, ensuring professional results every time.
The 13mm self-locking chuck is designed to securely clamp drill bits, providing stability and reducing the risk of slippage. This allows you to tackle larger holes and meet a wider range of working needs with confidence.
With an 18V power rating and two-speed settings (0 - 450 RPM or 0 - 1600 RPM), this cordless drill offers versatility and control. The lower speed is ideal for precise screw installation and removal, while the higher speed allows you to drill grooves with ease. The maximum output chuck of 35 Nm ensures ample power to tackle various tasks efficiently.
The Heavy Duty 18V Cordless Drill is designed to be both convenient and economical. Its compact and portable design, along with the sturdy belt clip, allows for easy carrying and supports high-altitude operations. The real-time battery power indicator keeps you informed about the remaining battery capacity, enabling you to plan your work effectively.
With 43 free accessories included, you have everything you need to tackle a wide range of projects. Whether you're a DIY enthusiast or a professional contractor, this cordless drill provides the versatility and reliability you require.
Don't miss out on this incredible offer to
own the Heavy Duty 18V Cordless Drill
at the unbeatable price of $37.54 (reg $84.95). Experience the power, versatility, and convenience of this exceptional tool. Order now and take advantage of the free shipping offer to have this game-changing cordless drill delivered right to your doorstep.
Unlock your potential and achieve remarkable results with the Heavy Duty 18V Cordless Drill. Don't settle for anything less than perfection. Invest in a tool that delivers on performance, durability, and affordability. Order your cordless drill today and take your DIY projects and professional tasks to new heights!
BONUS:
Check out these other
tools on sale
while you are here and save some money!
🌟 If you like Amazon deals & coupon codes join my Telegram Channel (It's FREE!)! 👉 Sign up here!
═════════════════════════════════
PROMOTE YOUR BRAND WITH US!
═════════════════════════════════
Want to showcase your product to the Closet of Free Samples audience? Then check out my available advertising options and email me at

This email address is being protected from spambots. You need JavaScript enabled to view it.

to discuss!
═════════════════════════════════
FOLLOW CFS ON SOCIAL MEDIA
═════════════════════════════════