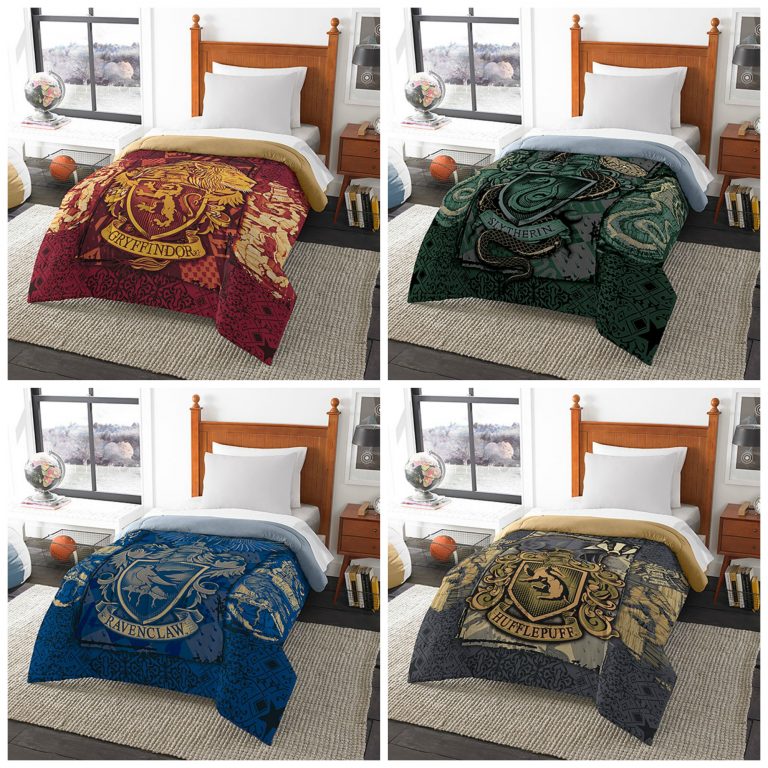 Check this out - Grab a Harry Potter House Comforters starting at $47.99!
Twin/Full is priced at $59.99 and Queen/King at $79.99 but use
code

SEASON

at check out to score 20% off!
Staying up late to keep turning the pages of your favorite Harry Potter adventure is a trap that almost every fan has fallen victim to at one point or another. Just one more page... chapter... book. Now you can wrap yourself up in your favorite Hogwarts house as you snuggle up with the best books on Earth. Pick your favorite brightly colored Hogwarts House Comforter. Each features the bold house colors and seal for either Gryffindor, Hufflepuff, Ravenclaw, or Slytherin.
Product Specifications 
Harry Potter House Comforters
Officially-licensed Warner Brothers` Harry Potter merchandise
Choose Gryffindor, Hufflepuff, Ravenclaw, or Slytherin
Keeps you warm in bed
A great addition to any fan`s room
Materials: Polyester; 100% polyester micro peach (85 gsm)
Care Instructions: Machine wash cold separately using delicate cycle and mild detergent. Machine dry separately on gentle cycle.
Dimensions:

Twin/Full - 72" x 86"
Queen/King - 94" x 86"
???? Get

Cash back

on this purchase by using TopCashBack! Sign up here for FREE!
*Tip: Open the TopCashBack link a new window, search for the store, select it and it will open in a new window. Once this happens, you can close that window and continue shopping from where you were. Doing this will log that you are shopping through TopCashBack without losing your place!
???? Also,

Save even

 

MORE

 money with Honey - a FREE Add-on that automatically searches and applies coupons to your purchases!
*Tip: Honey is a browser extension that automatically finds and applies coupon codes at checkout on thousands of sites. But that`s not all–– Honey also instantly finds better prices on Amazon and offers cash bonuses on many stores.  It works in various browsers and take just a minute to sign up -- plus it`s FREE! When you`re on a checkout page with a promo code field, Honey will pop up and ask if you want to check for savings. Simply click the "Find Savings" button and Honey will automatically try all known coupon codes for that store (including Honey exclusives). If they find a code that works, they'll apply the one that saves you the most money to your cart. It`s that simple!