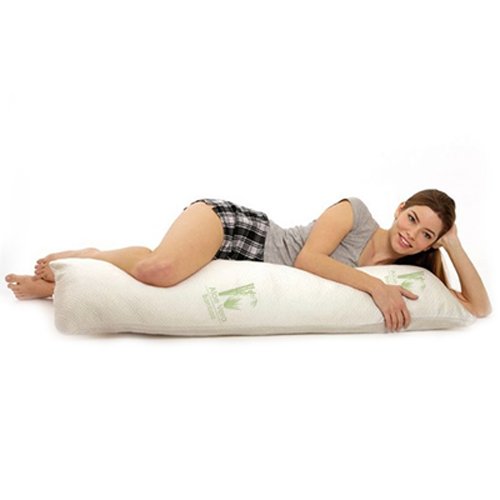 Experience a full body pillow that helps reduce pressure on knees and improves body alignment to provide a deeper, more restful sleep. Revolutionary memory foam responds to your body's shape and warmth.
Contents: 100% Shredded Memory Foam - After Opening Pillow allow 2 hours before use, so it may form to normal state.
Washing Instructions: Wash with Cold Water, Dry with Low Heat
This shredded memory foam pillow will give you the relaxing slumber you have always wanted.
With its hypoallergenic bamboo fiber cover WITH ALOE VERA, this Body pillow will provide a cool and comfortable night's sleep.
Color: Bamboo White
Material: 100% Shredded Memory Foam With COOL GEL Technology
Life Span: 4-6 Years
100% Shredded Memory Foam
Stay Cool Bamboo Cover With ALOE VERA
Machine Washable & Dryer Safe.
Treat yourself to the ultimate Luxury Softness and comfort. Helps to relieve: Snoring, Insomnia, Asthma, TMJ, Neck Pains, Migraines.
Conforming shape that Orthopedically supports the body for sleeping on the side, stomach and in between!
Hypoallergenic-Prevents Dust Mites, Extra Soft, Eco Friendly, Urltra Plush
Machine Washable and Dryable
Pressure Relieving Shredded Memory Foam