Don`t miss out on these hot deals currently live at
Vapor4Life
!
Valid 11/15 thru 12/8:
Get $10 Off Any
Starter Kit at Vapor4Life
! Use Code:
10KITS
Valid 11/15 thru 12/8:
Buy One Get One On All Clearance Items
! Use Code:
BogoClear
Valid 11/8 thru 12/1:
3
0% Off All Ultimo and Wow/Premium Juices
. Not valid on other juice brands. Use Code: 
JUICY30
Valid 11/8 thru 12/1:
Free Shipping
on Orders over $20! Use Code:
FREESHIP20
Valid 11/1 thru 11/24:
25% off Vapor Cigarette Titan and King Kits
with Free Shipping! Use Code:
CIGALIKE25
Valid 11/1 thru 11/24:
15% Off Herbal Vaporizers and CBD Oil
With Free Shipping! Use Code:
RELAX15
COUPON DISCLAIMER: Only one coupon code can be used per purchase. Codes exclude specially-priced products and Best Sellers. Order total for discount does not include shipping or tax. Promotions are valid only for online purchases.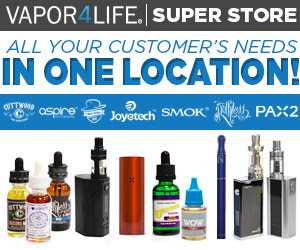 Since 2008 Vapor4Life has made it our passion to bring smokers a truly satisfying and less harmful alternative to smoking. Along with our proprietary products and innovative technology, Vapor4Life brings you the very best e-cigs, vape mods and herbal vaporizers the industry has to offer at the most competitive prices the world has seen.
???? Get

Cash back

on this purchase by using TopCashBack! Sign up here for FREE!
*Tip: Open the TopCashBack link a new window, search for the store, select it and it will open in a new window. Once this happens, you can close that window and continue shopping from where you were. Doing this will log that you are shopping through TopCashBack without losing your place!
???? Also,

Save even

 

MORE

 money with Honey - a FREE Add-on that automatically searches and applies coupons to your purchases!
*Tip: Honey is a browser extension that automatically finds and applies coupon codes at checkout on thousands of sites. But that`s not all–– Honey also instantly finds better prices on Amazon and offers cash bonuses on many stores.  It works in various browsers and take just a minute to sign up -- plus it`s FREE! When you`re on a checkout page with a promo code field, Honey will pop up and ask if you want to check for savings. Simply click the "Find Savings" button and Honey will automatically try all known coupon codes for that store (including Honey exclusives). If they find a code that works, they'll apply the one that saves you the most money to your cart. It`s that simple!